- Ghanaian female carpenter, Nana Adzigbli, has recounted her journey to becoming a successful entrepreneur
- Adzigbli revealed in a post on social media she used to hawk on the streets, selling toffees and other foodstuffs to survive
- The young business owner recounted that she was a victim of a fractured home due to her poor background
- Despite the cycles of adversity growing up, Adzigbli now runs her own business
PAY ATTENTION: Join Briefly News' Telegram channel! Never miss important updates!
Ghanaian female carpenter, Nana Adzigbli, has recounted her journey to becoming a successful businesswoman as she marked her birthday on February 17, 2021.
While growing up, Ama had the yearning desire to become a lawyer and TV presenter, but her dreams took a different path due to cycles of adversity.
Nana Adzigbli, who is well known on Instagram as Ama Endorsed, revealed she once hawked on the streets selling toffees, books, foodstuff.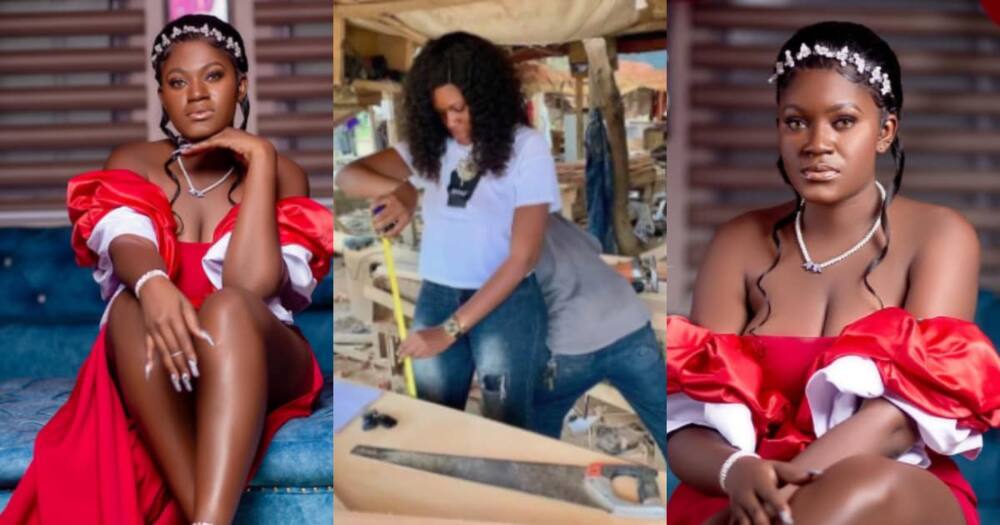 ''We [my family] could hardly afford three square meals a day because my dad was so ill and couldn't move,'' she revealed in a post on Instagram.
Despite the cycles of impediments, she now runs her own business as one of Ghana's most successful female carpenters.
Read her full post below.
''I don't look like what I have been through. I used to hawk on the streets 18 years ago. I sold toffees, books, foodstuffs, etc. We [my family] could hardly afford three square meals a day because my dad was so ill and couldn't move. Mum nursed and loved him unconditionally.
''I knew since then that I was born for the battles in my way. So I fought my way through. Years later, the people who bought from me so we could afford a meal. I have paid my dues❤️. My family eats anything, whenever and where ever. My puppies even have options to choose from. LORD AM GRATEFUL. THE ESSENCE OF MY PRAISE IS CENTERED ON YOUR GRACE. A FEW PEOPLE KNOW MY STORY BUT SOON I WILL TELL THE WORLD WHO I AM AND HOW I GOT HERE. DON'T GIVE UP. YOU CAN MAKE IT TOO.''
In other news, A young woman, Pholoso Masinamela recently shared a touching story with Varsity World about how she managed to overcome quite a few of life's hurdles to make a success of herself. In the post, she also credits her mom for raising her so well.
"After graduating in 2012, I got my grad picture today (don't ask. Lol). The woman on my right is my dear mother, Moyagabo Christinah Masinamela, raised by her grandmother after her birth mother passed away when Ma was 3 months old. Ma only has a Standard 2, she wished to be a teacher.
Enjoyed reading our story? Download BRIEFLY's news app on Google Play now and stay up-to-date with major South African news!