Emergency Ambulance Petrol-Bombed in Tshwane: Mzansi Reacts to Video
- South Africans have condemned an act of violence following a video showing an ambulance that was bombed in Pretoria
- Twitter users are reacting to a video showing an emergency medical vehicle on fire due after being torched
- Although some comments suggest a link to competition between private ambulance operators, some are puzzled why anyone would target a facility meant to assist people
PAY ATTENTION: Join Briefly News' Telegram channel! Never miss important updates!
In the latest attack on the emergency medical personnel, an ambulance was ambushed in Tshwane with a petrol bomb on Saturday evening.
According to a video posted on Twitter by Yusuf Abramjee, who is an advocate for social cohesion, the post has received attention from members of the public while many condemn the act.
Abramjee is a popular social media commentator and his recent video shows the ambulance under attack with flames alongside the vehicle.
With many of his followers taking to the comment section, they seem to have the same message to the culprits, to stop launching attacks on those rendering such a crucial service.
According to local media reports, Best Care Emergency Medical Service, based in Mountain View, has confirmed the incident.
Through its Facebook page, the company has called for those who have information to come forward. A post on Best Care Emergency Medical Service read:
"Two petrol bombs thrown towards our vehicles. One failed. There is a reward if you have any information that can lead to a successful arrest."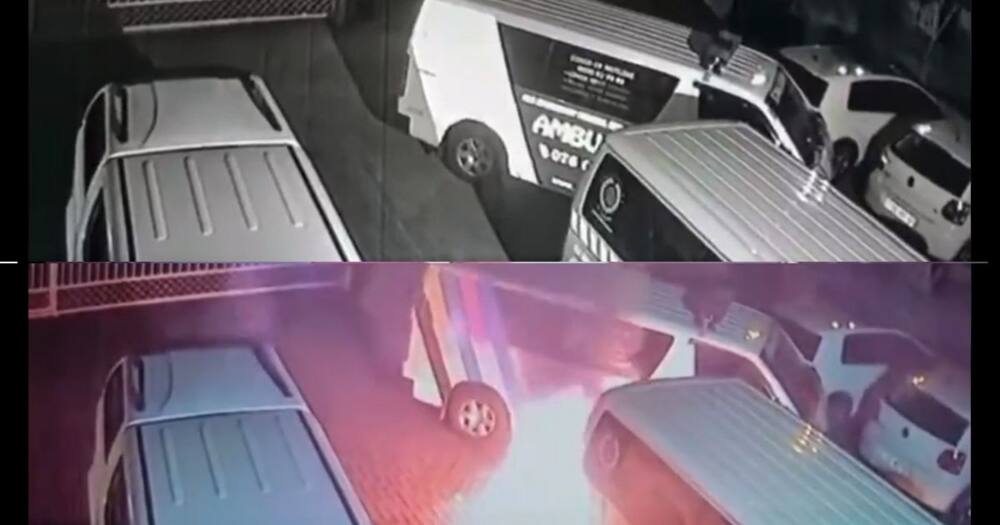 Coming back to the comments on Abramjee's video, @BongumusaMabik2 said:
"Competition has become rife in the private ambulance space. I wouldn't be surprised if this is the work of an angry competitor."
@Stephen40247588 added his voice to the comment section:
"What sick mentality leads to the petrol-bombing of an amb-service!? It is more than shocking! No thought that the medics need to assist someone in distress/pain, that there might be patients inside vehicle/that medical equipment & vehicle is being destroyed? No thought, just burn... yoh."
@Phillibecks has a different view on the matter, believing it goes down to human rights:
"That's what happen when you have given too many rights to people, that is why I see prison officials sleeping with inmates in the name of rights. The country has lost direction."
Meanwhile, @Marang24 is of the view that private ambulance companies sometimes invite these problems:
"Majority of these private companies are exploiting our brothers and sisters. And again I won't be surprised if this was the deed of another competitor."
According to @FastFwdFactry, he explains that the ambulance company in question has already laid charges with the police:
"A spokesman for the ambulance service has been to SAPS to lay charges and has issued a formal statement. Definitely related to competition and one individual has been identified as a person of interest. None of these recent attacks with petrol bombs are 'unrest'-related."
@OriginalPediBoy summed it up to say the same perpetrators would complain about not receiving healthcare services:
"Mara (but) they will be the first to complain when they need an ambulance and there aren't available."
In another report carried by Briefly.co.za, Abramjee posted a video clip displaying the burning wreck of a car alongside a cash-in-transit vehicle with its back door open.
Members of the community can be seen climbing into the back of the vehicle and Abramjee commented that the people didn't understand the dangers of entering the wreck and how they are destroying evidence that could be used to catch the criminals.
This website recently reported that the Directorate for Priority Crime Investigation has welcomed the steep sentences imposed on two men found guilty of orchestrating cash-in-transit heists.
The Polokwane High Court recently handed the suspects, Boitumelo Daniel Aphane (34) and Solly Solomon Monama (38), a total of 285 years.
It was reported that the pair had operated between September and October 2017 where they committed a number of heists in Polokwane, Seshego, Mankweng, and Ritavi.
Enjoyed reading our story? Download BRIEFLY's news app on Google Play now and stay up-to-date with major South African news!
Source: Briefly.co.za