Meet the Mzansi Mother Who Carries Disabled Daughter in a Plastic Basin
- The moter of a 13-year-old disabled girl in the Eastern Cape is calling on South Africans for help to improve her teen's life
- The teenager has deformed and weak lower limbs that make it impossible for the teen to hold her own body weight
- The young girl's struggling mother is appealing to Mzansi for help in the form of a wheelchair for the teen as she currently uses a plastic basin to cart her child around
PAY ATTENTION: Click "See First" under the "Following" tab to see Briefly.co.za News on your News Feed!
By Akhona Mongameli - Freelance Journalist
Life is a challenge for 13-year-old Yamkela Mafiyane from Ziphunzana near Mthatha. Her life is not the same as other kids' her age. At 13 years old she still does not know the joys of playing with other children in the park or outside at all.
She is always under the cautious eye of her 47-year-old mother Buyiswa Mafiyane.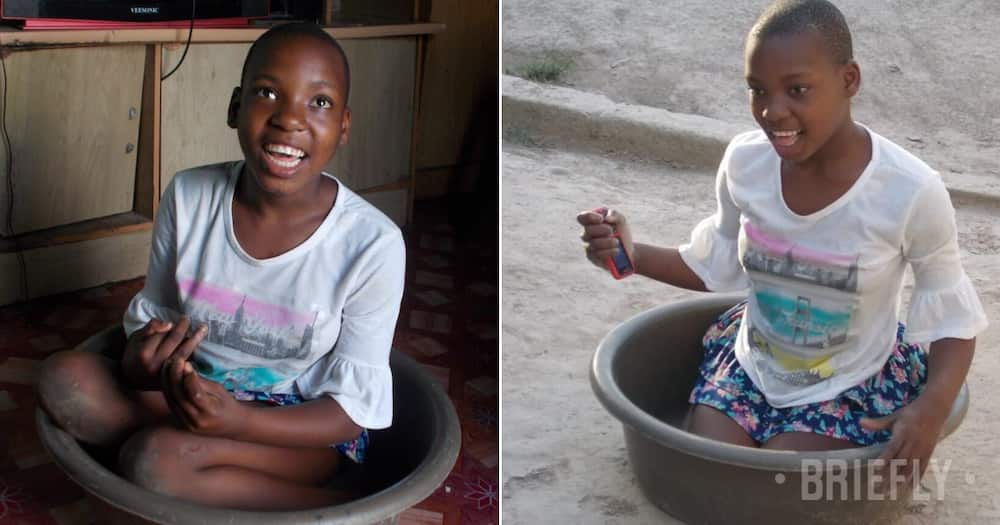 Buyiswa told Briefly News that since birth, life has been a struggle for the teen. Yamkela needs special attention because she is unable to move around on her own due to her disability.
Her lower limbs and joints are misshapen and very weak and both her knees are twisted at bad angles. She lives a lonely life at home as a result.
When her doting and loving mother does take her outside to get a little sun, Yamkela is carried in a small, plastic round washtub that often breaks. Buyiswa then replaces the broken bathtub with a new one.
Buyiswa said:
"I cannot even try to say I am going to look for a job because if I am not around, no one will help me with my child while I work.
"Not having a wheelchair for my daughter has been such a problem for me, that's not even considering the financial stresses we face because we only survive on Yamkela's child disability grant," Buyiswa told Briefly News.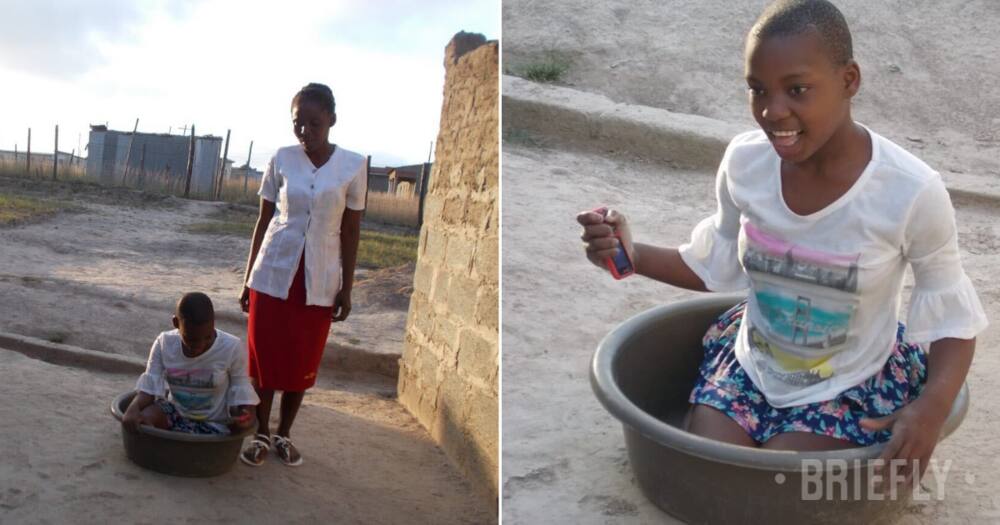 Now, Buyiswa is appealing to Mzansi for assistance to secure the teen a wheelchair. For Buyiswa, it would be nice for Yamkela to attend school. At 13, the teen has never set foot on school premises.
Her mother said a wheelchair would be very useful right now, at least just to save her from continuously buying washtubs every other week.
To assist this family with anything that you can help with, please do not hesitate to contact Briefly News at contact@briefly.co.za.
In other positive news, Briefly News previously reported that BI Phakathi is at it again and has done another good deed and made a huge difference in a family's life. He noticed a family walking on the road pushing their son Jared as he is unable to talk and confined to a wheelchair. They were on their way to a friend to ask for help as they needed more adult nappies for their son.
Not only did he buy them nappies but he was able to get Jared a brand new wheelchair, something that would make a huge difference in the life of the family.
He popped into the family's home to give Jared one final gift - R1 000 to buy food and essentials for the young boy. Phakathi promised to return with more if he found anything that the family might need. Jared was overjoyed with his new wheelchair and his parents were brought to tears by BI Phakathi's amazing generosity.
Enjoyed reading our story? Download BRIEFLY's news app on Google Play now and stay up-to-date with major South African news!
Source: Briefly News