Energy Minister Gwede Manstashe Signs Off on 2 New Renewabale Energy Projects Adding to SA's Green Power Push
South Africa's embattled grid is set to receive 203MW of renewable energy by 2021
Energy Minister Gwede Mantashe signed off on two additional renewable energy projects, adding to SA's green power push
The Department of Mineral Resources and Energy said all the RMIPPPP projects will create nearly 4 000 job opportunities during construction and operation
PRETORIA - Mineral Resources and Energy Minister Gwede Mantashe has signed off on two new renewable energy projects, pushing South Africa another step closer to shaking up its energy mix.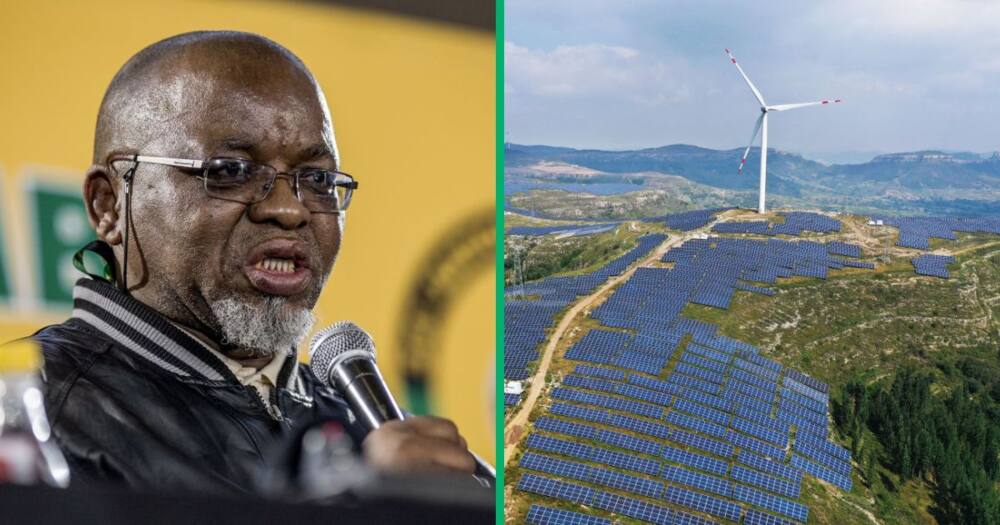 The new project agreements are with two preferred bidders appointed under the Risk Mitigation Independent Power Producers Procurement Programme (RMIPPPP).
Solar and wind to be introduced in SA's energy mix
The hybrid renewable projects, consisting of solar PV, Onshore wind and battery storage technologies, are set to add 203MW to South Africa's struggling power grid, BusinessTech reported.
The new generation capacity is expected to be operational from 2025 onwards.
The first project is called the Oya Energy Hybrid Facility, which will be built in Matjiesfontein, Western Cape.
The second, Umoyilanga Energy, will be built in two provinces, Avondale, Northern Cape and Dassiesridge, Eastern Cape.
Energy department praises RMIPPPP projects
This round of projects builds on five others, totalling 353MW. The first three RMIPPPP Projects are currently under construction and are set to be operational in November 2023.
In a statement from the South African government, the Department of Mineral Resources and Energy revealed that the projects have attracted R14.6 billion in investment and will create 3 966 job opportunities during construction and operation.
Energy majors go slow on green transition despite pressure
In another story, Briefly News reported that most oil majors are stepping up investment in green energy amid rising activist pressure but without abandoning fossil fuels, putting at risk reaching carbon neutrality in 2050.
During Tuesday's annual shareholders' meeting of British group Shell, activists shouted, "Go to hell, Shell!"
BP got similar treatment, as did banking giant Barclays, which is accused of financing oil extraction. French oil and gas company TotalEnergies will likely be targeted by activists at its shareholders' meeting on Friday.
Source: Briefly News