DafriBank Announces Gift Card Partnership with Amazon, Binance and Huawei
DafriBank has proven to be a leading innovator in the industry, developing digital payment solutions that drive sales and engage consumers and now with its latest suite of gift card services.
"We are proud to introduce our newest suite of multi-store gift cards to support shoppers and mid-sized businesses across the globe. DafriBank clients can now purchase their favourite brand's gift cards right from their DafriBank dashboard," the bank said in a statement on Friday.
"Whether for B2C programs or corporate rewards, gift cards and other digital goods can now be easily and quickly transferred across the world to the delight of everyone involved" read the statement.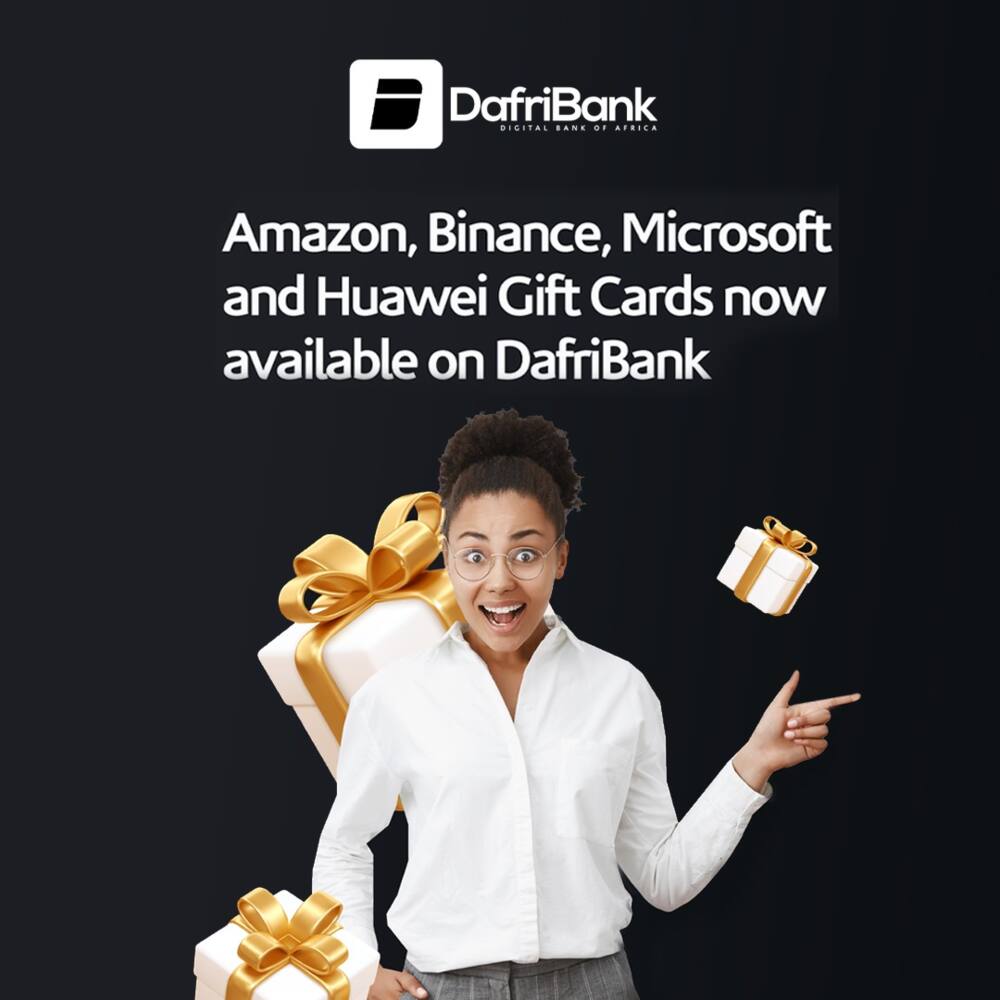 DafriBank gift cards provide you access to catalogues of retailers, including popular brands such as Apple, Amazon, Binance, Hotel.com, GameStop, Adidas, Roblox, Xbox and more. The bank said it's constantly growing this selection to further allow consumers to find the gift cards and exact values they are looking for.
The gift card access to a wide range of gift cards and egift cards for national and international brands and boasts over 750 international and regional brands under one roof. Rather than visit individual store sites, you can purchase multiple third-party cards directly from your DafriBank Account.
"DafriBank Gift Card contains one of the market's largest global brand selections and is redeemable across currencies and borders. It's the perfect choice as a sales incentive, employee benefit, or as part of the reward, member, or sales programs helping you grow by: Improving customer retention, offering attractive incentives maximizing distribution," said Catherine A. GMD at DafriGroup.
In response to a question if the latest offering aligns with the bank's long term strategy she said:
"Strategy involves choices about what products and services to offer, which markets to serve, and how the company should best set itself apart from rivals for competitive advantage.
DafriBank's mission has always been clear from the onset, to make basic banking services helpful and enabling consumers to buy their favourite brand's gift card within our dashboard aligns with this mission."
Understanding what a gift card means; a gift card is something that is tantamount to a prepaid card that you can buy and use the 16 digits code to redeem at the brand's store or platform. For instance, while doing my research last night — I was able to buy a $100 Binance gift card from DafriBank and redeemed it instantly into my Binance wallet and was credited with $100.
A bank guaranteed gift card gives you peace of mind, it takes 5 seconds for our gift card transfers to arrive in recipients' mobile phones, no matter where they are located. The gift card sales data point to a strong start to 2022. A survey from the National Restaurant Association found that 62% of consumers hoped to receive a restaurant gift card as a holiday gift, and 24% of respondents said they would spend those cards as soon as possible.
Source: Briefly News