Roger Federer net worth 2019 - 2020 Forbes
Roger Federer embodies what most athletes want to achieve in their careers. With a career that spans more than two decades, this swiss professional tennis player has won it all. One of his greatest achievements so far at age 37 is winning 20 Grand Slam titles in the singles men category. As you would expect, money follows success, and the case is no different with this player. Let us dive into the Roger Federer net worth details to find out how he has managed to stack up his earnings over the years.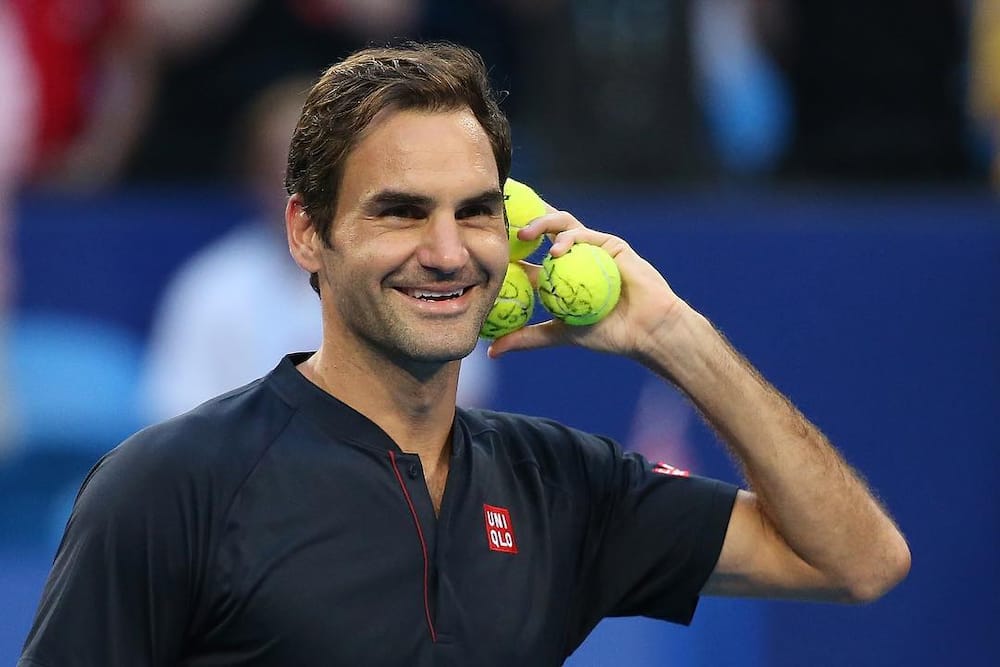 From lucrative sponsorship deals to prize money winnings from tournaments, Roger is the best-paid tennis player just in case you were asking, "Who is the richest tennis player in the world?" For the longest time, Nike was his kit sponsor until last year. Want to find out his current apparel sponsor? Read on!
Roger Federer net worth Forbes
According to Forbes, Roger Federer was worth $93.4 as of July 2018. This worth placed him at position twenty-three on the top 100 Celebrity list of 2018. In the same breath, Roger had a fantastic year as he occupied the seventh spot on the list of The World's Highest-Paid Athletes 2018.
At the seventh spot, Federer was behind some great names currently in sports in the likes of Floyd Mayweather, Lionel Messi, Cristiano, McGregor, Neymar, and LeBron.
Something stands out if you take a close look at Federer's earnings in 2019. His winnings and salary totaled to $12 million, but this number is nothing close to his off-court earnings. He received $65 million from endorsements and sponsorship deals.
In 2018, Roger had a healthy number of the following sponsors.
NetJets
Credit Suisse Group
Wilson Sporting Goods
Barilla
Mercedes-Benz
Rolex
From this list of sponsors, he got the biggest share of his endorsements from Barilla that dealt him $40 million.
Federer's impressive career explains how this number one tennis player has amassed his wealth. On his way to winning twenty grand slam singles titles, this Swiss earned $116 million. At the age of 37, while at the top of the ATP rankings, is another example of his greatness and the reason he is one of the best men's tennis players of all time.
Roger Federer recent deals
Federer has enjoyed a host of sponsorship deals, and this can make you wonder how much he has earned from luxury brands like Mercedez-Benz and Rolex. For that matter, let us pose the question, "How much money does Nike pay Roger Federer?"
By July 2018, this tennis ace had dropped Nike as one of his sponsors after two decades. In the process of doing so, he signed a new lucrative deal with Uniqlo. This Japanese fashion brand reportedly offered him a $300 million deal that will run for ten years.
Roger Federer house
Part of Federer's net worth comes from his assets like houses. According to the Sun, this tennis master from Switzerland has three documented houses.
Glass mansion on the Lake Zurich shore
Penthouse in the Le Reve tower, Dubai
Holiday home in the Swiss Alps
Just from its name, the glass house is the most outstanding one.
Roger Federer other possessions
It is no surprise that a well-paid athlete like Roger has other valuables under his belt. To start with, he owns a few cars, and all of them are Mercedes Benz. He also has a private jet.
Roger's deal with Rolex took him closer to the best watches in the world. So much so that he has a 30,000-pound Rolex Sky Dweller to add to that impressive collection of possessions.
Despite his age, Roger's career is still one to reckon with. As such, we should expect the Roger Federer net worth to grow especially if you take into account his 2018 deal with a Japanese fashion brand. As you marvel at the success of this player from Switzerland, you cannot stop appreciating his work ethic and longevity. On and off the court, he is a role model.
READ ALSO:
Elon musk net worth 2018: how rich is the CEO of Tesla?
Who is Chris Pratt wife? Name, age, son, movies, net worth and pics
Who is Dwayne Johnson's wife Lauren Hashian? Her age, height, songs, movies, net worth, and pics
Trevor Noah penthouse - cost and pictures
Inside Bonang Matheba new house 2018
Source: Briefly News