Happy Island Waterworld: everything you need to know before visiting 2020
For a country with so much to admire, Happy Island Waterworld South Africa is no ordinary place to skip in your upcoming vacation and related visits. The newly opened water park offers all sorts of fun to thrill seekers at Muldersdrift. Among the best experiences while at the park are 15 exciting rides and slides that are not found elsewhere in the African continent. While Happy Island Waterworld is a favourite summer destination, several visitors still pool in all-round the year regardless of the season for epic experiences.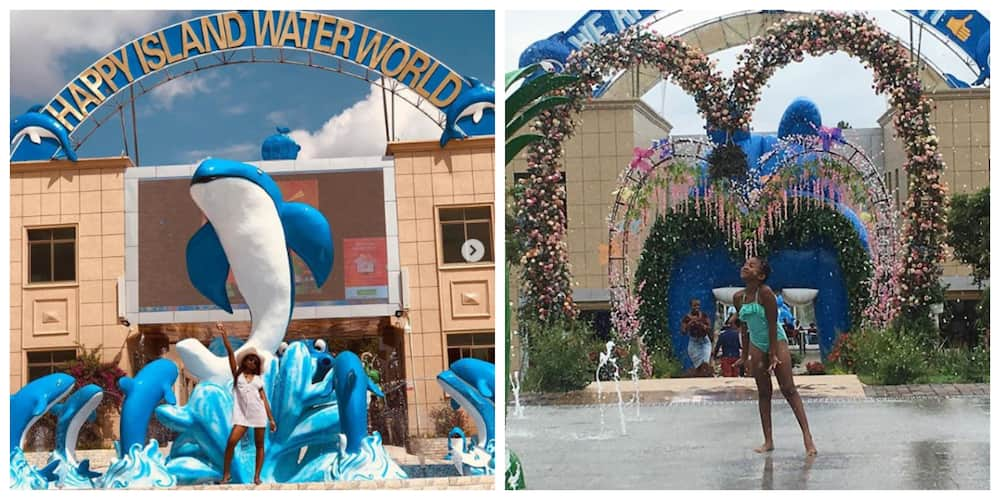 Since its soft launch in late 2018, the Happy Island Waterworld water park has attracted an overwhelming visitor count stretching beyond 25,000. The center is now serving as the most relaxed place to beat festive season's heat waves. Both local and international visitors have every reason to visit this amazing water park for mind-blowing experiences, and here is what you must know ahead of visiting the park.
READ ALSO: Dr Malinga has huge plans to build his own resort and water park
Happy Island Waterworld activities
Working with the current prices which are affordable, visitors earn unbounded privileges of adventuring different rides while creating lasting memories. Here are some of the activities, with some Happy Island Waterworld images to give you a clear picture of what to expect.
1. Largest African wave pools
The park has a couple of gigantic wave pools which are both tops in their category across Africa. The two come with hydraulic mechanisms capable of producing voluminous waves predictably, and they collectively measure about 20,000 square meters, making them a better alternative to visitors who always head to the sea for challenging swimming experiences. The double wave pool operates in two distinct locations for heart racing moments. For higher adrenaline pumps, let us explore the gravity loops.
2. Gravity loop
The near vertical slide will undoubtedly fill your craving for fun all day long. The slide will not only suck your stomach cold but also will thrill you for its speeds. It is interesting that the gravity loop can attain speeds of up to 60 kilometers an hour while you maneuver through the tube. If you are bold-hearted with a strong stomach, then Happy Island Waterworld should be your priority destination. As well, you will experience 2.5Gs within 2s. The opportunity will earn you an ultimate body slide experience like no other.
3. Lazy river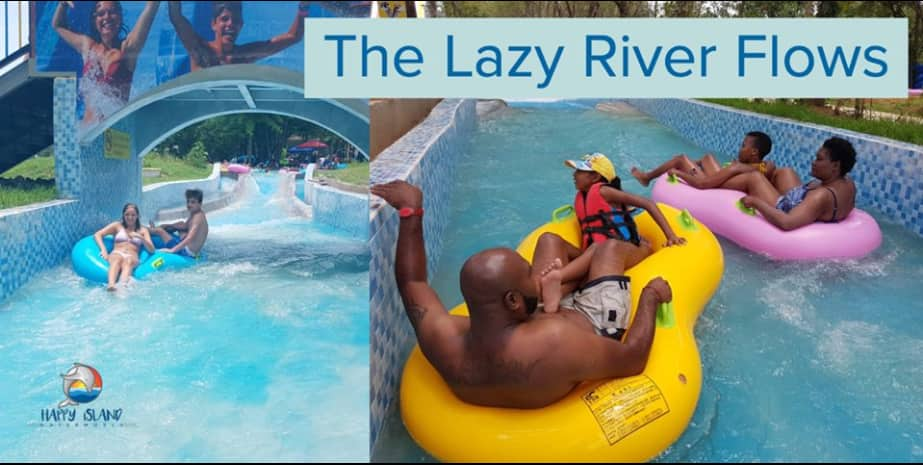 Speculations on whether the lazy river is operational or not are all cleared. While earlier visitors who toured the water park did not enjoy the lazy river, its functionality is now confirmed. You should no longer worry about missing the lazy river thrill in your upcoming visit. The experience that comes with a lazy river suits all ages, making it appropriate for family vacations. The slide game allows visitors to soak and relax. You will make your visit more remarkable as you gently float down an 850-meter course river while in a rubber tube as you admire the beautiful surroundings. Both single and double tubes are readily available at the entrance.
4. Spiral slide
While at the park, the spiral slide is another adventurous way to harness more fun. Get your head in a spin for proper reasons as you turn, tumble, and twist downwards.
5. High-speed slide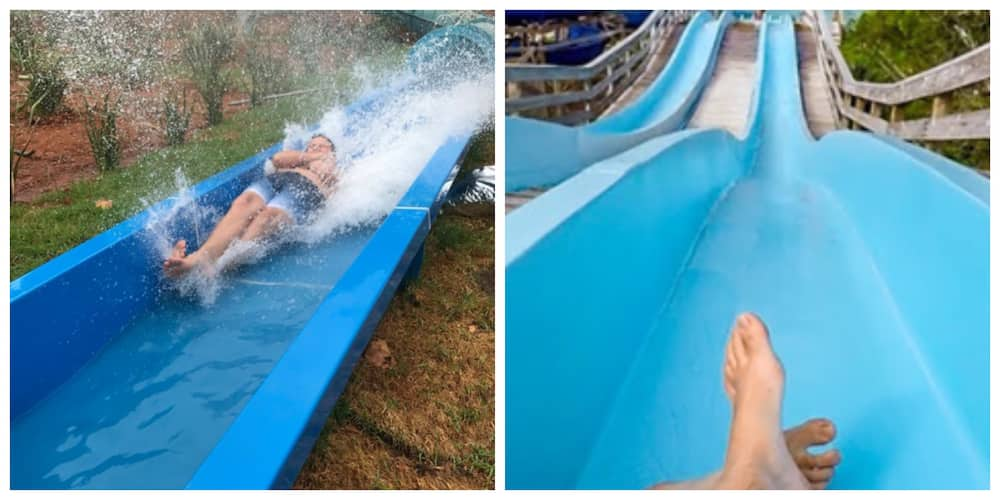 Blow up speed lovers never miss any opportunity that presents with high-speed slides which are at the park. With sliding speeds of up to 40 kilometers every hour, there is no contention that high-speed slide is heart throbbing. While the slide is not favorable for the fainthearted, many can pursue it for fun.
6. Behemoth bowl

Alternatively called super bowl, this exciting ride best suits family and friends. Each of the pool tubes can take in up to 4 members at a time for a wet and wild adventure. The massive pool will delicately but safely convey you to a clear pool beneath. The slide is an absolute adrenaline rush with good feels. This is among the favourite slides and pools at the park.
7. Master blaster super tubes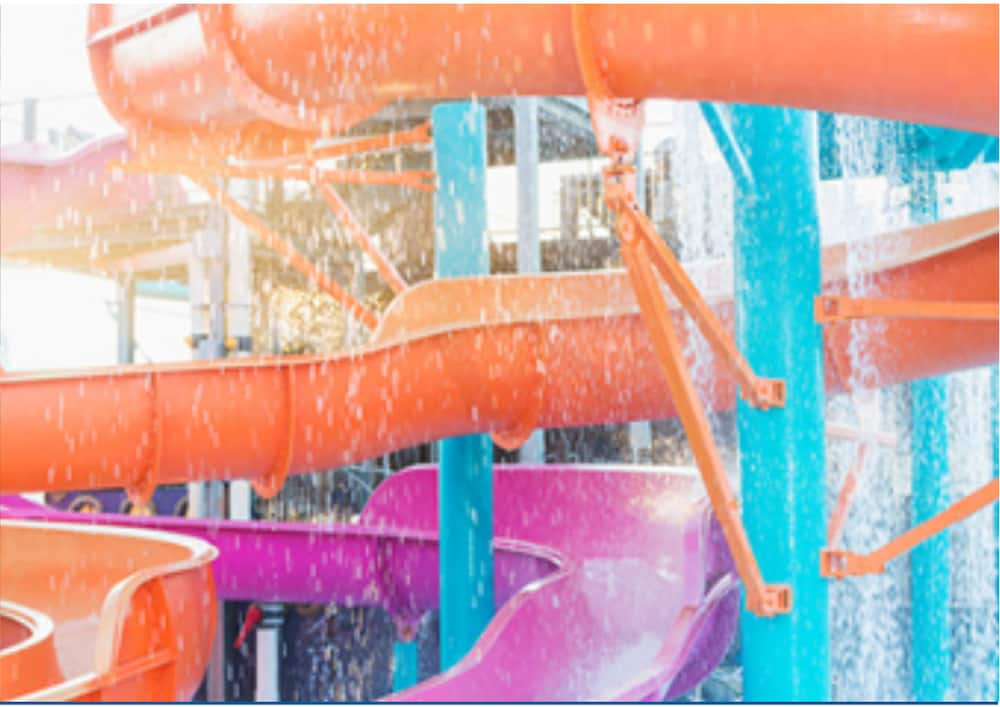 Three of the super tube slides available at Happy Island Waterworld will blow your mind by taking you through the open air. One of the three is entirely dark for an even better ride. You can flexibly enjoy a one or two person tubes that are exclusively available for the visitors. While inside these super tubes, you will undoubtedly reflect on the fun side of life.
8. Massage pools
Soaking and relaxing remains a dream for many people but a reality to frequent Happy Island Waterpark visitors. The gentle massage in these pools soothes the skin with excitement and explainable encounters.
9. Typhoon
Typhoons are yet another great way of having fun at Happy Island Waterworld. The sucking down by a giant typhoon into an underwater makes the pool slide a pleasant encounter. There is so much to love about typhoons at the water park.
10. Rainbow slide
If you are planning to visit the park alongside your friends or family members, the rainbow slide is an excellent competitive encounter that you should try someday. The ride is not only fast but also wild when racing down the rainbow pool against your opponents. The slide is a suitable game that acquaintances can try and find out the quickest rainbow slide racer.
11. Pirate boat slide
Boarding the pirate boat compares to no other experience at the park. The slide is highly suitable for kids but is also a good treat for young at heart adults. Dare and escape the downside of the slide for the safety of the lazy river.
Completion of the first phase at Happy Island Waterworld has illuminated hope for the upcoming second and third phases which will include more fun activities at the park. There are several activities that you can engage in at Water Park under the guidance of Adventure Tour Company.
Happy Island Waterworld South Africa prices
Located at Lake View Dr, Mulderdrift, the park is highly accessible at the cost of R99 for children and R199 for adults as the pre-launch costs. The final ticket prices after the end of April 2019 will be confirmed and updated on the company's digital properties as well as other communication platforms, so keep checking to be on the know. Here are further details of the costs
Adults: R199.00
Children: R99.00
Children below 2: Free
Disabled: R99.00
Aged 65+: R99.00
It is worth noting that:
The Happy Island Waterworld ticket prices do not cover for entertainment items including catering, rental, and retail.
Once you pay the fees above, you can enjoy all the slides.
Pensioners above 65 must present their cards at the gate to get discounts.
Cash payments can be made using South African Rand. The park also accepts all major credit or debit cards. In case EFT payments to the park's account, make sure you pay at least 48 hours before. The park has two ATM machines for FNB and ABSA.
Food and items at Happy Island Waterworld
You will not starve at the water park. There are ice cream vendors, beverage vendors, as well as a confectionery selling snacks, chocolates, soft drinks, chips, sweets, ice cream among other products. Additionally, there is a takeaway restaurant and different food trucks and vendors positioned all over. Foods served by the takeaway include:
Burgers
French fries
Beef/chicken
Steak rolls
Chicken wings, and hot dogs among others.
The food trucks serve:
Sausage Saloon
Food Licius Halaal specialists
Gourmet Hot Dogs
Halaal
Cheese, chicken, and beef burgers
Mini doughnuts
Wood fired pizza
There is an accessories store at the reception where you can purchase items such as sunscreen, flip flops, costumes, sunglasses, waterproof phone covers etc.
Happy Island Waterworld reception
The park, which opens from 9 am to 5 pm, prides in positive customer reviews that mostly share incredible memories and cutting edge entertainment. Since its inception, the water park has maintained an unbreakable record of customer service, given thousands of visitors who tour the park regularly for its high entertainment value and high-end facilities. The park has been positively reviewed by visitors, some stating that it is simply amazing while others could not hold the excitement of visiting the place, evidenced by the lengthy positive remarks made about the place.
Here are other Goggle reviews of the park.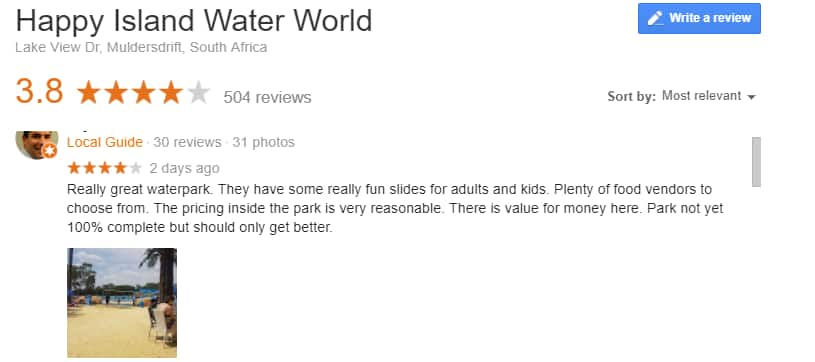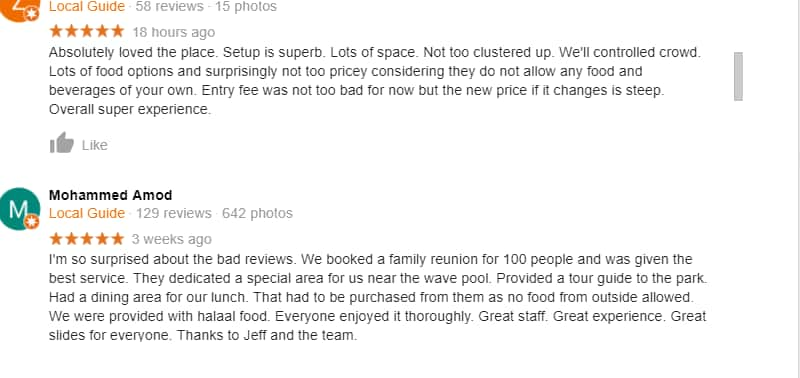 Other things that you should know about the water park
Here are the things that the park allows, and those that it does not.
You can carry own sun shades, umbrellas, and gazebos that will be of great help when all shaded places at the park are occupied.
Personal lilos, tubes, or inflatables are not allowed at the Happy Island for safety purposes.
Food, drinks, water from outside are not allowed into the park. Also, this is an alcohol-free park at the moment.
The park does not offer accommodation services, but it has partnered with a tour firm that offers these services with options such as bed & breakfast, self-catering, guest houses, hotels, and lodges.
The park does not rent its venues for personal or corporate bookings, at the moment. Also, it does not have family or season packages, and it does not have braai facilities.
Happy Island Waterworld does not provide birthday party services, although it permits the parties within the park if you come with the cakes and decor for the event.
Only use the dedicated smoking zones within the park.
There are no premium tickets that will allow you to skip queues. You can buy tickets online or at the entrance.
The park has 5000 lockers where you can store personal items. They are rented for R40 a day, with R20 as a deposit.
Happy Island Waterworld contact details
For further inquiries on Happy Waterworld Island directions among other queries, you can use the following official contact details:
Phone: +27 10 600 3333
For Brand Activations – activations@happy-island.co.za
For Events – events@happy-island.co.za
For Group Bookings (Schools, Tours, Churches, Corporates) – bookings@happy-island.co.za
For press/media enquiries – media@happy-island.co.za
Typically, the waterpark agents will respond within 48 hours.
READ ALSO: Top 10 things to do in Durban in 2019
We cannot write everything about the park since it has so much to offer. You can visit their social media platforms for Happy Island Waterworld videos that will completely blow off your mind and make you want to book a ticket immediately. With the above details about Happy Island Waterworld, you may surely have limitless fun experiences at significantly reduces prices. The water park awaits you in that upcoming group, family, or an adventurous personal tour. Have fun!
READ ALSO:
5 best retirement villages 2019
30 must things to do in Johannesburg 2019
Fun in the South African sun: 9 celebs loving the swimsuit season
10 best family things to do in Johannesburg
5 best online dating sites in South Africa
Source: Briefly News