Sindi Dlathu biography: age, HIV status, family, husband, wedding, and twin
South Africa boasts of renowned actresses who have taken the country's entertainment industry to another level. One of these prominent personalities is Sindi Dlathu. She is definitely a humble South African TV star who features in Muvhango, a South African soap opera. Read on to find out more about her age, family, husband, and twin. We have gathered some facts about here that you may have never heard of before.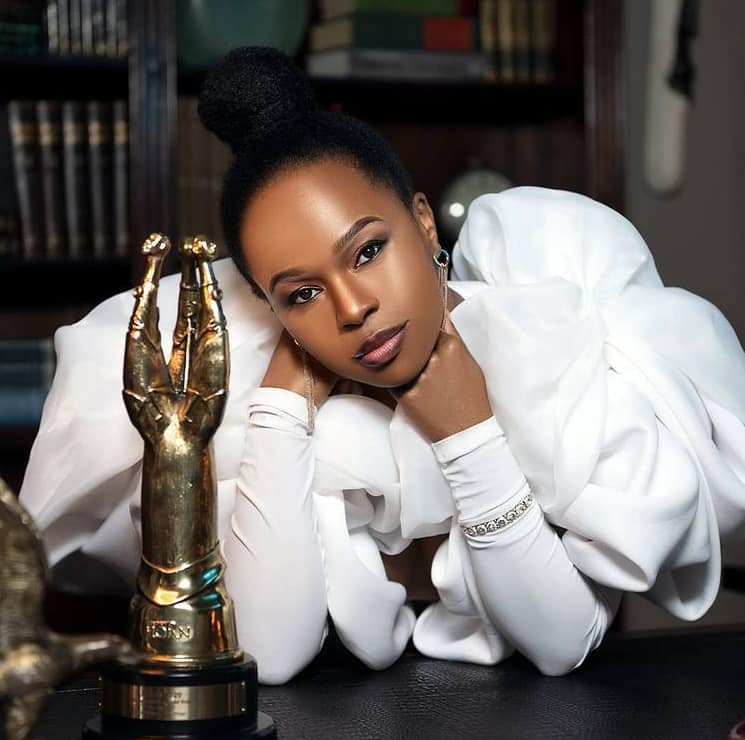 Sindi Dlathu is one of the meek and hardworking TV stars. She has featured in Muvhango for more than fifteen years now, and she still finds fun in her career. Her passion for acting dates back to when she was a young girl, and she put effort to grow to where she is right now. What is more interesting about her is the fact that she maintains a private life, despite the fact that she is in the limelight. Here are some of the details about her, which I bet you do not know.
Sindi Dlathu profile
Full name: Sindiswa Dlathu
Date of birth: 4th of January 1974
Place of birth: Meadowlands, South Africa
Nationality: South Africa
Husband: Okielant Nkosi
Children: 2
Sindiswa Dlathu Instagram: sindi_dlathu
Twitter: S_Dlathu
Sindi Dlathu biography
Sindiswa Dlathu is a South African actress. She is famous for featuring in Muvhango, a South African soap opera that airs on SABC 2. She also plays the role of Thandaza and has also starred in a couple of movies including Generations and Sarafina. In addition, she is a musician, and she took part in the national miming competitions when she was fifteen years old and won.
How old is Sindi Dlathu?
Beautiful and young as she may look, you might be interested in knowing, when was Sindi Dlathu born? Sindiswa Dlathu was born in January 1974, in Meadowlands in Soweto, in the Gauteng province of Johannesburg. Being born in this year makes Sindi Dlathu age is 46 years old as of 2020.
Sindi Dlathu family
Sindi Dlathu was born in the Meadowlands region of Soweto. She is lucky to have a twin sister. Sindi Dlathu's twin sister is called Zanele Sangweni. Unlike Sindi, details about Zanele's family are known. She is married to Matome Meela who is a businessman that deals in used cars in Soweto. He also runs a pawn shop.
On the other hand, Sindi Dlathu's family details are more concealed. She rarely gives details about her family, even though what is clear is that she is a mother of two kids. She is married too. The name of Sindi Dlathu's husband is Okielant Nkosi. Sindi keeps her family affairs away from social media as much as possible.
Sindi Dlathu career
Sindi Dlathu is one of the veterans of Muvhango. Her career dates back to when she was a young girl. When she was twelve years old, she auditioned for AShell Road Fame, a talent competition. She, however, did not win. Her exposure during this gig earned her mentorship from one of the Mbhaqanga band members; Mahotella Queens.
Three years later, Sindi tried her luck again. She participated in a national miming challenge. This time, she tried out singing. She competed using "Let It Be," by The Beatles song. She, however, performed Aretha Franklin's cover of the song and won. After that, she became more motivated to focus on the arts.
To help her grow her career, Sindi Dlathu tried out auditions for the 'Sarafina play' by Mbongeni Ngema. She was among the few lucky contestants who were given roles in the play. Hers was the role of an understudy for Sarafina. She was fortunate because she went to the United States of America to perform the play. It is during a visit with Sarafina that she met Randy Crawford. Randy asked her whether she could stay back and perform with her. This helped her build her career even more.
Later on, in 1997, she joined another play, 'The Game' by Duma Ka Ndlovu. In Muvhango, Sindi was given the role of Nomthandazo "Thandaza" Buthelezi. Being a veteran, her role in Muvhango has grown over the years from a minor character to one of the key cast members. Her role in the play has also helped her build her fame.
Apart from starring in Muvhango, Sindi Dlathu has also grown her acting career in movies. She has featured in a couple of films and series. The most common one that Sindi is associated with in most cases is Generations, which is one of the best selling series in South Africa. Here is also a list of the movies that she has featured in:
Escape from Angola (1999)
Muvhango (2003- to date)
Married (2004)
Sarafina (1997-2007)
Generations (2010)
Ngempela (2015)
Is Sindi Dlathu HIV positive?
Most people have been longing to get closure on whether Sindi Dlathu is HIV positive or not. These speculations come after she played the role of an HIV positive patient in Soul City, a TV drama series.
Sindi Dlathu is an icon whose passion and resilience got her to the top. She loved acting at a young age and did all that it took to get to where she is right now. It is evident that she enjoys being an actress. What is more interesting is the fact that despite being a celebrity, she still manages to keep her family matters concealed.
Source: Briefly News