Angus Buchan is a notable evangelist from KwaZulu-Natal province, South Africa. A man of significant impact and influence, his life and ministries have attracted both applauds and criticisms from many South Africans. Reading through his journey, through life and ministry, somehow, is a wonder and attestation to how God can move a slave from the dunghill and make such sit with princes in high places.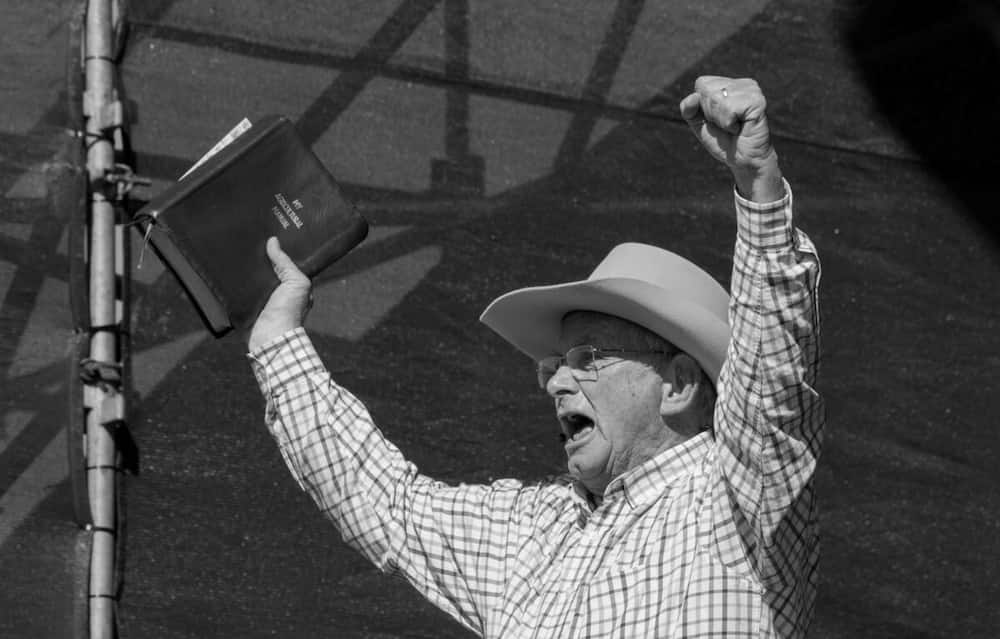 Angus Buchan is best known as a farmer who became an evangelist. His ministry has been on for some decades with many of the activities and wonders that trail their operations making news headlines in major media houses. For everything that you may want to know about his life, family, ministry and his notable national and international events, this piece contains in-depth information about how Angus began and how high he has risen to limelight.
Angus Buchan biography
Angus Buchan is one of South Africa's highly respected evangelists and Christian authors. The celebrated evangelist was the son of immigrants from Scotland with a passionate faith which has always been stirring up revival as well as changing lives to the glory of God. He started his life early as a maize and cattle farmer in the country of Zambia before he later moved with his family to Greytown, KwaZulu-Natal Midlands where they built Shalom farm and also live till date.
READ ALSO: Romeo Kumalo biography: Age, children, wife, education, house, contact details and net worth
While on his farming occupation, Angus Bachan began to sense the call of God upon his life and he got to know that he is sent to spread the gospel of Christ; this is was brought about the founding of Shalom Ministries in 1980. By 1990, Angus Buchan ministries held their first evangelical campaign in Ladysmith, South Africa and since then, several other campaigns like the Mighty Men conferences have been held.
Angus has grown to become a much sought-after conference speaker and author. He has been featured on the 700 Club and at the same time appears on "Family Time" and "Grassroots" every week. Angus Buchan Family Time is a TV programme that is filmed on his farm with a reach to thousands of people across the globe. Specifically, the 30-minutes Angus Buchan Grassroots and Family time are his main TV programs which are usually aired on ASTV, Inspiration TV, Faith Broadcasting Network, GOD TV, TBN UK and a host of other Christian television channels.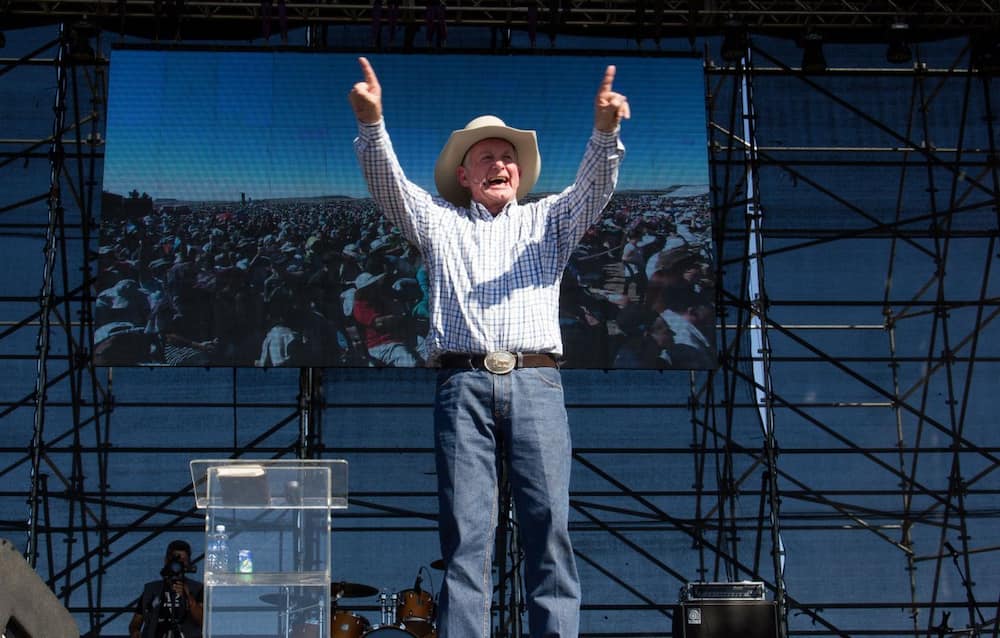 Angus Buchan age
Angus was born on the 5th of August, 1947 in Bulawayo, Southern Rhodesia, a country now known to be Zimbabwe. Consequently, he is 71 years old going to 72 years.
Angus Buchan family
Buchan is married to his precious wife Jill Buchan who also plays a significant role in his ministry, and their marriage is blessed with Jilly, Fergus, Robyn, Lindi and Andrew.
Angus Buchan books
Farmer Angus is a prolific writer and has been privileged to author several books among which is his bestseller Faith Like Potatoes. The good thing about the book is its ability to capture and address people of all age groups, cultures, backgrounds and social groups. The title of the book is said to have been derived from the words of a famous American lecturer who would always encourage his students to have faith like potatoes which means that their faith must be fleshed and substantial based on what Hebrews 11:1 says.
READ ALSO: Benni McCarthy biography: age, daughters, wife, mother, cars, house and net worth
Interestingly, the book with the same title was turned into a film in 2006 with huge success so that it has been translated into over 18 different languages including Spanis, French, Italian and Portuguese. Apart from Faith like Potatoes, some other books that have been authored by Buchan include the following:
Living a Mighty Faith;
Walking By Faith: A Daily Devotional;
NKJV Bible With Grassroots Reflections By Angus;
A Farmer's Year: Daily Truth To Change Your Life;
The Secret Place: Finding Quiet Time in the Presence of God;
Come of Age: The Road to Spiritual Maturity;
Starting the Journey: The most important decision that you can ever make;
Fathers and Sons: Building a strong and God-honoring relationship;
God of the Impossible: Amazing testimonies of God's miracle-working power and transforming love;
Angus Buchan events
One of the things that characterise Angus ministry is the dynamic flow of God's presence and how well he has been able to attract multitudes to his meetings. If you ever manage to attend any of his meetings, you will attest to the special grace that this great evangelist carries. For instance, the first Mighty Men Conference that was held on his farm in 2003 started with 240 men has since kept growing in leaps and bounds on a yearly basis to the level that well over 300,000 men had been accounted to be in attendance at a time.
It's Time Angus Buchan prayer meeting is another event of his with tremendous results. According to him, Angus Buchan It's Time meeting is borne out of the need to see people walking in the Spirit and for them to see God's revelations through the eyes of faith. This impactful Angus Buchan prayer day has since grown to become a notable event in the country, and to Angus, the meeting is a history in the making. And no doubt, many will always remember Angus Buchan Mitchells Plain prayer meeting as well as the 2017 Angus Buchan Bloemfontein prayer day.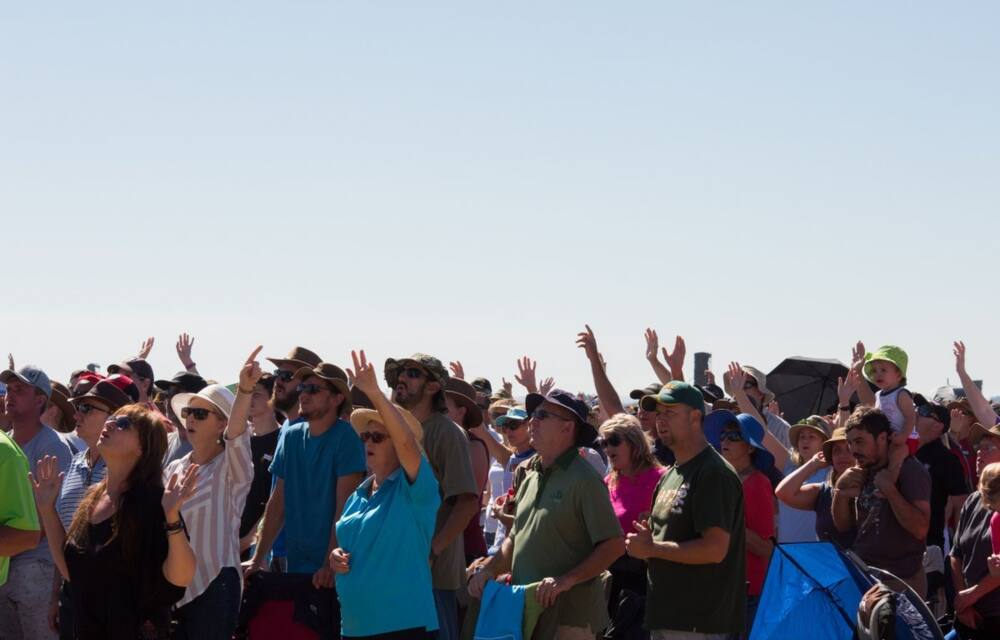 Angus Buchan quotes
With his wealth of experience and walk with God, there are some quotes from the South African evangelist which are worth inspiring and serves to encourage anyone, especially in downtimes. Some of those include the following:
If you allow one little sin to creep into your life, and think it doesn't matter, it will grow and grow until it affects your whole spiritual life, deflecting you from your primary aim of serving God.
Faith is a day-to-day lifestyle and experience of Jesus Christ. That's what we are experiencing at Shalom, when we plant in faith - even in the dust - and trust in him for the miracles of his love.
We all learned valuable lessons from that crop. The Lord showed us the importance of walking by faith, and not by sight, of trusting him unconditionally and never giving up.
READ ALSO: Caster Semenya biography: age, married, wife, house and net worth
I believe that family is closer to God's heart than anything else, the support system he has given us to build us up in faith, and to support us when we falter. If we want our family lives to conform to God's will, Jesus must be our priority, our focal point, in our home as well as in our ministries. That doesn't mean that it's always easy to live together: home can be the hardest place to live a Christian life. That's were people see us when we're tired and our defences are down.
Faith is a day-to-day lifestyle and experience of Jesus Christ. That's what we are experiencing at Shalom, when we plant in faith - even in the dust - and trust in him for the miracles of his love.
Angus Buchan net worth
While there are no specific claims on how much the farmer-turned-evangelist Angus Buchan is worth, there is no doubt in the fact that he is a successful gospel preacher. He is a man who believes that exercising faith can increase one's wealth, even though that belief has attracted lots of criticisms from people.
Angus Buchan contact details
While his personal information is not available to the public, one of the best ways to reach out to Angus is to visit the Shalom farm or go through his ministries' office. The details are given below:
Shalom Ministries office
Phone: 076 431 1743, 076 428 2493
Email: info@angusbuchan.co.za
You can also contact him by filling out a form on his official website.
Having read through the life of Angus Buchan, one of the questions that possibly would have been raised in your mind is how this immigrant has managed to capture his country for Christ with his faith-based messages. Despite his age, the grace he enjoys and which he uses to attract thousands of people to his meetings is an amazement to anyone. Without fallacy, the evangelist is a man with tremendous results.
READ ALSO: Lara Kruger biography: pictures, life depression, and cause of death