Rhodes University online application 2021: dates, fees, and requirements
Established in 1904, Rhodes University (RU) is a public university located in Grahamstown, Eastern Cape Province. Despite being a small institution, it has some of the highest graduation, research output and postgraduate success rates in the country. RU is proud of its African roots, freedom, democratic ideals, sound moral values, social responsibility, and rigorous scholarship.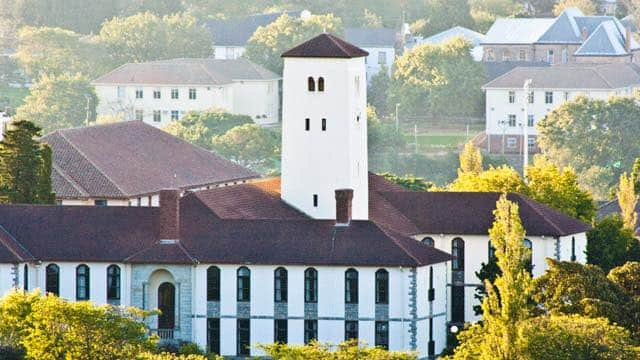 Although the Rhodes University application process is tricky, each year the institution accepts submissions from qualified students. This post has information about Rhodes University online application dates, fees, requirements, forms, and more about RU's requirements for the 2021 academic year.
At the University of Rhodes, prospective students can pick from a wide variety of Rhodes University courses. For more information on Rhodes University term dates and curriculum, please visit the institution's website. Here, you can also download a copy of the Rhodes University prospectus.
What are the Rhodes university application requirements?
Rhodes University South Africa admission requirements are as follows:
Your admission depends on satisfying two necessary conditions:
Minimum requirements for a bachelor's degree and you meet the required faculty requirements.
You need to pass seven subjects to qualify for a Bachelor's degree course: four compulsory and three subjects of your choice. Mandatory subjects include Mathematics/Mathematical Literacy, Life Orientation, and two languages.
Here is a list of the designated items from which four are necessary. Students must have a rating of 4 (50 - 59%) or more to qualify for degree programs at RU.
List of recommended subjects:
Accounting
Agricultural Science
Business Studies
Consumer Studies
Dramatic Arts
Engineering
Graphics and Design
Economics
Geography
History
Information Technology
Languages
Life Sciences
Mathematics/Mathematical Literacy
Religion Studies, Physical Science, and Visual Arts.
NB: Meeting the minimum admission requirements does not guarantee acceptance; it only means you meet the institution's selection criteria.
Admission point scores (APS)
RU allocates admission score percentages based on the points scored in your National Senior Certificate exams. Typically, the institution evaluates the total scores obtained in seven subjects except for Life Orientation; though English and other mandated subjects are essential for determining your APS score.
Points below 40% and Mathematics Paper 3 do not contribute to the overall APS. An APS of 45 makes one eligible for automatic acceptance. However, an APS of 38-44 makes you suitable together with points scored in the extended studies program.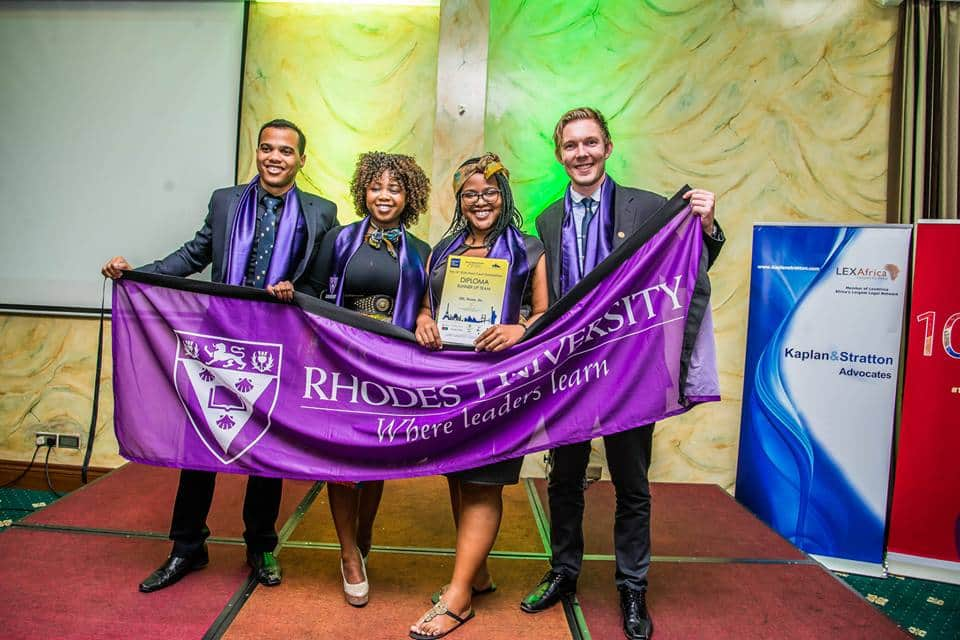 First-time applicants can apply for admission after sitting for their National Benchmark Tests (NBT 's). Where one fails to meet RU's automatic admission scores, the Dean uses your NBT results to decide your bid's status. Also, NBT results are applicable where one fails to meet the entrance criteria in the final examination.
Usually, RU offers two NBT's: An Academic and Qualitative Literacy test, which all applicants must take, and a Mathematics Test for applicants looking to study Commerce, Pharmacy, and Science programs at Rhodes University faculties.
Rhodes application requirements for international students
International students need an APS score of 40 points, with APS scores of 37-39 pending the Dean's decision in September. However, A-Level, Advanced Subsidiary level, O-Level, Higher International Certificate of Secondary education (HIGCSE), and International General Certificate of Secondary education applicants are eligible as well. Minimum requirements for foreigners are a certificate of Full Exemption or a Foreign Conditional Exemption from South Africa's Matriculation Board.
How to submit a Rhodes University online application?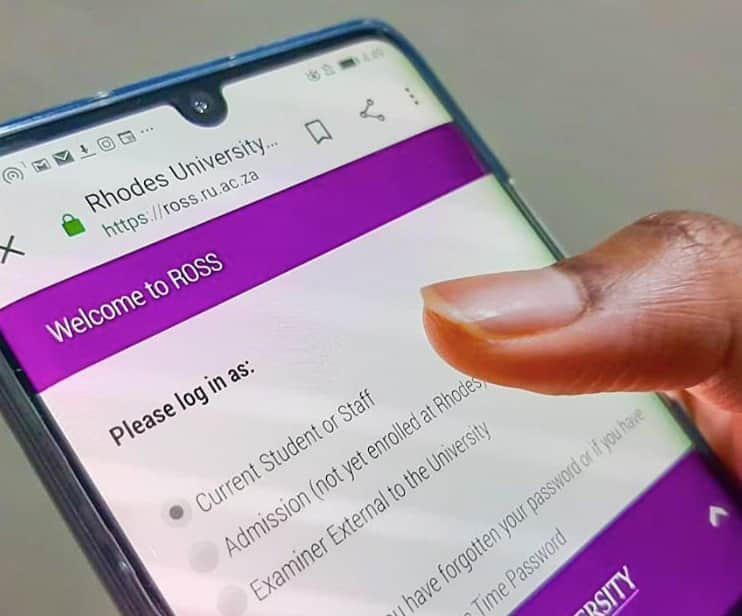 When filling in your Rhodes online application, you must have the following:
Evidence of fee payment (required for both local and international students)
A copy of your national ID card/document or passport for foreign students
Academic results (grade 12) or grade 11 (provisional grade results)
A unique email address (for both online or manual submissions)
NOTE: Beware that email services including Hotmail, Live, Outlook, Webmail, and Ymail flag mails from the admissions office. Preferably, you should use a Gmail address.
After that, you need to fill in all sections of the Rhodes university application form.
How to track a Rhodes university online application?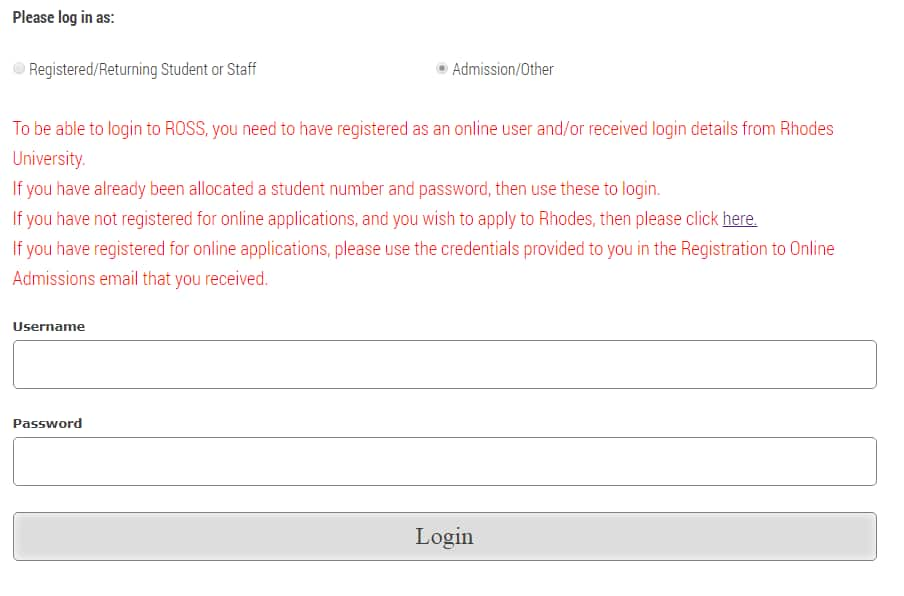 To check the Rhodes University application status of your submission, follow these steps:
You must have registered as a user to access the platform's dashboard. If you are not a registered user, retrieve your login details from the email you received after signing up as an online user.
Rhodes University 2021 application date
Rhodes University's 2021 application cycle expires on the 30th of September, 2020. But only South African applicants can apply after the deadline. After this date, applications from foreign applicants are not applicable.
Rhodes University online application fee
Rhodes University charges R100 for every application, though master's and doctoral applications are free.
Rhodes University contact details
To find out Rhodes University fees, know how to download Rhodes University prospectus 2021 pdf and other information, contact the university. If you need any assistance, remember that the institution's website has tons of details about the application submission process.
Rhodes University address: PO Box 94, Makhanda (Grahamstown) 6140, Eastern Cape, South Africa
Tel: +27(0)46 603 8276 (Rhodes University student bureau)
Email: registrar@ru.ac.za
Website: ru.ac.za
Rhodes University Instagram: @rusrc
Submitting your Rhodes University online application can be a daunting task. We hope that this post has made it simple enough for you. So, follow the steps outlined above to successfully submit your application online.
Source: Briefly News