Lira is one of the most influential artists who have made a name for themselves through their admirable music career. The latter has had the best breaks ever since she got into music. Her success is attributed to her passion for music. She is, however, topping the headlines for very different reasons. She recently called it quits after being married for nine years.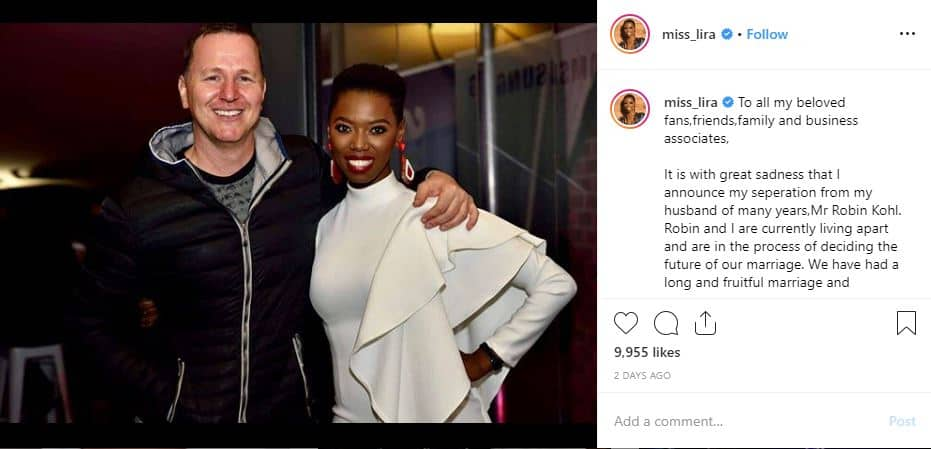 What could have caused the split between Lira and her husband for nine years? This is one question that most people, especially her fans, would wish to have an insight to. The two lovebirds seemed to be living their best of life, supporting each other's career and building a brand for themselves. It was all a bed of roses until Lira posted on her Instagram account that they had separated, leaving her fans in shock. Her biography might provide insight into the separation.
Lira biography
Lerato Molapo is a successful South African artist who has had the best breaks in her music career. She is currently celebrated worldwide for her contribution to the industry. There is so much about the award-winning artist that most people need to be updated on. How about taking a trip down her biography.
READ ALSO: One more broken celeb marriage: Singer Lira announces her separation
Lira age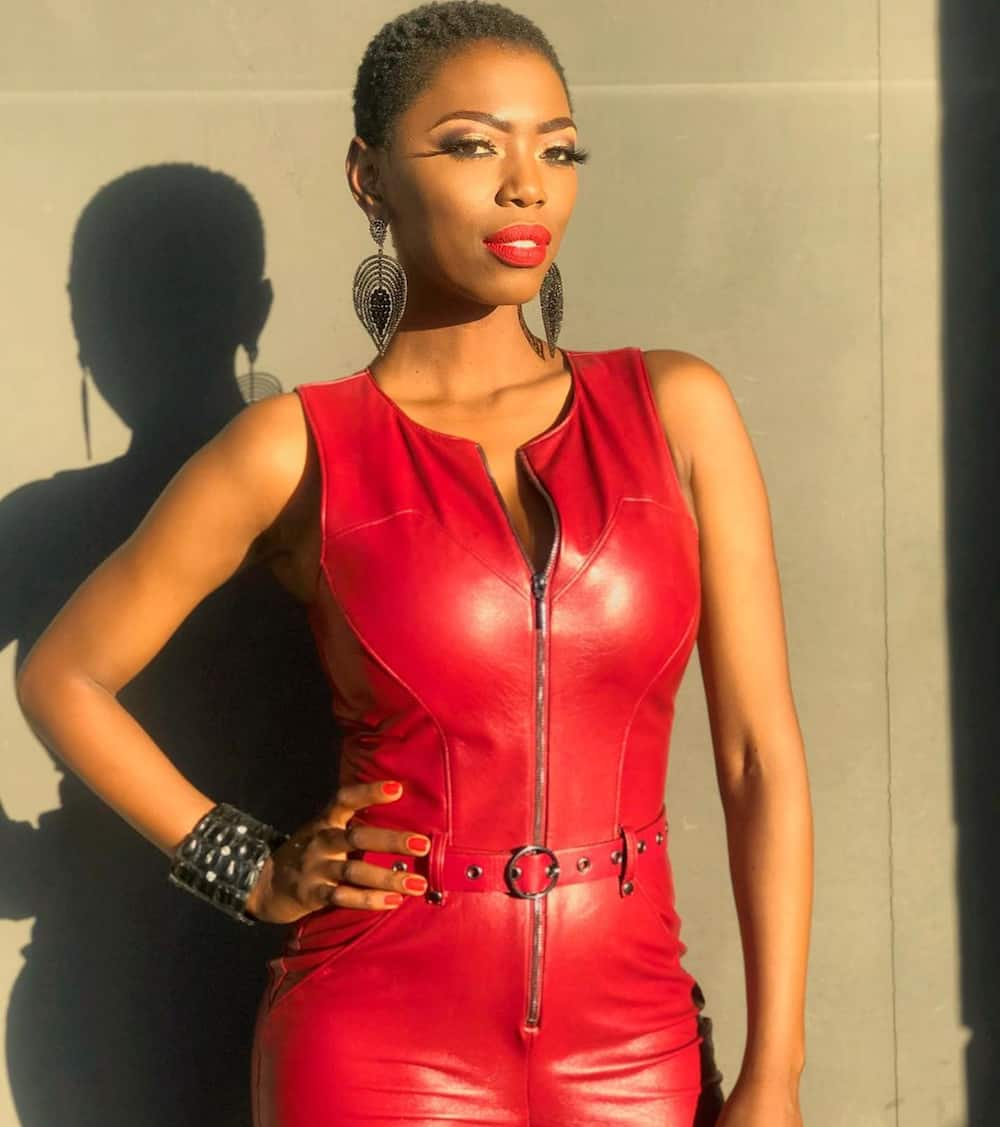 How old is Lira? The multi-talented and admirable lady was born on 14th March 1979 in Daveyton, South Africa. As of date, she is forty years old.
Lira family
Lira is the daughter of Khanyapa Molapo and Buyi Radebe Lichaba. Her name means 'love ' in Sisetho and the latter can fluently speak four languages. She has seven siblings.
Lira husband
Before she came up with updates of separating from her husband, the latter was married to Robin Kohl in 2009. The two started dating in March 2004 after which they sealed their union in a private wedding that was held on 9th September 2009 in Mauritius.
The two spent most of their times building their music career and gave this as the reason as to why they did not have any children.
Robin Koln has been instrumental in Lira's career as he was once her producer and has been her manager for the longest time.
Lira singer
Growing up, Lira developed a liking for music at a very tender age. She started composing songs when she was sixteen years old. By then, she had also perfected her performing skills and would perform her composed songs as well as cover songs from other artists. Her skill kept on being better as years went by and in 2000, Arthur Mafokate; an artist and producer, discovered her.
By then Arthur Mafokate age was thirty-eight and he had already built a brand as one of the best producers in South Africa. Arthur saw it fit to sign her to his recording label in 2000. This marked the birth of a flourishing and what would turn out to be a very successful career. Within no time, Lira (singer) became a household name.
Lira albums
Three years into working with Arthur Mafokate's 999 Music recording label, Lira released her first album. The title of the album was 'All My Love' which she officially released in 2003. The songs in the album sold so well and made her an icon. Three years later, she left 999 Music and signed a recording contract with Sony Music. Here, she came across talented people whom she worked with. These people were: Robin Kohl who worked as the producer, Tshepo Sekele who worked as the bassist and Victor Mngomezulu who worked as the keyboardist. The team worked on their first project together, Lira's second album, Feel Good, which came out a few months into 2006.
Lira's second album brought out her talent and special skill as she showcased how she could easily transition from R&B to jazz. This album performed better than the first one. Within no time, she was already becoming the talk of the country.
Lira awards
The highlight of her success came later in 2006 when she received five nominations during South African Grammy Awards that year. These nominations included:
Best Female Artist of 2006
Best New Artist of 2006
Best Video award of 2006
Best Single award of 2006
Best R&B Album of 2006
A flourishing music career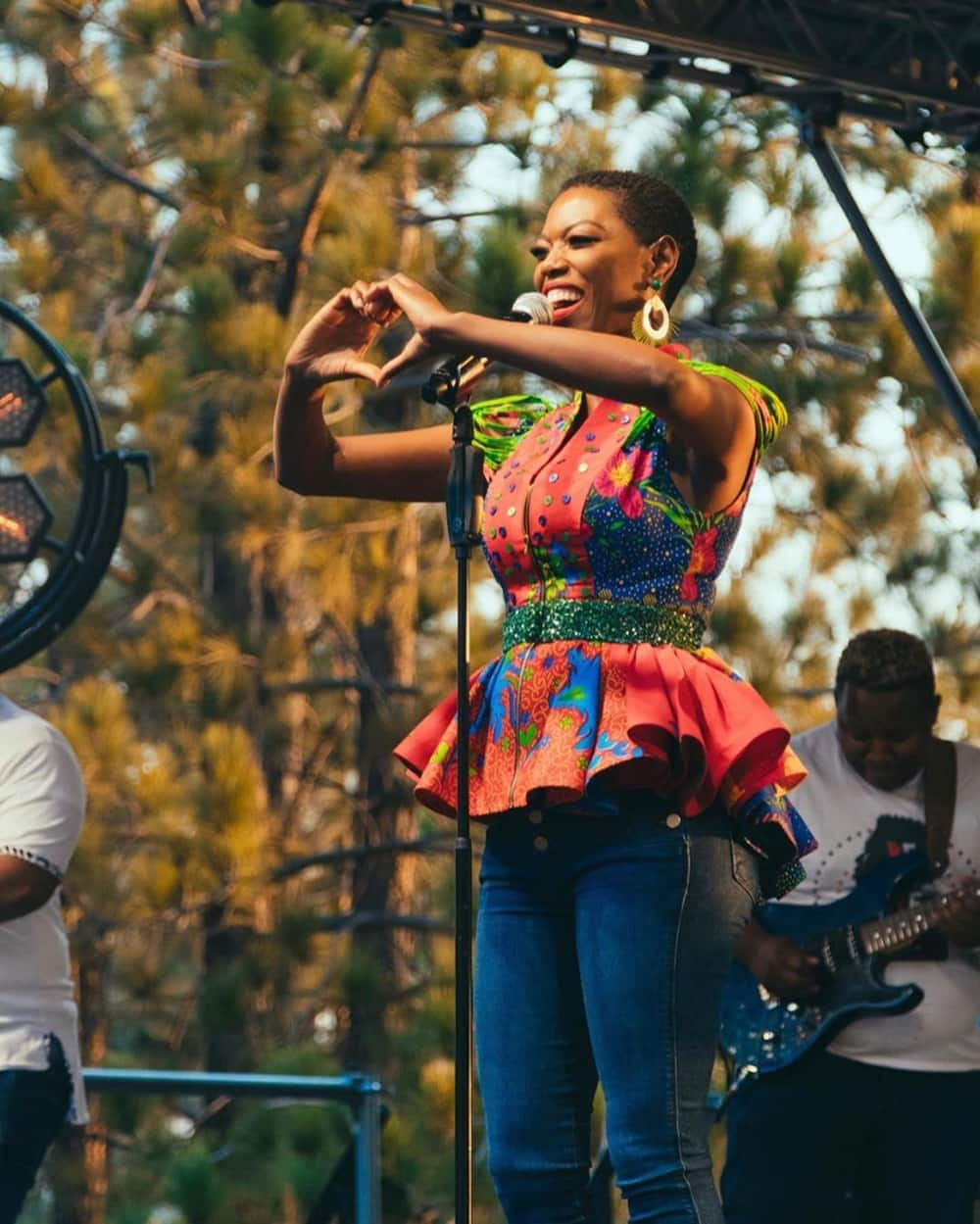 Receiving five nominations in a row was enough proof that Lira had a very bright future in her music career. This was enough motivation to keep on releasing music that would earn her more fans. She did not slack. In July 2007, she was already up with her third album. She released this album in Italy and to her uttermost surprise, it received massive airplay in the country.
In 2008, she released a sophomore album which title was Soul in Mind. This is the album that made her dream become a reality. It made her receive several nominations during that year's South African Music Awards. That year, she bagged the Album of the Year award.
In 2009, she went a notch higher to release her DVD Live in Concert which title was A Celebration. The DVD illustrated a performance that she had done in Carnival City Casino in Boksburg. Commercially, this DVD had the best returns as it was sold so well that it earned her three platinum labels.
Later on, in 2010, she had the golden opportunity to perform during that year's FIFA World Cup Kick-Off Concert. She shared the stage with other celebrated international artists.
In January 2011, Lira worked on her third studio album. She named the album Return to Love. The album also fetched her good returns. A few months later, she expressed her love for releasing good music by coming up with an EP with five tracks. She named it; The Lira EP.
In 2012, she decided to try out something new. She made her cinematic debut when she became part of a group that was working on a film The Italian Consul, that was co-produced by South Africans and Italians. Later on in 2012, she received the honours of being named among the best five unique artists to change music by Essence Magazine.
Apart from her successful music career, Lira has also worked on a documentary called 'Lira, Dream Chaser' which features her Rise Again album tour in North America.
Lira in the voice South Africa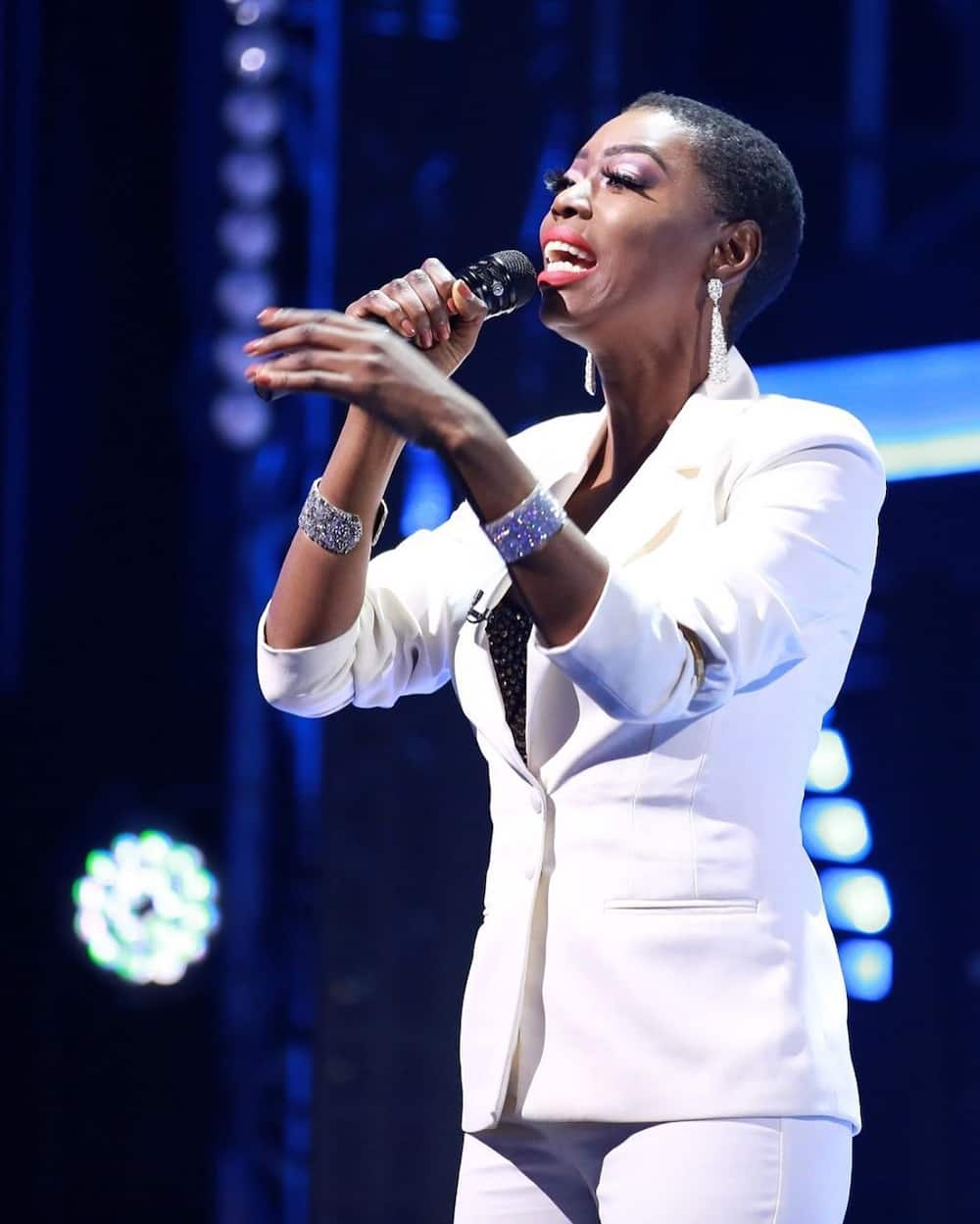 Lira has been in the limelight for the best reasons. She is among the few celebrities who have landed the top-notch position in the admirable The Voice South Africa competition. Being part of the show has transformed her. In an interview that she did at M-Net, she mentioned about having the most incredible experience for being part of the journey of moulding the careers of most upcoming artists.
In the show, Lira has built her career as a voice coach, which has granted her the privilege to travel the world and meet up with established icons who have influenced her career as well. She stated that she is ready to challenge the other voice coaches in the next season of the show. Lira stands as the only coach who was in the voice SA season 2 and made it to season 3. For the three seasons of the show, she has not coached any contestant to become the voice South Africa winner. That, however, does not stop her from showing her commitment to the show. She has played an important part in the careers of everyone bearing the title of the voice SA winner.
Lira net worth
Lira is among the wealthiest South African artists. Her net worth is greatly attributed by her music career where she has invested so well.
Lira latest news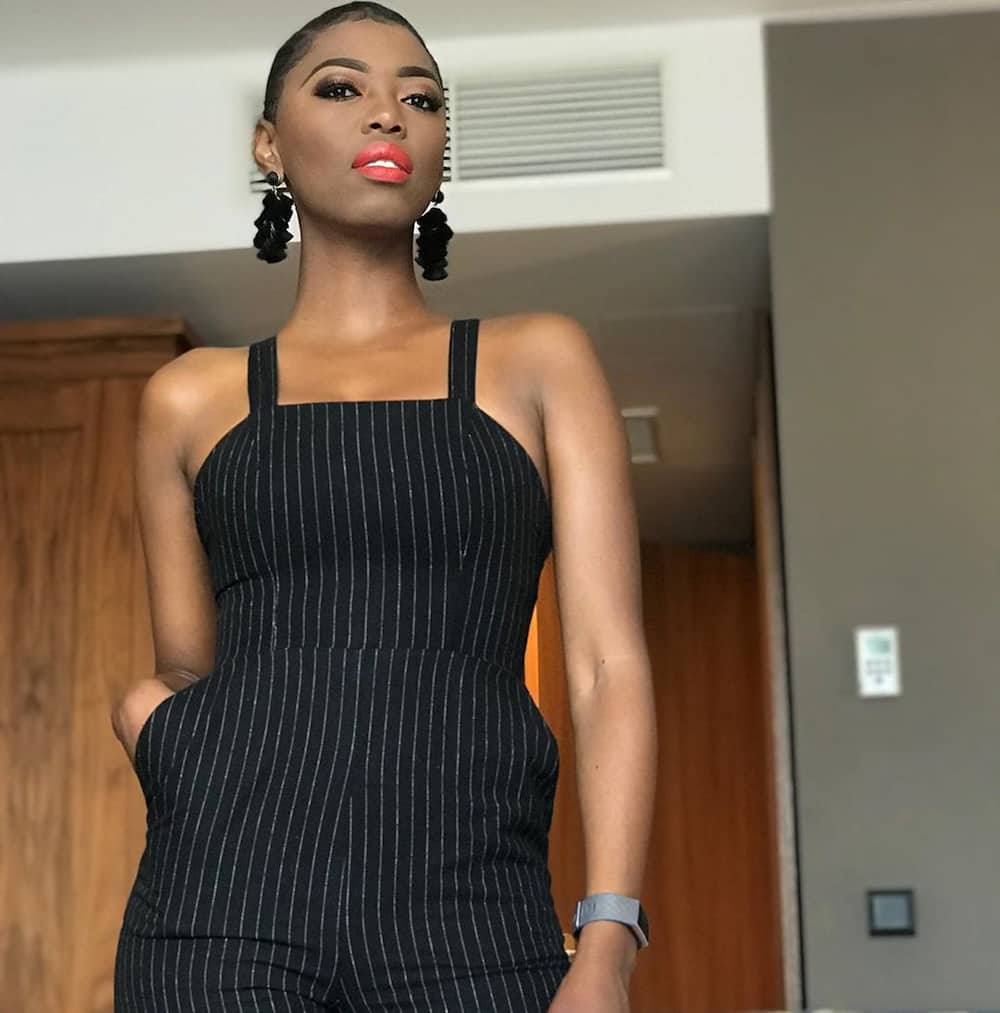 A few weeks ago, Mafikizolo's Nhlanhla Nciza took it to her Instagram account to state that she had separated from her husband of fifteen years. Barely two months later, Lira also took to her Instagram account to pen down a very touching message about how she and her husband have separated. In the message, she stated:
"To all my beloved fans, friends, family and business associates, It is with great sadness that I announce my seperation from my husband of many years,Mr Robin Kohl. Robin and I are currently living apart and are in the process of deciding the future of our marriage. We have had a long and fruitful marriage and business relationship and have formed a strong bond that will remain, whatever the outcome of our time apart. In the meantime,Robin and I sincerely request that our privacy be respected during this difficult time. We thank you in advance for your understanding. Regards".
Lira and Robin Kohl
This separation news comes after nine years of being married and working together. The two have not mentioned anything about divorce so far, even though a source that reported to City press revealed that they have been living apart since March 2019. Amid the guesses in a bid to establish the reason that could have led the couple to split, the inside source went ahead to state that, for the nine years that Lira was married to Kohl, she "never felt happy". The separation, however, did not mean that the marriage was over.
Judging from how Lira has been carrying herself around ever since she made the news about the separation on Friday night, it is safe to say that she is living her best life. She has posted pictures which captions insinuate that she is happy and the separation has not gotten at her.
Reactions from her fans
The news of Lira's separation from her husband of nine years caught most people by surprise. Even though the celebrated singer asked for privacy during this time, her fans could not help it wishing her well.
Could the separation affect their business?
The couple got married in 2009 and has since then formed the most formidable business partners in their music career. Lira ran Oteral Music which was home to Jazzworx, where Kohl is a producer. There have been speculations that the separation might not affect Lira's career but might have a big impact on Kohl. According to an insider who reported to Citi press:
"They do not have a joint company, as far as I understand. She has been very savvy when it comes to her business. She understands her rights, and I think she would be far better able to make a clean break from the relationship than most people in the industry who have had relationships with their producers".
The insider went further to state:
"Robin is a good producer, although he tended to place much of his focus on Lira and not so much on Jazzworx".
"In the past five years, it has become apparent that her attention has been directed more on her brand, on making it her income stream, with social media playing a large part. Demand for her to perform will not decrease over this, because she is good at what she does and is a true professional on stage. She's got everything going for her".
From these speculations, Lira's career might not be affected by the separation, especially since she has established her brand and her company has been constantly making profits.
The post on Lira Instagram account about her separation has left most of her fans gobsmacked. Some have already made peace with her decision and have expressed their support towards her. Others are still curious to find out more details about the consequences that led to the split.
READ ALSO: