Best traditional Paella recipe
The traditional Paella recipe is one of the most famous dishes in Spain. However, today you can find it in many exotic restaurants even here in South Africa. This is a special meal because Paella rice is not the ordinary rice that you would find on the shelves. The grain is specially bred to produce low starch rice with high absorption properties. Spain grows the best Paella rice and it has some of the best chefs too. Therefore, if that country is your next holiday destination, you know which dish to sample immediately after you land there.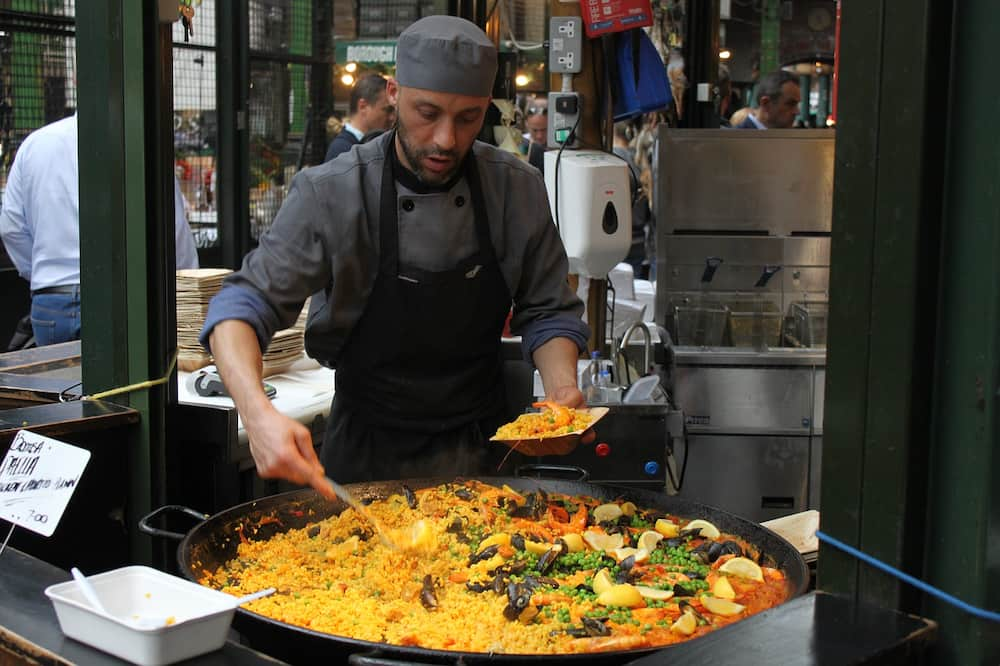 Paella is one of the most relished Spanish dishes that is made using rice as the main ingredient. It also ranks as one of the most popular items on the list of Spanish cuisine, giving it the perception as Spain's national or staple dish. However, when you talk to the native Spaniards, they will be quick to place the origins of the dish in the Valencia region. The dish borrows its name from the wide but shallow pan that is used for cooking it on open fire. Back then, it was the favourite food for Valencian farmworkers who cooked rice with different ingredients over makeshift wood fires.
How to make paella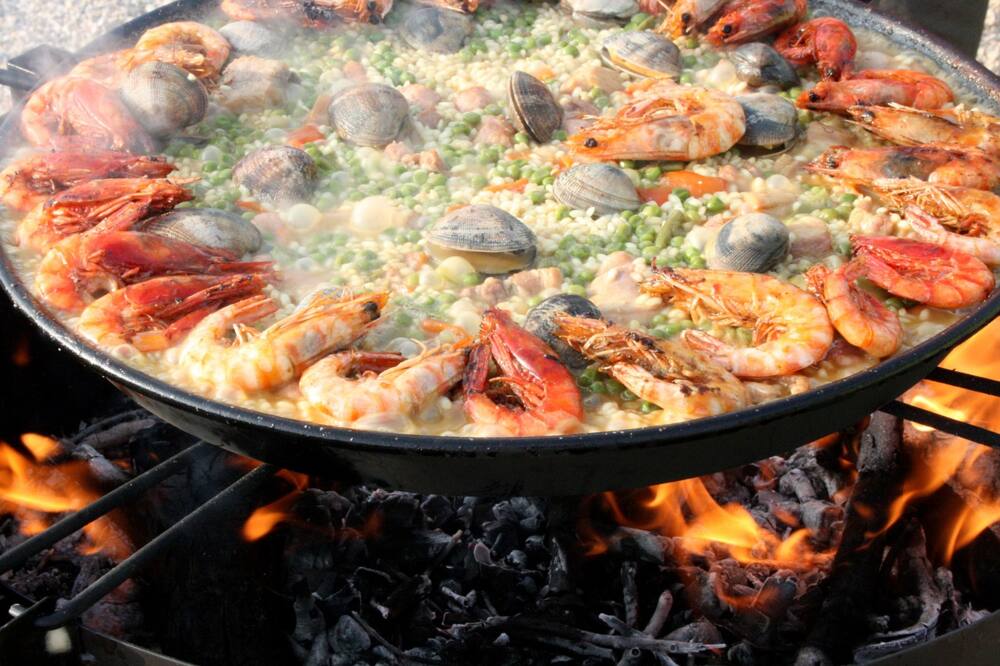 Perhaps you have relished this meal and have all along been wondering how do you make paella from scratch? Well, here is the idea:
Seafood Paella recipe
Preparation: 10 min
The dish ( also called paella recipe easy or easy paella recipe) is arguably the most delicious among paella seafood dishes.
Cook time: 30 min
Serves: 4
Ingredients
One tablespoon of olive oil
One chopped onion
One teaspoon of hot smoked paprika
One teaspoon of dried thyme
300 grams of paella of risotto rice
Three tablespoons of dry sherry or white wine
400 grams can of chopped tomatoes with garlic
900ml of Chicken stock
A 400-gram bag of frozen seafood mix
Extract juice from one half of the lemon and the cut the remaining half into wedges
Roughly chopped flat-leaf parsley (handful)
READ ALSO: 12 easy South African desserts recipes
How do you make a Paella from scratch?
Here is how it is done:
Start by heating one tablespoon of olive oil in a wide frying pan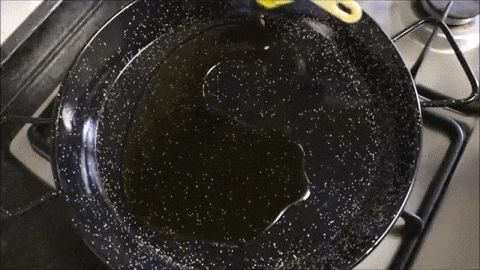 2. Add the chopped onion and allow it to soften for five minutes
3. Add in and stir one teaspoon of dried thyme, one teaspoon of hot smoked paprika, and 300 grams of paella rice.
4. Stir it for about one minute and then splash three tablespoons of sherry (white wine).
5. Give it time to evaporate and then stir in the 400-gram can of chopped tomatoes. You can also mix in the garlic and the 900 millilitres of the chicken stock.
6. Season and then cook it uncovered for approximately fifteen minutes. Stir at reasonable intervals until the rice is almost tender. Do not evaporate all the liquid.
7. Add the 400g of the frozen seafood in the mix and stir. After that, cover the pan and simmer for five minutes.
8. Take your half lemon and squeeze the juice over it. Scatter some flat-leaf parsley and then serve with lemon wedges.
READ ALSO: The 10 best roast chicken recipe in South Africa
How do you make Jamie Oliver Paella?
Ingredients
Two cloves of garlic
One onion
One carrot
15 grams of fresh flat-leaf parsley
70 grams of chorizo
Two chicken thighs extracted from a free-range chicken (They must be boneless and skinless.)
Olive oil
One tsp of sweet smoked paprika
One red pepper
One tbsp of tomato puree
One chicken stock cube (organic)
300 grams of paella rice
300 grams of frozen peas
200 grams of cooked prawns (must have been frozen and peeled)
One lemon
How it is done
Peel the garlic and chop it to fine slices. Also, chop the parsley stocks finely. Next, cut the onions, carrots, the chicken thighs, and chorizo.
Put frying oil on your large paella pan on medium heat and then add the onion, garlic, carrot, parsley stalks, paprika, and chorizo. Fry for about five minutes, stirring it at reasonable intervals.
Add deseeded and chopped pepper and allow it to fry for another five minutes.
Add and stir the tomato puree and the crush in the stock cube. Pour in the rice and mix for some minutes so that it takes in the flavour.
Pour in about 750 millilitres of water and then add some black pepper and sea salt.
Pop up the lid and then let it boil. After that, allow simmering for fifteen minutes. Stir now and then as you splash in some water when necessary.
Add the prawns and peas. Remove the lid and cook for five more minutes until it is hot through.
Season well and then garnish with chopped parsley leaves. Serve with lemon wedges.
READ ALSO: 7 Easy and tasty potato bake recipes for South African food lovers
What is the best rice for paella?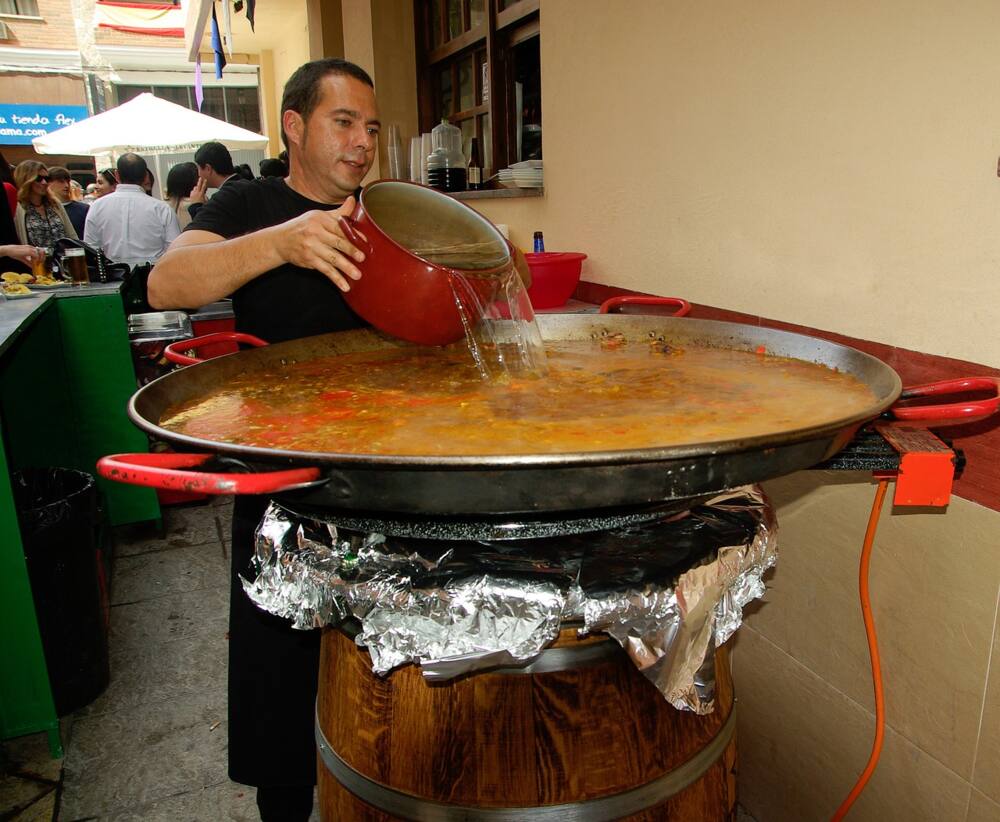 The length of individual grains can distinguish rice from the paella eating communities. The long-grained type measures about seven millimetres long while the medium and short grains measure roughly six millimetres and five millimetres, respectively.
The round rice or Arroz Redonda works well for paella, and the varieties available are Thaibonnet, Bahfa, Bomba, and Bomba Senia. However, most people prefer Bomba rice because of its higher quality and absorbent properties. This type maintains its shape even after cooking since it expands lengthwise. It is an excellent ingredient for Spanish paella recipe and seafood paella recipe South Africa.
Now that you know how to prepare at least two dishes, you can try out your skills to see how you will cook the famous Paella recipe. But, maybe you are still wondering, what are the main ingredients in a paella? Well, although the list is long, the most common ingredients are white rice, rabbit, chicken, snails, duck, garlic, sweet paprika, tomatoes, runner beans, butter beans, fresh rosemary, artichoke, great northern beans, and saffron.
READ ALSO:
10 easy mince recipes South Africa
Top 3 crispy Eisbein recipes South Africa
15 best halaal recipes
Source: Briefly News