VBS Loot: WhatsApps reveal money transfers to EFF-linked accounts
- WhatsApp messages between two former VBS managers show a trail of money moved to EFF-linked accounts
- Over R20 million appears to have been paid to EFF-linked slush funds
- EFF leaders Malema and Shivambu are the direct beneficiaries of the accounts
PAY ATTENTION: Click "See First" under the "Following" tab to see Briefly.co.za News on your News Feed!
WhatsApp messages between two former senior VBS Mutual Bank employees reveal a trail of payments that inevitably end up in the EFF's bank accounts.
The Daily Maverick and its investigative journalism wing, Scorpio, revealed WhatsApp messages between former VBS Chair Tshifhiwa Matodzi and former VBS Treasurer Phophi Mukhodobwane.
The exchange between Matodzi and Mukhodobwane reveals a series of messages resulting in several payments to slush funds linked to EFF leaders, Julius Malema and Floyd Shivambu.
In October 2018, the VBS looting scandal was leaked to the public and the parties involved all denied any connection to the looting of over R1.2 billion.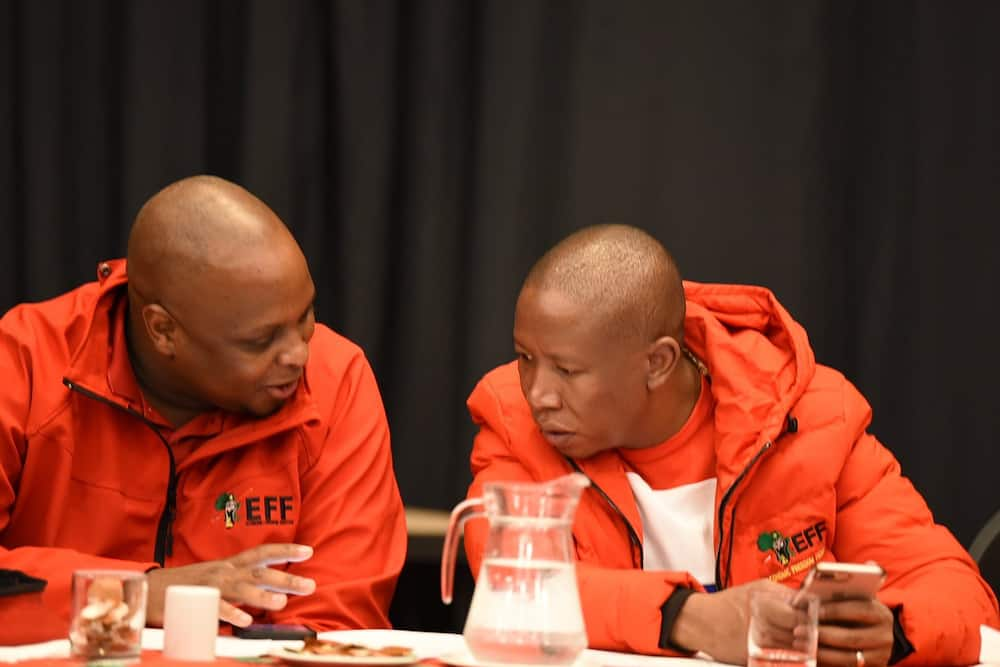 READ ALSO: Covid-19: Taxi fares skyrocket by as much as 172% for a single trip
The Daily Maverick reported that on at least seven occasions during 2017, Matodzi instructed millions in stolen VBS money to be paid to Sgameka Projects.
When news of the VBS loot hit the public, Floyd Shivambu's brother, Brian Shivambu denied that he had received funds from VBS Mutual Bank.
He claimed that the millions traced to Sgameka Projects, a company he claimed to own, were as a result of his work as a consultant for VBS-linked company Vele Investments and all the transactions were above board.
It was later revealed that Sgameka Projects had no invoices to show for the work allegedly done, no tax was paid and no employee salaries or any other operating costs. The VBS money seemed to be the company's sole income.
A follow-up investigation by Scorpio also revealed that Malema and Floyd Shivambu were the actual beneficiaries of the Sgameka Projects account. Both EFF leaders denied this but did not challenge the revelations that they supposedly stole millions from the poor in their own communities.
The WhatsApp messages appear to disprove the the responses by the EFF leaders and they also suggest a close relationship between Matodzi and the EFF.
In a six-month period in 2017, Matodzi is said to have personally ordered R9.55 million in VBS money to be moved to Sgameka Projects. This formed part of more than R20 million in VBS money allegedly allocated to the EFF and its leaders.
Several payments linked to VBS also show Malema splurging nearly a R100 000 on alcohol in Polokwane and a further R39 760 on Lacoste and Louis Vuitton goods in Sandton.
The Hawks and the National Prosecuting Authority began an investigation into the VBS loot in 2018 and to date no arrests or prosecutions have been made.
Enjoyed reading our story? Download BRIEFLY's news app on Google Play now and stay up-to-date with major South African news!
Source: Briefly News