South Africa has recorded the highest jump in daily infections seen since the beginning of the Covid-19 pandemic. Briefly.co.za explores the top updates relating to this situation.
PAY ATTENTION: Click "See First" under the "Following" tab to see Briefly.co.za News on your News Feed!
South Africa has recorded the highest spike in daily Covid-19 cases, while an expert warns that citizens should get used to the 'new normal'.
Briefly.co.za takes a look at the top updates on the battle against the virus below:
1. SA sees record jump in daily Covid-19 infections
Health Minister Dr Zweli Mkhize has updated SA on the latest Covid-19 record that has broken and it's no cause for celebration.
In a statement issued by the Health Ministry, Mkhize confirmed that the nation had recorded the highest number of daily infections to date:
"As of today, a cumulative total of 238 339 confirmed Covid-19 cases in South Africa have been reported with 13 674 new cases identified."
Mkhize also clarified that there had been a mistake in the data released on Wednesday regarding fatalities:
"Regrettably, we report a further 129 Covid-19 related deaths - 1 from Northern Cape, 26 from KwaZulu-Natal, 28 from Eastern Cape, 37 from Gauteng and 37 from Western Cape. We also indicate that the current total deaths in Limpopo is 33 (not 44 as reported yesterday).
"This was a data interpretation error which has been corrected. Reallocation has since been done and we have confirmed the current total with the province. Therefore, the total number of Covid-19 related deaths today is 3 720."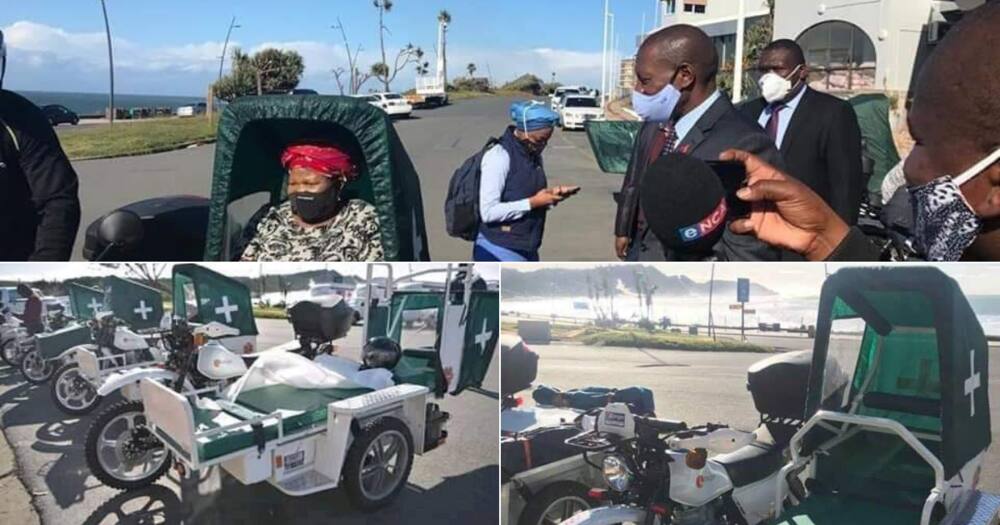 READ ALSO: Explainer: Mkhize urges SA to brace for 'devastating' Covid-19 storm
2. Controversial scooter ambulances fail to make the cut
The Eastern Cape Health Department was heavily criticised over the project to equip scooters as ambulances during the Covid-19 pandemic.
At the time, Briefly.co.za reported that citizens had been up in arms over the plan to use the unusual bikes to ferry patients around during the crisis.
Citizens had questioned how ill patients would be comfortable being transported in the questionable at best vehicle.
Now, Health Minister Dr Zweli Mkhize has confirmed that the bikes were deemed unacceptable for their intended use:
"No, the scooter project that was launched by the Eastern Cape department of health (ECDOH) does not meet the basic criteria for patient transport as an ambulance. The purpose of this project by ECDOH is mainly for widening access to primary health care and delivering of chronic medicine for the most remote areas of the Eastern Cape province."
Distancing his department from the failed project, Mkhize said that it hadn't been consulted ahead of the time, continuing to say that:
"However, the province has been advised that none of these scooters will be used as ambulances because they do not meet the specific requirements as provided for in the EMS regulations, such as minimum patient compartment space and equipment requirements."
READ ALSO: Eastern Cape Health MEC unveils Covid-19 scooters to mixed reactions
3. Karim urges SA to adjust to the new 'normal'
Professor Salim Abdool Karim has called on the nation to learn to live with Covid-19.
Speaking to Jacaranda FM, Karim explained that, with cases peaking, reopening schools and the economy may seem contradictory:
"Many things we're doing are a contradiction, like having more cases but easing restrictions. It's reasonable that we go back to school and back to work. We must learn to live with the virus."
In other news, Briefly.co.za reported that the Umkhonto we Sizwe Military Veterans Association says that it is 'deeply concerned' over the Department of Basic Education's decision to continue opening SA schools.
In a statement issued by the association in April ahead of the first batch of students returning, the group had voiced its view that the government was placing a 'burden on teachers to enforce the impossible' in classrooms, something it felt was unfair.
Now, with the next batch of pupils returning and the plan for all students to return in place, the MKMVA has called for the government to urgently reconsider its stance:
"Under these circumstances, it is our sincere, and considered, conviction that it is not wise at all to continue with the reopening of schools. We fear that schools and learners will become conduits for spreading the coronavirus - not only endangering the lives of learners but also placing parents, fellow siblings, and extended families as well as the broader community at risk."
Enjoyed reading our story? Download BRIEFLY's news app on Google Play now and stay up-to-date with major South African news!