- Abidel-Rahman Al-Shanti, an 11-year-old boy, is preaching the message of love and peace despite living in war-torn Gaza
- With a huge following on Instagram, the rapper also has big support from rap artists and DJs across the globe
- Abidel-Rahaman said he wants to tell people about the realities of children in Gaza, adding that he will keep improving his musical delivery
PAY ATTENTION: Click "See First" under the "Following" tab to see Briefly.co.za News on your News Feed!
An 11-year-old Palestinian boy, Abidel-Rahman Al-Shanti, living in war-torn Gaza, is preaching the message of peace and love in the most creative way possible.
The boy is using rap as his outlet to let people know what it is like for children in Gaza. According to Al Jazeera, the boy raps about the difficulties of growing up in Gaza.
"My message talks about peace and I want to convey it to the largest number of people and I want to show how is the life in Gaza to outside.
"I want to show them how we children [are] supposed to be like the other children from the outside, from America," he said.
Known as MCA Abdul on Instagram with over 60,000 followers, he has fans among world artists and DJs. He has even been on air in Ireland.
READ ALSO: Bheki Cele supports liquor ban return after weekend of carnage
The media also notes that he is friends with rappers around the world, thereby growing his global fan base.
The young boy also sings cover songs as he hopes to write more of his own. He said he began rapping in 2018. He added that after he realised he could rap, he started practising constantly.
Abidel-Rahman said he wants to keep improving on his craft so that his rap game can be better as he looks forward to writing more original lyrics.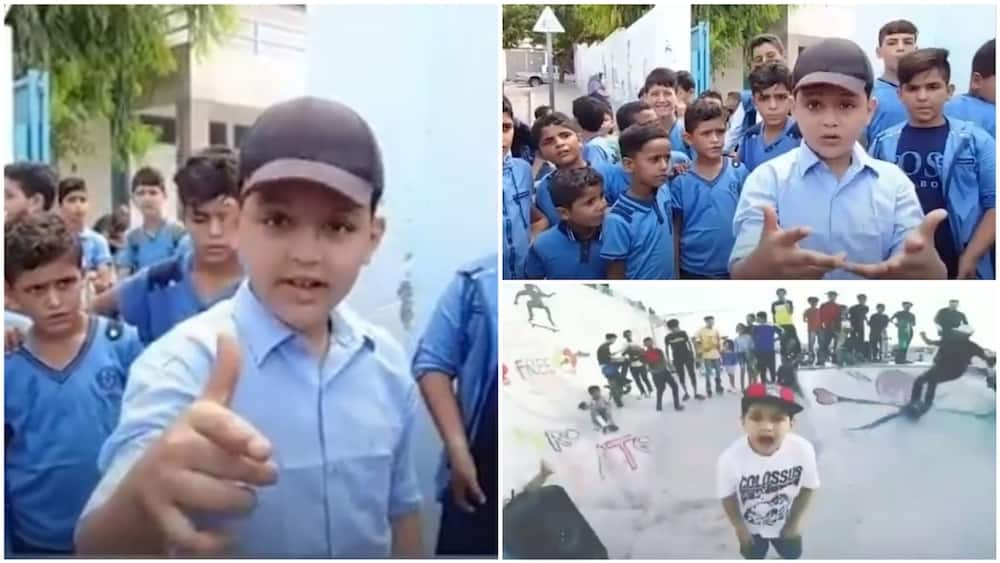 Though his friends do not always understand his fast-paced English rap, they still give him support by featuring in his videos.
READ ALSO: Not again: Zodwa Wabantu pens letter to ex-boyfriend Ntobeko
Waseem Seedi, a friend of his, said though he always asked him to sing for them, he does not understand what he is saying. He, however, commended the brilliance of his songs and how he delivers them.
"Some things will never change, some things will stay the same, but when it's said and done, Palestine will still remain," the 11-year-old boy rapped.
Watch his video interview below:
Meanwhile, Briefly.co.za earlier reported that matriculants were finally allowed to attend their classes. Not long thereafter, other learners too joined them. These matriculants at Okiep High School in the Western Cape decided to welcome their fellow learners back with a well-rehearsed dance routine. People loved it.
At the time of publishing, the video had received nearly 6 000 reactions from Facebook users who loved watching the students bust their moves.
Lee-Ann Florence said: "I love this so much."
Nicola Gorlei said: "Oh wow, just love it. Gave me goosebumps. Awesome guys."
Enjoyed reading our story? Download BRIEFLY's news app on Google Play now and stay up-to-date with major South African news!