- Dr Vuyo Langa took to the #ImStaying group on Facebook to share a heartwarming post about his grandmother
- According to Dr Langa, his grandmother raised him from the tender age of 5 years old
- Dr Langa credits his success to the woman who raised him and could not be more grateful for her love
PAY ATTENTION: Click "See First" under the "Following" tab to see Briefly.co.za News on your News Feed!
Dr Vuyo Langa is a young South African doctor who took time out of his day to thank his grandmother for all she's done. According to Dr Langa, he was left with his grandmother at the age of five.
Dr Langa's grandmother did everything in her power to raise him. She worked hard so he would have food to eat and when she got to the age where she started receiving pensioners grant, she would share that money with him so he could eat.
Dr Langa said his grandmother did everything she could and that he is a doctor today because of her.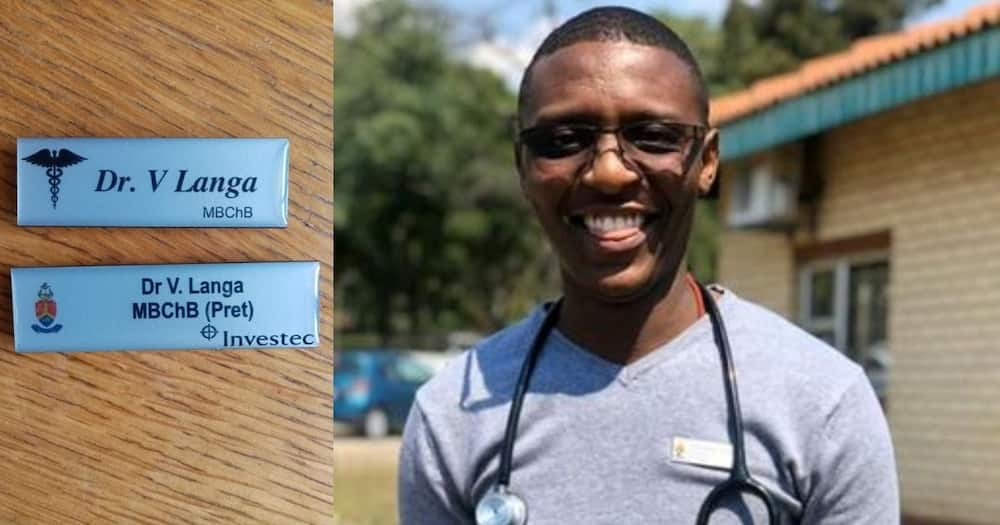 Dr Langa's full post on the #ImStaying group read:
"#IAmStaying because of my grandmom. I was left with her when I was only 5 years old. She did everything she could to raise me. She worked so hard so that I didn't sleep with an empty stomach.
"She started getting old age grant when I was doing my first year at varsity and she would share that with me so that I can eat and survive. She did all she could and today I am a doctor because of her. #ThetrueMbokodos of today... To all the women like her, I say: May they be stronger and never be shaken."
Stayers loved Dr Langa's heartwarming and honest post. They shared love and positivity with him and his grandma in the comments section.
Lois Tennant said:
"You were blessed and I know you will make her proud!"
Jennifer Gregory wrote:
"Well done for honouring and appreciating that wonderful woman and congratulations for your achievement."
Ayanda Shete commented:
"Love and make her your priority Ndoda so she can be comfortable in her old age & you will be double blessed!!! Well done!!"
Nicole Broome added:
"Reading this tears shot into my eyes. Well done and your gogo is a true hero! I wish you all the best that life offers!!"
In other news about gogos, Briefly.co.za recently reported on a grandmother and grandchildren who received a home from kind citizens. In the heartwarming post shared to Twitter, @lemdzabu, the person who organised the house building, thanked everyone who played a part in the project.
The post also features a picture of the home that the gogo will now occupy with her loved ones. There is also a picture of the rundown hut that the old lady used to live in and in the caption he explains that they will be working on similar projects in the future.
"We finally did it. Thanks to all those who donated into this project. A grandmother and her grandchildren have their dignity restored. We are going for another project soon. We hope to receive the same support. We won't stop until everyone has his/her dignity restored," he writes in the caption.
Enjoyed reading our story? Download BRIEFLY's news app on Google Play now and stay up-to-date with major South African news!