- 16-year-old Boitshepo Nkwana started a foundation at the age of 15 with money sent to him by his mother for school
- The Limpopo native donated his school money and so began the Nkwana Foundation
- Boitshepo is wise beyond his years, he shared his story with Briefly.co.za in this exclusive interview
PAY ATTENTION: Join Briefly News' Telegram channel! Never miss important updates!
Boitshepo Nkwana was just 15 years old when he started the Nkwana Foundation. Now at 16, he hopes he can help more people. Boitshepo's story starts when he lived with his aunt while schooling and used the money his mom sent him to help people in need.
Boitshepo said he would eat breakfast in the morning and during lunchtime, he would eat the food offered by his school. He wanted to save the money his mom gave him to help others. Fortunately, the young man managed to help a few families with his savings.
Boitshepo spoke to Briefly.co.za about his childhood and the formation of Nkwana Foundation, a foundation that aims to change lives, make a difference in communities and equalize life at large.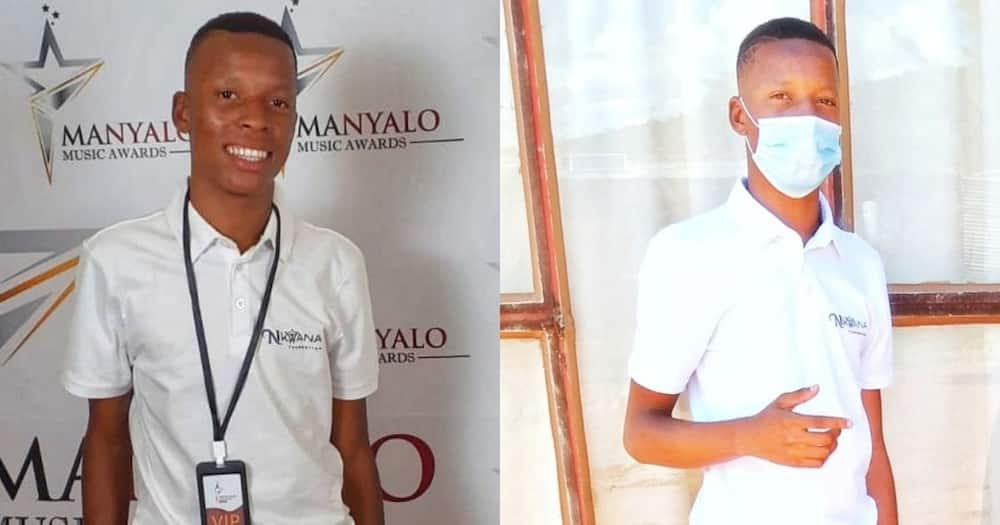 Speaking about his childhood, Boitshepo had this to say:
"Childhood is the most innocent phase of man's life. My childhood recollections are those of a sheltered and carefree life. The memory of the days spent during my childhood is still haunting my mind.
"Although I do wish that those days, full of pleasure, may come back. As I am growing in age, I know that my desire of enjoying childhood again can never be fulfilled because gone are the good old days when I was a child. I was the first in the family, everybody cared for me."
Boitshepo shared the inspiration behind his foundation:
"I have always seen so many videos of the unknown individuals helping underprivileged people from various communities, I never thought I would one day be helping people. Until I came across a live video of my family friend (Kgothatso Segololo Mashaba) cooking for the homeless on 18 July 2019.
"I got interested and also wished to embark on the journey with him, unfortunately, we stayed far apart, but he advised me out of love. I gave it a try and met a lot of people in need. I made it a habit and it lead me to Nkwana Foundation."
When asked about his mother's response to using his school money to help others, Boitshepo said:
"She couldn't believe the sacrifice I have made, especially with the money she had given me as part of my lunch box. She wasn't really happy with it because she has always wanted to see me eat well and be healthy.
"As time went by, she understood and began to realize that she raised a leader, she supports me."
Boitshepo is still a high school student but is making a difference where he can. Speaking about furthering his studies, the young man stated he believes education adds more knowledge and wisdom to those who follow.
"I wish to become my own boss, an entrepreneur, but I would also like to become an accountant. I haven't really made a choice with this.'
The inspiring teenager had some wise words to say about his future:
"I wouldn't want to be successful alone I want to carry on with hardworking hustlers so they can become successful enough to create jobs to benefit our communities."
In other inspiring news, Briefly.co.za recently reported on a student that went from selling on campus to owning a poultry farm. Kutullo Paris Maponya from GaMotholo village in Mankweng already owns over 200 egg-laying and broilers on his poultry farm in his parents' backyard, besides being a BSc in Molecular and Life Sciences student at the University of Limpopo.
You can be forgiven for thinking that he was born with a silver spoon in his mouth. But like many 'rags to riches' stories, Maponya's story is no different.
He started by selling snacks, sweets and biscuits from his on-campus room in 2017, albeit with the end in mind.
Enjoyed reading our story? Download BRIEFLY's news app on Google Play now and stay up-to-date with major South African news!