- A young student has gone from selling eggs on campus to owning his own farm
- Kutullo Maponya has his hands secure on the reigns of his future after becoming a poultry farmer
- In an exclusive interview with Briefly.co.za, the young graduate shared the secrets to his success
PAY ATTENTION: Click "See First" under the "Following" tab to see Briefly.co.za News on your News Feed!
By Freelance Writer Manare Matabola
With friends flaunting their success stories and peer pressure hovering over their heads, most students neglect or shelve those baby steps towards their big dreams: Fear of judgment or being looked down on are the most prevalent reasons for this.
"You don't have to be great to start, but you have to start to be great," author Zig Ziglar cautions. The narrative, however, calls for change, as far as Kutullo Paris Maponya from GaMotholo village in Mankweng is concerned.
At just 22 years of age, he already owns over 200 egg-laying and broilers on his poultry farm in his parents' backyard, besides being a BSc in Molecular and Life Sciences student at the University of Limpopo.
You can be forgiven for thinking that he was born with a silver spoon in his mouth. But like many 'rags to riches' stories, Maponya's story is no different. He started by selling snacks, sweets and biscuits from his on-campus room in 2017, albeit with the end in mind.
"The idea was triggered by reading Financial and Motivational books. At first, I was unsure about the type of business to pursue. Seeing my father practising farming at home, I then fell in love with it. As a result, I decided to use the room for selling purposes.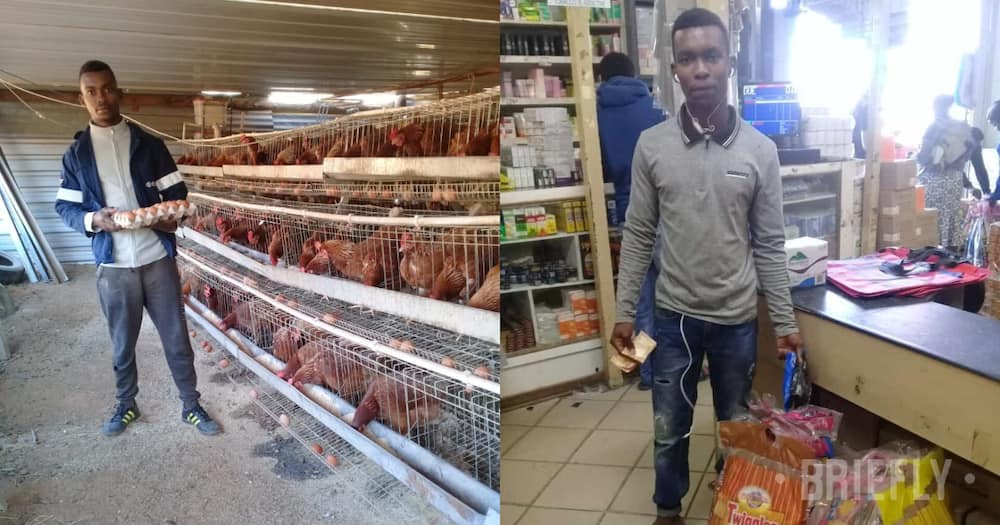 "I used the profits generated from that business and the bursary allowance to start this poultry farm," Maponya told Briefly.co.za in an exclusive interview.
Suffice to say that pressure from the student populace and the lack of finance could have dissuaded him from seeing the bigger picture. However, his relentless character ensured that he treats the situation as a launchpad to the echelons of his dreams.
"God helps those who help themselves," says Maponya. "When I started, I told myself that help will find me on the way. I haven't received any external financial backing thus far, but I believe that it is on the way. I always encourage peers who are interested in business to start where they are with whatever they have and grow from there," he adds.
As the youth unemployment numbers in the country continue to spike up, it is interesting to note, however, that there are some young people like Maponya who are effortlessly trying to curb the number from further spiralling out of control, as opposed to only waiting on the government, to do so.
Meanwhile, Briefly.co.za previously reported that It seems Zodwa Wabantu was serious when she shared her aspirations to sell chickens and eggs.
The media personality took to social media to share a video of herself with her chickens. Since Ramaphosa basically shut down the entertainment industry, Zodwa said that she would be turning to chickens to make a living.
In the footage she shared, Zodwa could be seen picking up a live chicken while talking about her new endeavour.
Enjoyed reading our story? Download BRIEFLY's news app on Google Play now and stay up-to-date with major South African news!