BI Phakathi Gave Homeless Man His Wallet, Told Him to Take as Much as He Wanted
- BI Phakathi trusted a stranger with his wallet and told him to take as much money as he would like
- The stranger, Gert, took only what he needed, a R100 note and Phakathi offered him another note
- He rewarded Gert with a wad of cash, giving Gert R1 200 in total which completely amazed the thankful man
PAY ATTENTION: Join Briefly News' Telegram channel! Never miss important updates!
BI Phakathi shared a video on Facebook in which he gives a homeless man his wallet and told him to take as much money out of it as he would like.
He approached a man lying on the pavement and asked him if he had eaten that day, to which the man replied that he had not.
The man introduced himself as Gert and told him that he had lost his family and he now lives on the street but still considers that he is blessed.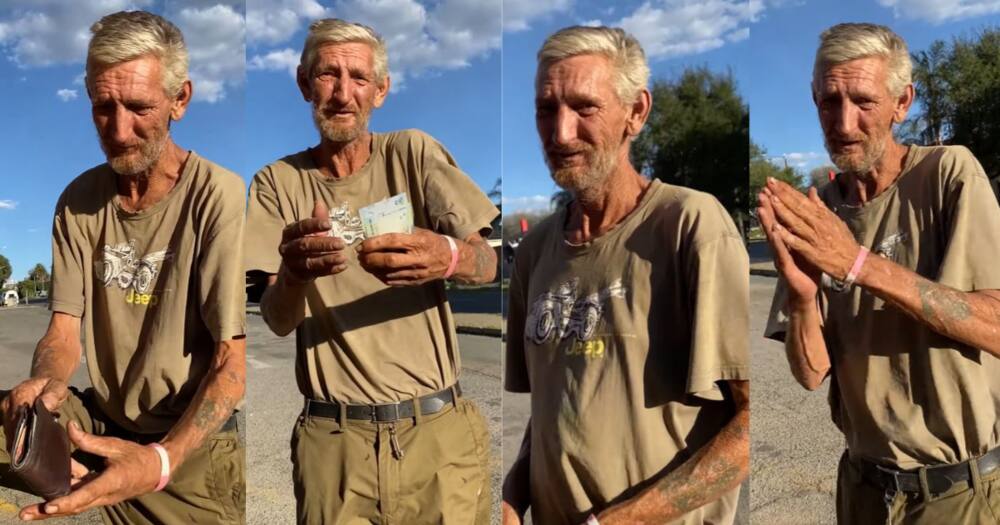 Phakathi was concerned that the man had not eaten and asked the man what he was going to do.
Gert said that he was just going to lie there for the day.
Phakathi offered the man his wallet and told him to take as much as he wants. Gert removed a single hundred rand note. Phakathi told him to take another note, Gert was blown away by the gesture and gratefully took it from him.
He joked that he wanted to see if Gert had taken all his money. He then handed Gert another 10 notes, giving him a total of R1 200.
Gert was totally amazed by the generous act and said that he was going to buy some "lekker food".
Facebook users loved the post and rewarded it with over 21 000 reactions and thousands of comments:
Cindy Dorman Genis:
"This man was so surprised you opened your wallet to hím. You showed trust and made him feel worthy. My heart breaks that there is so much waste be in some countries, while there are people starving for a piece of bread! When you meet someone like this,....often giving a man his honour (almost) can make up for a horrible situation! Blessings xoxo"
Bernadette Bremner:
"Thank you, my friend, for the angel you are truly a blessing from above to help so many people in need regardless of colour I wish we had more like you thank you for being the humble and special person you are ...sending you much love and respect."
Jinja Àse:
"Humble Soul..."
"I believe BI can see into the souls of good people."
"Many days I have sat contemplating life and wondering my next move... God heard my prayers and sent us an angel like BI."
Earlier, Briefly.co.za reported that local philanthropist and social media sensation, BI Phakathi recently headed online to share another heartwarming clip of himself helping a desperate and destitute woman and her young children.
In the clip, BI approaches the young mother who is sitting on the side of her road with her children begging for money and food from passing motorists. He then proceeds to ask them to come with him so that he can buy them food.
After buying them what looks like a food hamper, BI then proceeds to give the mother some cash to take care of her little family over the next few days. The clip left many South Africans truly moved as they headed to the comment section to share their thoughts.
Enjoyed reading our story? Download BRIEFLY's news app on Google Play now and stay up-to-date with major South African news!
Source: Briefly.co.za