Meet Mack: Young Man Teaches Kids Visual Drawing, Wins Over Hearts
- Mack Mamaregane, 24, is a student in Limpopo who catches the attention of many people on campus with his stunning art
- Mack, who is a self-taught visual artist, also teaches children the art of drawing in an effort to keep them off the streets
- He hopes to open his own gallery one day and wants to continue teaching youngsters
PAY ATTENTION: Click "See First" under the "Following" tab to see Briefly.co.za News on your News Feed!
By Thomo Nkgadima - Freelance Journalist
Mack Mamaregane, a Bachelor of Education student, is teaching youngsters visual art to take them off the street. His stunning, hyper-realistic portraits are turning people's heads.
Mack, 24, more recently drew beautiful portraits of well-known DJ Vigro Deep and Argentina professional footballer, Lionel Messi.
The self-taught visual artist, who was born in Ga Makanye village outside Polokwane, Limpopo, has kept busy by teaching kids how to draw portraits, as well as by drawing his own works of art.
He was awarded the Fundza Lushaka study bursary by the Limpopo Education Department for his good matric results and hopes to graduate as a teacher, majoring in Mathematics and Physical science.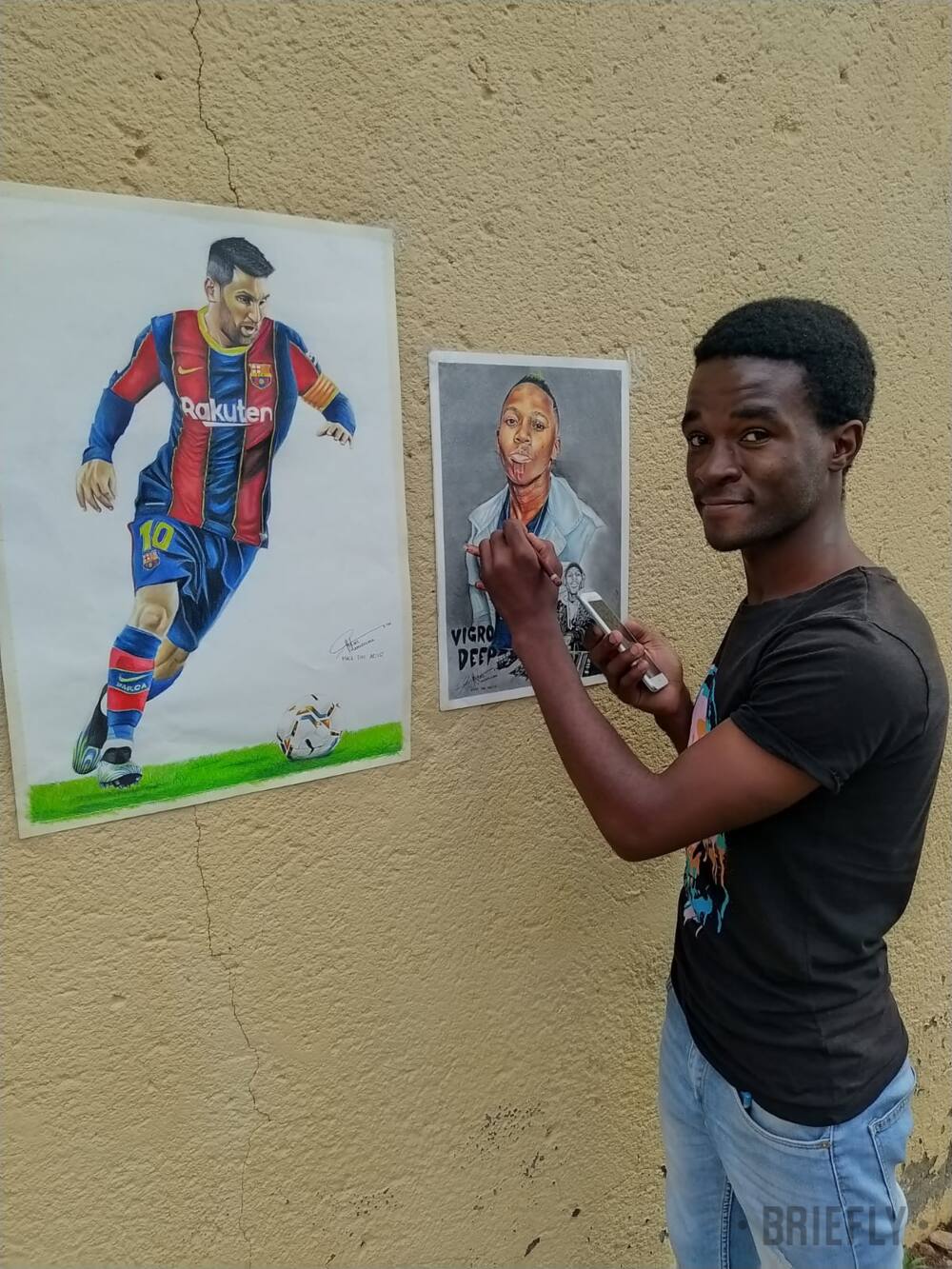 In an interview with Briefly.co.za, Mack said:
"To tell you the honest truth my art is gift from God, an inborn talent.
"I turn student's heads in my own deep rural village I come from and at the University of Limpopo campus, where I am doing my third year of studies to become a teacher.
"I use my own technique to break down the barriers."
Mack said he started drawing at a young age and developed his skill, knowledge and technique by watching YouTube tutorials online.
"Now I can't wait to complete my studies to open my own art studio and continue teaching prospective young emerging visual artists."
He also dreams of opening his own gallery.
Meanwhile, Briefly.co.za reported that the infamous painter, Rasta the artist, who is notorious for sketching portraits of prominent personalities when they die, recently received a financial donation to purchase paint.
He spoke to Briefly.co.za in an exclusive interview:
"I am so happy to announce that we are back on track; some good Samaritans donated money to me after the public appeal we put out," said Rasta, whose real name is Lebani Sirenje.
Opening up to his thousands of followers recently on his Facebook fan page, Rasta wrote:
"It's been a very busy 2021 with us losing our beloved ones and public figures. As a result I've officially run out of paint. Please DM for donations."
The person behind the donations spoke on condition of anonymity:
"I live to support work done by talented African children. Rasta is our talent as Africa, I like his art and I felt it was my responsibility to come through for him when he appealed for donations to continue with his work."
Enjoyed reading our story? Download BRIEFLY's news app on Google Play now and stay up-to-date with major South African news!
Source: Briefly News