Rasta the Artist Bounces Back After Receiving Financial Backing
- Infamous painter, Lebani Sirenje - who is known as Rasta the artist - recently received financial donations to purchase paint
- This follows a public appeal he made after he had "run out of paint" and materials needed to continue with his craft
- Rasta has since thanked the good Samaritans who helped him and he's hard at work proving that the assistance went towards a worthy cause
PAY ATTENTION: Join Briefly News' Telegram channel! Never miss important updates!
Infamous painter Rasta the artist, who is notorious for sketching portraits of prominent personalities when they die, recently received a financial donation to purchase paint. He spoke to Briefly.co.za in an exclusive interview:
"I am so happy to announce that we are back on track; some good Samaritans donated money to me after the public appeal we put out," said Rasta, whose real name is Lebani Sirenje.
Opening up to his thousands of followers recently on his Facebook fan page, Rasta wrote:
"It's been a very busy 2021 with us losing our beloved ones and public figures. As a result I've officially run out of paint. Please DM for donations," supplicated Rasta.
"Covid-19 has brought a lot of challenges to the world, we lost lives and business too but I decided to come out to the world for me to push forward always. I made the appeal after I felt that it was the right thing to do. I could not let my career down the drain because of Covid-19.
"We would also like to thank everyone who contributed to our cry in various forms. The positive responses we are getting are evidence that people out there like what we do," he said.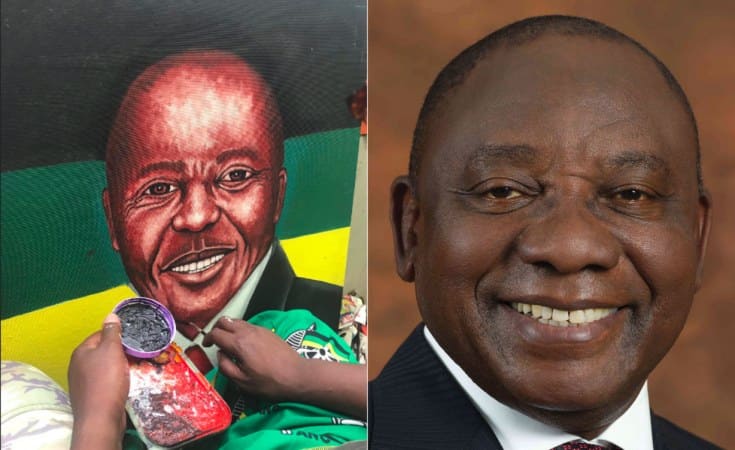 The person behind the donations spoke on condition of anonymity:
"I live to support work done by talented African children. Rasta is our talent as Africa, I like his art and I felt it was my responsibility to come through for him when he appealed for donations to continue with his work.
"As Africans we must always support our own, if we do not do so no one will do. What I gave him was not enough but can help for some time, so I urge other well-wishers to help him as well."
Rasta also took time to laugh off suggestions that his works are controversial. His works are followed by many and if anything, his sketches show personalities how "important" they are as Rasta only draws known people. Also, they make for good comic relief.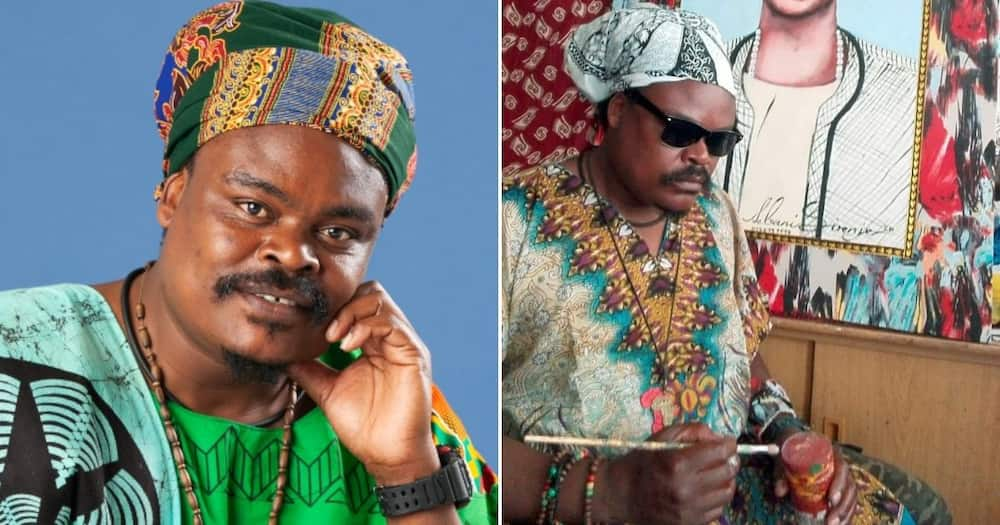 His art has become so notorious that The Queen actress Zenande Mfenyana tweeted that she does not want Rasta to paint her at her funeral. She was reacting to his portrait of the late radio broadcaster Bob Mabena.
"I have heard some people saying that I am doing controversial paints but the truth is that I have a calling for the work I do. I bring life and happiness to people through my paintings. So I respect and appreciate what I do. I have a lot of followers out there to show my relevance in our African society and world."
He also believes that his work is an "investment".
"I might appear as a comedy now, but I am looking beyond. One day my work will come under hammer and these collections will bring more fortune to me," he added.
The controversial artist also disclosed that he does more than just paint portraits of famous people.
"Many people don't know that I'm also a signwriter. I have been doing sign-writing across the country. People must go out there and check all my work."
Despite continuous criticism from South Africans about the accuracy of his portraits, he continues to practice his art.
"I maintain that my work is a calling. I started when I was very young. It started as a hobby and now it is a career. I am aware of some repeated criticism and backlash I face out there, but people must know that art is subjective. With a portrait, it portrays you. It is not 100%," said Rasta.
Rasta also disclosed that as a painter, he often gets praise for capturing the spirit of the people he paints portraits of.
The controversial celebrity painter, who is known for doing his most notable work at funerals and memorial services, has previously done paintings of various South African known celebrities, President Cyril Ramaphosa and US singers Beyoncé and Jay-Z at the Global Citizen Festival in Johannesburg, among others, which left people in stitches.
Earlier, Briefly.co.za reported Rasta once again headed online to share a picture of his latest completed project. Heading to Twitter, he shared a photo of a wall on which he painted various South African legends.
On the wall, Lebo Mathosa, Brenda Fassie, Mandoza and Jabba are portrayed through Rasta's eyes. Rasta captioned the photo of the colourful and sentimental wall:
"Project completed."
Very soon locals were taking to the comment section to share their thoughts. Many of them remarked that the celebs were poorly portrayed while others claimed they didn't even recognise who was who on the wall. A few people did however appreciate his work.
Enjoyed reading our story? Download BRIEFLY's news app on Google Play now and stay up-to-date with major South African news!
Source: Briefly News