Lady Trusts Her Mom's Gut Feeling and Reunites Lost Boy With His Father
- Ankia Jonker's gut feeling ended up saving the day and resulted in a lost boy being reunited with his dad
- They'd been visiting a family member when Ankia had an urgent feeling that they had to leave
- They came upon a boy who did not appear to be in distress but it turned out that his dad had been searching for him for three hours
PAY ATTENTION: Join Briefly News' Telegram channel! Never miss important updates!
Monique Jonker took to Facebook to share an amazing experience she had with her mother in the #ImStaying group.
Monique, her mom, Ankia Jonker and her stepfather were visiting her stepbrother when she had a sudden urge to leave.
They decided to go and almost immediately after leaving they drove past a boy in the road. He waved to Ankia who said that the boy needed their help. trusting her mother Monique stopped by the boy.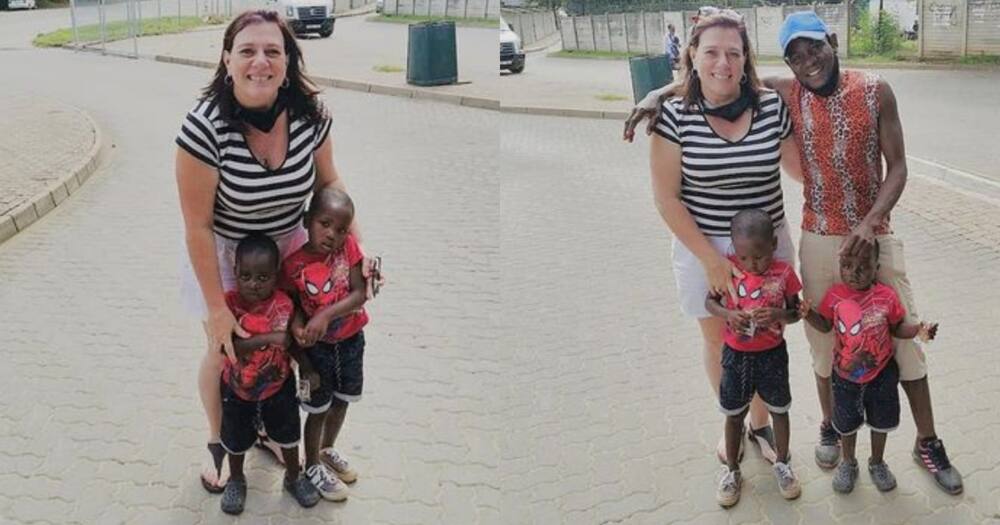 He immediately trusted Ankia and despite her best efforts, she couldn't get any information out of the boy. They asked a Zulu man in the road for some help but he said it appeared that the boy didn't understand Zulu.
Monique's stepdad advised they take the boy to the police station and reluctantly Ankia agreed. As they drove off a man was seen sprinting down the road. Ankia had another gut feeling, this was the boy's dad. The boy said "uBaba, uBaba."
Amazingly, they had reunited the boy who'd been missing for three hours with his dad, all because of Ankia's gut feeling.
The boy's name turned out to be Freedom, Ankia had a calling for "Freedom". The post got a lot of love on Facebook with thousands of reactions and hundreds of comments.
Here is Monique's full story:
"Yesterday while my Mum, My Step Father and I were visiting my Step Brother, my mum was overcome with this sense of urgency that we needed to leave. She hadn't spoken for a while and just suddenly said, "We need to leave now."
Not thinking much of it, we listened to my mother and we left.
About 150m from my Step Brother's place, we came across a young boy, no older than 4 years old, all he did was wave at my mum. I didn't think much of this but my mum felt that this boy was lost and that he needed help. I had no idea how she had come to this conclusion as the boy wasn't crying or showing any other signs of fear. Nonetheless, I trusted my mum's judgment and we stopped next to the boy.
This boy just immediately trusted my mum and climbed onto her lap in the car. Soon after, my mum's fanagalo Zulu filled the car as she attempted to obtain any information about the young boy. We later found out that her attempts were futile when we asked a Zulu man and woman to help us get through to the boy. They then told us that it was not because of my mum's fanagalo Zulu that the boy didn't understand but because the boy isn't Zulu that he didn't understand.
Feeling hopeless now, my Step-Father suggested that we go to the Police Station. While my Mum didn't feel like this was the way we should help, we started driving to the Police Station anyway.
This was when we drove past a man sprinting down the road in an animal print shirt, my mum insisted that this was the boy's mum. Yet again I had no idea how she'd come to this conclusion as the man had given no other indication other than the fact that he was running at a great speed that he was looking for his son. But still, we trusted my mum and we turned around and drove down the road to look for the man. About 20m away from the man, this little boy who had said next to nothing the whole drive pointed at the man and said something along the lines of, "uBaba, uBaba".
I couldn't believe it. My mum had just reunited a young boy with a concerned father who had lost his son 3 hours prior and she'd done it all because of a few gut feelings. After a good sob on the side of the road with the boy's father, my mum learnt of the young boy's name - "Freedom". I have no idea what overcame my mum that day but I think she had a calling on Saturday, the 27th of March 2021.
A calling for "Freedom"."
Earlier, Briefly.co.za reported that mother knows best, Njabulo Mtolo took to Facebook to honour his mother who took a whole year to raise the R2 500 needed for his registration at university.
While he was completing matric, she raised the money needed for his studies despite not having an income.
"Help me to appreciate this woman it took her the whole year to raise R2500 for my registration at the university while I was doing my matric NB//she had no source of income because she was unemployed, but her love and support was priceless."
Enjoyed reading our story? Download BRIEFLY's news app on Google Play now and stay up-to-date with major South African news!
Source: Briefly.co.za