Police protect stranded female motorist, help change her tyre in dangerous spot
- Demi Kramer was stranded when her car tyre blew out while driving on the M1, she was forced to stop on the side of the road
- Two highway patrol officers stopped to see why she had pulled over and told her the area was quite dangerous
- The protected her and changed her tye, she took to the Facebook group #ImStaying to share thank the officers
PAY ATTENTION: Join Briefly News' Telegram channel! Never miss important updates!
Demi Kramer took to the Facebook group #ImStaying to share her inspirational story of when her tyre blew out while driving on the M1.
She skidded to the side of the road and knew immediately that she was not going anywhere. Fortunately for her two highway patrol officers pulled up and asked why she'd stopped.
Demi explained what had happened and the officers told her the area was notorious for people hiding in bushes and hijacking motorists who stop.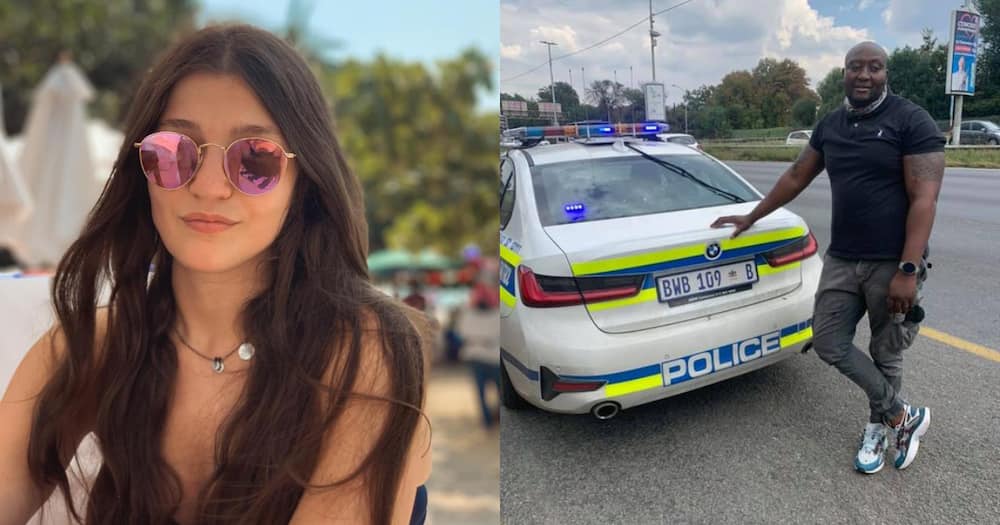 What happened next took her by surprise, they protected her and changed her tyre. She took to Facebook to thank the officers for helping her.
Here is her full story:
"I blew a tyre on the M1 South just before Riviera Road Off-ramp. After skidding into the emergency lane (thankfully I was driving in the slow lane), I knew my car would not move anymore and so I panicked. In addition, I was on a bend and only managed to make it slightly into the emergency lane I was worried that someone would hit me while driving around the bend at such a speed on the freeway (despite me having my hazards on).
Next thing two incredible highway patrol officers stopped to see why I was stopped on such a sharp bend. Further, they told me it is a dangerous section because people hide behind the bushes and hijack you. I explained to them in a state that I couldn't move my car as my wheel was completely destroyed. Next thing they were changing my tyre while ensuring I was safe.
I would like to thank these kind, caring and helpful constables from the highway patrol for all that they did for me today. They are the reason why I am staying."
Facebook users took the comments section to react to the inspirational story:
Elmarie Bleeker Nortje:
"Did he use a jack, or did he sommer pick the car up with one hand?‍♂️"
Debi Healey:
"We need more heroes like this in our world. Well done to them! And he's the first strong-looking policeman I've seen in years!"
Charlene Attwell Harvey:
"Nice guys! I wish all the SA cops were this dignified and honourable... fantastic heart warming story."
Vivian Mars"
"Beware of the m1 south tomorrow there will be a lot young ladies blocking the road with car troubles. Hahahaha."
Earlier, Briefly.co.za reported that not all metro police officers are incapable of being generous, that is a heartfelt sentiment shared by Ntsikelele Gojana of Durban who was helped in the CBD.
The Durban-based Facebook user says he was stuck in Durban central as his car could not start but he managed to move around due to the police officer's generosity.
Gojana took to the ImStaying Facebook page to thank the policewoman and his message has been welcomed by his followers as they also congratulated the woman. Gojana said:
"So today I was stuck in Durban central. My car couldn't start because of my battery flat so I explained to this officer."
Enjoyed reading our story? Download BRIEFLY's news app on Google Play now and stay up-to-date with major South African news!
Source: Briefly.co.za