Mzansi Reacts to Video of Police Vehicle Petrol Bombed by Rioters
- South Africans are flabbergasted watching a police vehicle torched down by angry protesters in an unspecified location
- Many social media users have reacted with anger as they say that is an attack on the state and police should do better to protect themselves and their vehicles
- On the other hand, many have challenged EFF leader Julius Malema to address the matter of burning police property, just like he did in Senekal
PAY ATTENTION: Click "See First" under the "Following" tab to see Briefly.co.za News on your News Feed!
South African social media users are still in shock following a video that has surfaced where a police vehicle is seen burning down to ashes.
In an unspecified location, the video of a police ,Nyala', or a riot vehicle, is seen burning in what looks like a violent protest.
The video was shared by @LoKreLLiN who decided to be short and precise in his caption, asking how can such an act be allowed?
"How is this allowed. Is this not an attack on the State?"
According to the account holder, the Nyala had a technical fault due to battery failure.
"The nyala got stuck due to battery fault. The students kept coming, they ran out of equipment. Two police members were inside the Nyala, which was stuck. Students used a petrol bomb to burn the nyala and the police members used live ammunition trying to defend themselves from the attackers."
Social media was abuzz with comments with some lambasting the acts of those who are disgruntled but prefer to burn down state-owned vehicles or property.
Briefly News takes a look and selects interesting comments from the video or post that has attracted close to 100 retweets.
@S_N_Warrior said:
"What does the government have to say now...? Our taxes up in flames... Where's the police?"
@Ask1NK said:
"Eating their own. Let them have at it. Eventually, there will be nothing left to burn. Then, when there's absolutely nothing left they'll cry for help. And who will come?"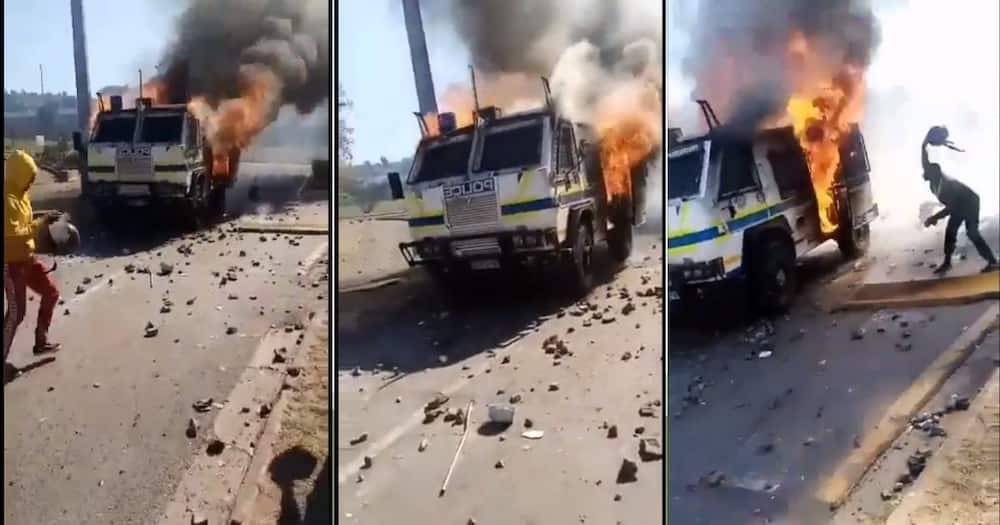 @Cranky Gran said:
"I'm sorry to say but it's hard to feel any sympathy for people who sing and dance while destroying things!"
@_Calculator said:
"Anyone arrested or is that a silly question?"
@Southly_Citizen said:
"Will the @EFFSouthAfrica go and protect state property as they did in Senekal? Or is that reserved for white South Africans only?"
@Louis96018668 said:
"What on earth do they achieve by this? I do realise the mentality is many centuries behind, but some civilisations have never done this. Maybe because it is not a civilisation."
In other stories, Briefly News reported that mobile classrooms at Oakdale Secondary School in Ennerdale near Johannesburg were burnt down.
This came as part of several protests that have broken out across the Gauteng province over two weeks.
The protesters who burned the classrooms were reportedly unhappy because the government had been slow in repairing the school's damaged roof.
Enjoyed reading our story? Download BRIEFLY's news app on Google Play now and stay up-to-date with major South African news!
Source: Briefly.co.za