Woman Who Didn't Know She Was Pregnant Gives Birth on a Flight
- Lavinia Mounga went into labour while flying to Hawaii on Wednesday, April 28
- Mounga and her husband were not aware that she was pregnant for the three trimesters
- The video of the incident went viral after one of the passengers who were in the plane shared it on Tik Tok
PAY ATTENTION: Click "See First" under the "Following" tab to see Briefly.co.za News on your News Feed!
Lavinia Mounga, who hails in Utan, had the surprise of her life after carrying her pregnancy for nine months without her knowledge.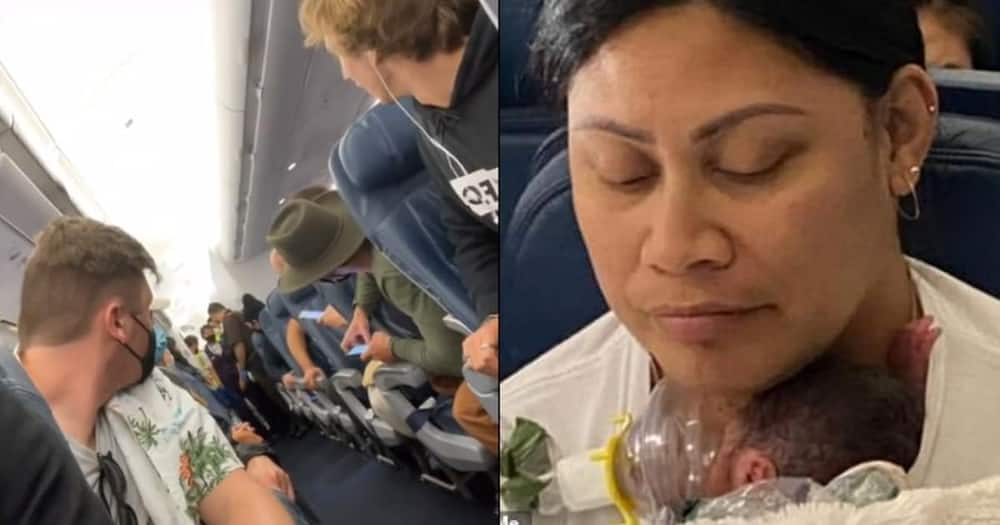 On Wednesday, April 28, the Mounga woman was enjoying a flight to Hawaii with her family when she began having contractions.
Mounga's story went viral after one passenger, identified as Julia Hansen, announced the news on TikTok, saying, 'A baby was just born on this plane.
In the clip, people could be seen celebrating and congratulating the new mother for her incredible mid-air feat.
Hansen revealed that he had sat next to the family during the flight, claiming that even Mounga's husband was not aware of the pregnancy.
"To those wondering how she was able to fly in her third trimester, I sat next to her dad on the plane, and he said they didn't even know she was pregnant," he stated.
Several nurses and doctors who were on the flight assisted with the birth.
One of the nurses, Lani Bamfield, a nurse from Kansas City, also took to her Facebook account to announce the news;
"If anyone would like to know how our trip to Hawaii is going, here's how it started. We delivered a 26-27 weeker in the aeroplane bathroom, in the middle of the ocean, with three NICU nurses, a Physicians assistant, and a family medicine doctor; we were able to make it three hours before we could finally land, but the baby and mom did great," She wrote.
The mother named the baby Raymond Kaimana before they were taken to hospital once the plane landed in Honululu.
In another story by Briefly News, a woman, Nereida Araujo, who was traveling from Florida to Pennsylvania via airplane in the US, went into labour nearing the end of the one-hour-and-39-minute flight.
Araujo and her husband were on their way to a relative's home for Thanksgiving when their unborn daughter decided to arrive early.
According to PEOPLE, Araujo was 38 weeks pregnant but was cleared by her doctor and the airline to fly.
Enjoyed reading our story? Download BRIEFLY's news app on Google Play now and stay up-to-date with major South African news!
Source: Briefly News