Master Sgt. Eva Appiah: Meet the African-American appointed as Legislative Fellow in the US gov't
- Ghanaian-American, Senior Master Sergeant Eva Appiah, has been appointed Legislative Fellow in the United States Government
- She was selected as the Air Force Reserve Command Enlisted Legislative Fellow for 2021
- Appiah's journey to Legislative Fellow began as a young girl in Ghana
PAY ATTENTION: Click "See First" under the "Following" tab to see Briefly.co.za News on your News Feed!
Senior Master Sergeant Eva Appiah of the 357th Airlift Squadron First Sergeant is trailblazing the frontlines of the United States Airforce.
The native of Agona Swedru who has become an inspiration to many across the world has been featured on the Air Education and Training Command (AETC) website for her commendable achievements.
Senior Master Sergeant Eva Appiah (ah-pee-ah), 357th Airlift Squadron First Sergeant, was raised by a working-class single mother in Agona Swedru in the Central Region.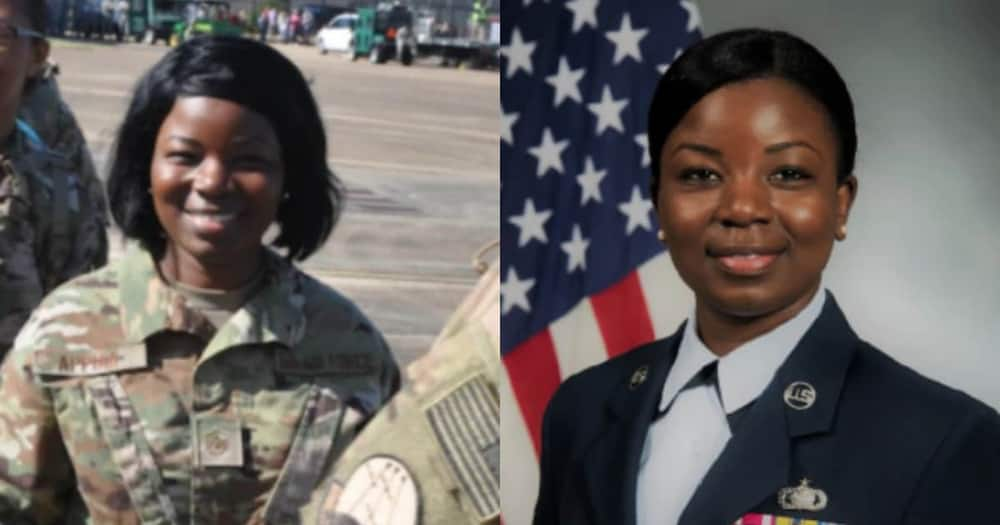 Her mother and grandmother consistently stressed the importance of education because they wanted her to have a better life than they had.
PAY ATTENTION: Never miss breaking news – join Briefly News' Telegram channel
Appiah's mother sent her to study at Swedru International School (SWIS), a boarding school 45 minutes from their home, as it was more economical than funding a daily commute. As a result, she learned to become self-reliant at an early age.
Though she had a few friends at SWIS, there wasn't much time for socialisation. The self-proclaimed ''nerdy-type'' joined the choir for extra-curricular activities.
Appiah's exposure to classmates from different cultures and dialects prepared her for her eventual move to the United States.
In 1996, her mother announced she was getting married and they moved to America to join her step-father.
At the age of 14, she and her mother arrived and settled in at Smiths Station, Alabama, and was enrolled at the Smiths Station High School just a week later on October 17.
After graduating high school, Appiah's mother urged her to join the United States Navy but she declined, and instead attended college at Auburn University Montgomery in Montgomery, Alabama.
During her freshwoman year, she obtained two part-time jobs to pay her bills including her rent.
She later decided to join the military. On May 30, 2002, without her mother's consent, she enlisted in the United States Air Force Reserve.
After basic training and technical school, she was assigned to the 908th Airlift Wing, Maxwell AFB, Alabama, where she served several years in many different positions within the Logistics Readiness Squadron.
In 2016, armed with a master's degree in health administration, Appiah applied for an officer commission in the Air Force Reserve, hoping to serve in the medical field but her application was turned down.
Though she was disappointed, she didn't let it set her back. She had been told by numerous Airmen and senior noncommissioned officers that she would make an excellent first sergeant, so that's what she became.
As a first sergeant, Appiah helped implement and lead quarterly enlisted calls.
While reading the EDEB invitation to apply and course descriptions, she noticed the opportunity to serve as Air Force Reserve Command Enlisted Legislative Fellow.
The fellowship provides hands-on experience through education and development activities consisting of an intensive orientation of Congress.
The 54-month commitment includes six months of academic courses, one year on Capitol Hill as a staffer to a member of congress or committee, and a 36-month post-fellowship active-duty service commitment in the National Capital Region.
The position intrigued her; however, she also noticed they were only looking for one primary and one alternate for the position and didn't further consider applying.
Ironically, during the next enlisted call, facilitator Senior Master Sergeant Justin Nettles, a 908th Airlift Wing Operations Group loadmaster, mentioned the Legislative Fellow position. Appiah raised her hand and informed him that they were only accepting one person as the primary.
Nettles then posed a question to the audience which would change the trajectory of her career: ''What if you are that one person?''
In March 2020, the COVID-19 pandemic reared its ugly head and the country-wide shutdown began. The U.S. military was not exempt, as meetings, conferences, classes, and other mass gatherings were promptly cancelled or indefinitely postponed. Appiah received a notice that the EDEB had been cancelled, except to convene to decide the Legislative Fellow.
With the help of her then group commander, retired Colonel Don Richey, the 357th Airlift Squadron's director of operations, Lt. Col. Diane Patton, and wing command chief, Chief Master Sergeant Tracy Cornett, Appiah submitted her application.
Soon after, she was notified she was a finalist. A few days after a virtual interview with three panel members, she was notified that she had been selected as the primary.
Though nervous, she admits that to do bigger things, she must step out of her comfort zone.
''I've spent most of my life here in Alabama, but if I'm to accomplish bigger and better things I need to step out of my comfort zone. That is how we grow ...''
With an inextinguishable spirit and ostensible tranquillity, Appiah knows if she falls she will pick herself back up and keep moving forward.
''I'm ready for the challenge,'' she declared.
In other news, a young lady from Zambia, Eness Milambo, has shown that people could choose a totally different career path from what they studied in school.
21-year-old nursing student, Eness' journey to becoming a repairer started when her shoe once tore and she had to depend on someone to fix it for her.
Nursing Student Turns Shoe Repairer, Reveals how it all Started, her Story Generates Reactions
The young lady, according to Jethro on Facebook, confided in her friends that she wanted to start a business repairing shoes. They encouraged the lady by giving her theirs to fix.
Enjoyed reading our story? Download BRIEFLY's news app on Google Play now and stay up-to-date with major South African news!
Source: Briefly.co.za