Drake's Bizarre Owl Hairstyle Trends on Twitter, Global Netizens Super Unimpressed: "This Is Weird"
A viral video of American rapper Drake's new Owl hairstyle design made the rounds on social media
Global netizens were unimpressed with the rapper's new hairdo and claimed it was corny
An owl has a special meaning to Drake, as it is the logo of his fashion brand, October's Very Own (OVO)
Drake recently showed off his new braided hair, and the hairstyle got people talking.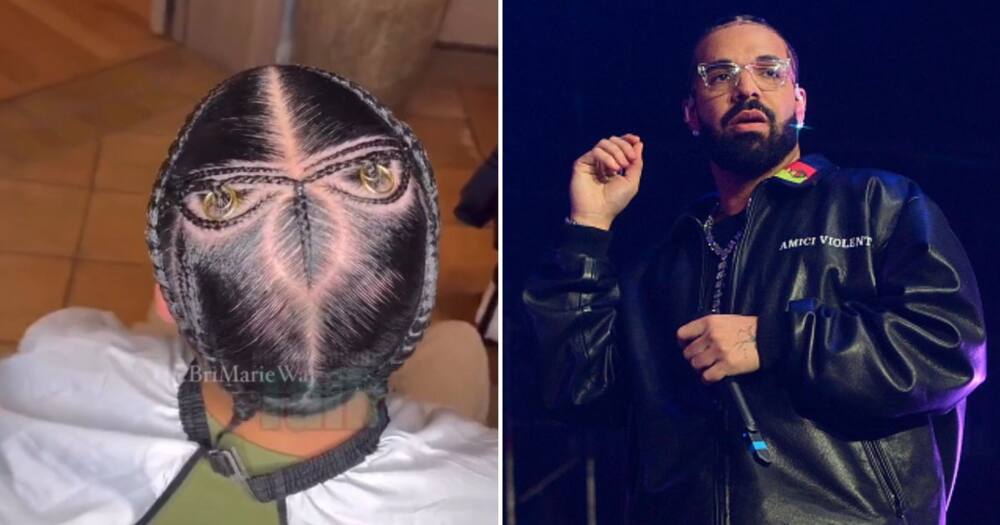 @DailyLoud shared a clip of the Canadian-born rapper flaunting his owl hair design. While the rapper looked quite pleased as he turned left and right to show off the hairdo, netizens in the comments were unimpressed.
Drake's owl hairstyle trolled
Despite an owl being the logo of the In My Feelings hitmaker's fashion label, October's Very Own (OVO), as reported by Yahoo.com, netizens made fun of Drake's hair.
@Corterrius_J said:
"Why though? Cause who will see it and go, oh an owl. Nobody can see the top of his head."
@OladapoJ shared:
"Is he trying to scare people at night?"
@22SDPrice posted:
"It's cringe worthy, lol."
@mtVErnon_88 replied:
"That's ugly and outta pocket."
@Chatnovski commented:
"Someone's parent behaving like this smh."
@Pig55196652 wrote:
"Bro asked for an owl and got an angry bird."
@ZAYGREEDO reacted:
"His music has been a staple in the past 15+ years. He's a hitmaker, but this has to be the corniest thing he's ever done."
@pre__cious__ added:
"If it were the female pop stars, you'd start hearing conspiracy theories and pastor's sermons."
Doja Cat's strange outfit leaves fans worried about her sanity: "She looks like a new COVID variant"
In similar news, Briefly News reported that Doja Cat has been hogging headlines for the wrong reasons lately. The Woman hitmaker got peeps talking when she appeared at the Balenciaga show with a black eye-inspired makeup look in October 2022.
The rapper recently had the streets buzzing when she rocked another daring outfit at Paris Fashion Week.
As expected, social media users had many theories regarding the Grammy Award-winning rapper's look. Many headed to Daily Loud's Twitter page and said they were not feeling it, while others felt that Doja Cat needed help.
Source: Briefly News