Refiloe Maele Phoolo is a South African award-winning artist who bears a stage name Cassper Nyovest. He was born on 16th December 1990 in South Africa. He is a well- known record producer of hip-hop songs, a recording artist, rapper and a businessman. Nyovest is a gentleman known to have great taste when it comes to choosing his girlfriends. Among the gorgeous ladies he has dated before includes; Boity Thulo, Amanda Du Pont, Fezokuhle Zulu and Lizelle Tabane whom they broke up within 2017. After officially breaking up with Lizelle, he met Thobeka Majozi who is the latest Cassper Nyovest Girlfriend.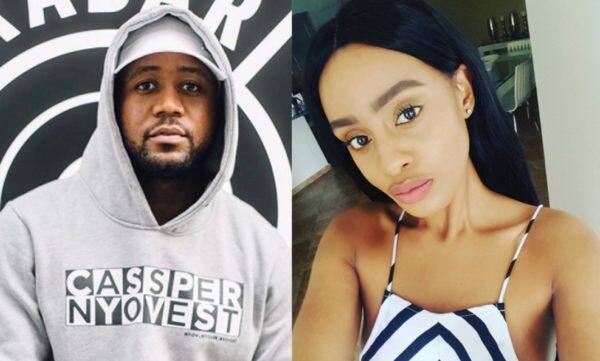 Cassper Nyovest Girlfriend 2018
Thobeka Majozi is a young, elegant lady. She was born on 2nd October 1992 in Mahikeng, South Africa. Her mother Ntombimpela Majozi is a professional event planner, prominent businesswoman and a CEO of Nto's boutique hotel. According to the reports on news24.com (19th September 2014), she said that "Black people are paying too much for their weddings." However, she has planned and coordinated the following traditional wedding ceremonies; Khulubusa Zuma, Bheki Cele, Deebo Mzobe, Thobeka Mabida Zuma and Nompumelelo Ntuli Zuma's wedding ceremony. On the contrary, her father Mr. Majozi has not been in the limelight. Her family is currently based in Kwazulu Natal.
Cassper Nyovest new girlfriend has proved her love for rappers since she previously dated Rapper Magz. Before dating Magz, she used to date the Keiza chief's defender Siyanda Zulu, though the relationship didn't last for long. Later on, another source claimed to have spotted her at the back seat of Siyanda's black Mercedes Benz coming from the prestigious signature hotel.
Her elegance and style cannot be ignored. She also has an extraordinary love for sunglasses which is noticeable in her numerous Instagram posts. Similarly, her ambitious character has been proven by the fact that, she graduated from the Durban University of Technology in March 2016, yet she has been spotted attending other classes. Cassper Nyovest wife is also known to love exceptional things such as Louis Vuitton handbags and Gucci designer dresses. For your information, she bought her first car in the year 2014.
Consequently, there have been claims of Cassper Nyovest new girl being very secretive since she had dated a number of celebrities in the past and managed to maintain her relationships low. Her love relationship with the rapper has not been different since she used to accompany him to his gigs and sit on the backstage or in his dressing room. There were suspicions even before their affair came to the public domain that they have been spotted a few times together and once in the Prestigious Metrose Arch Precinct. Their relationship was, however, formalized when the information leaked that, Thobeka Majozi was pregnant by Cassper.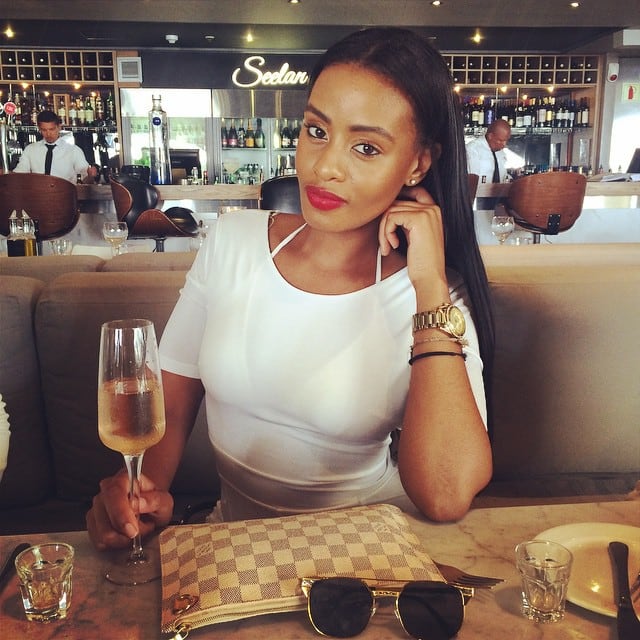 READ ALSO: Bonang, Anatii & David Tlale represent Mzansi at New York fashion week
According to a YouTube video uploaded by the South African hip-hop insights, the pair is still living together happily even after marriage. From the video, the couple is seen in a very jovial mood, celebrating Thobeka's 26th birthday in a swimming pool. The truth is; they are having fun.
In addition to that, an insider informed the Tabloid that Cassper baby girl was five months pregnant. He also said the news is kept away from the public domain though they had told Thobeka's family. Secondly, it has been noticed that Thobeka had been spending a lot of time in their home (Kwazulu Natal) since the place has some healthier and conducive environment for her unborn child. This was also meant to free them away from the public.
The same source informed the tabloid that; Cassper Nyovest was very excited upon becoming a father, and that's why he had been planning to send his relatives to the Thobeka's family. Traditionally, the ritual was meant to pay the damages for his expected child to carry his surname. Interestingly, Thobeka's family was very excited to meet their future son in law, where they accepted him wholeheartedly.
Later on 23rd August 2018, HD News published a report and uploaded a video that informed Cassper Nyovest had become a father to twins; a baby boy and a baby girl Cassper.
Cassper Nyovest Instagram
Refiloe Maele Phoolo bears an Instagram hashtag name @casspernyovest. The rapper is among the popular Instagram user with around 2.1 million followers, 5433 posts and 1219 fans following. He has been using his Instagram account to notify his fans on his performances, new albums, to flaunt his wealth, expensive cars, flamboyant life, family, tattoos and his muscular body through photos and videos which attracts a lot of reactions from his fans and followers. For instance;
On 5th October 2018, he posted a photo banner of his performance with a caption "Onyx is gonna be super lit tonight!!! Come through!!! "This attracted more than 7k likes and 36 comments. Dubld _dx2 replied;" I hope you all kill it."
On 1st October he flaunted his muscular body with a post captioned "I kid you not, this is how African kings greet each other now. How far? How body #NyovestiveSeason #OluwaCassper #Abs #AfricanBoyz #Fitness #fit #DontLikeTshirts #AfricanRoyalty #African. This post attracted both positive and negative criticism with more than 8.4k likes and several comments.
From his 5k Instagram posts, I can conclude that Cassper Nyovest lives a big life. Similarly, Thobeka Majozi is lucky to have him as a husband.
READ ALSO: