10 best Lady Zamar songs ranked
Music is part of our society, and it sits at the centre of it. It has become an intrinsic part of our lives. You can put Lady Zamar songs, among several others, without doubt, in the category of good music like those of Lucky Dube, Zahara, Dj Ganyani, and Mafikizolo. There are no better words to describe this breathtaking songwriter, vocalist, and queen of the entertainment industry except that she is music-personified. This is because her songs are spreading out fast and gaining wider acceptance with an enormous impact on the listeners.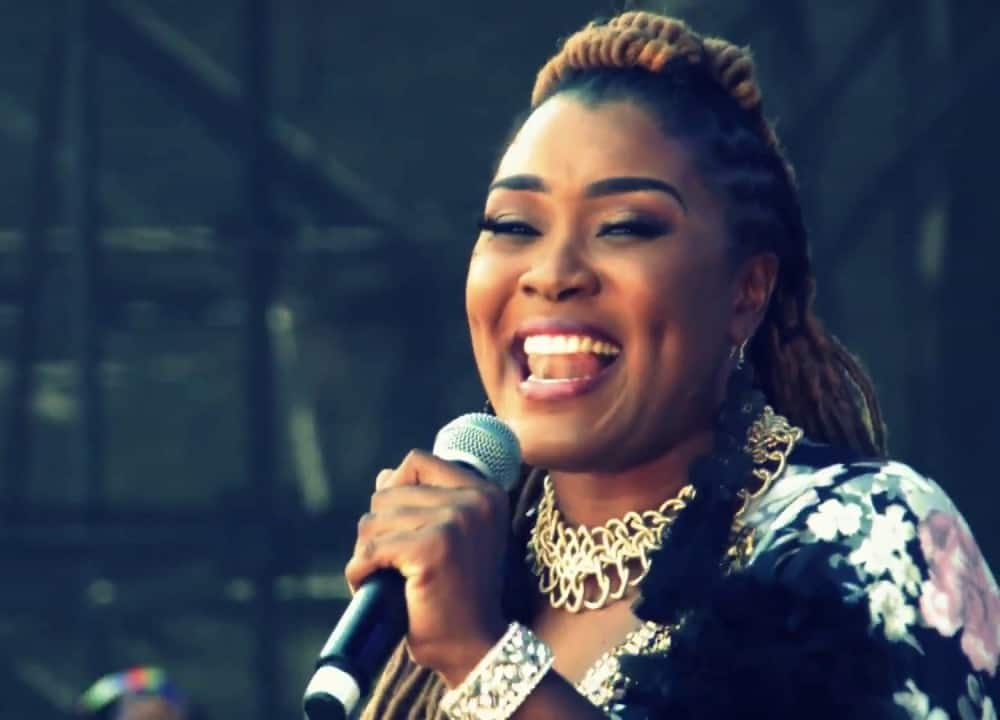 The South African house and pop singer Lady Zamar whose real name is Yami Janet Banda began her music career in 2011 alongside Junior Taurus. She is a lady of mixed ethnic backgrounds with her mother from South Africa and her father from Zambia. Ever since Lady Zamar stepped into the music industry, she has engaged her audience with fantastic songs, leaving anyone who gets to listen to them in awe. So far, quite a number of her tracks are hit songs that have found their place in the South African entertainment industry.
Interestingly, after she went solo in 2017, which led to the release of her debut album King Zamar, she has been nominated for awards. She won the Song of the Year Award at the DStv Mzansi Viewers Choice Awards for her song Charlotte in 2017 and Best Dance Album award at the 2018 South African Music Awards. Therefore, among all her songs, this article highlights ten hit-songs that have received positive reviews and transformed Lady Zamar to a household name.
READ ALSO: Vin Diesel family: members, photos and stories
Lady Zamar best songs
While Lady Zamar's songs continue to rock everywhere, the following are some of the best songs that have been released by this star-artiste.
1. Lady Zamar "Love is blind"
"Love is blind", as the name implies, tells of how love can be blind to faults. This hit-track is a continuation of "Collide" track. In the four minutes and twenty seconds (4:20) that the song ran, Lady Zamar explained some of the things that characterise true love. Among these are true love which can never be questioned, and it stays true in events of good and ugly times.
"Love is blind" was produced by Drum Pope under "King Zamar" album and it was uploaded to the YouTube channel on February 27th, 2017 with over 3.2 million views. Another impressive report about this track is that, as recorded by Daily Sun, it is one of the top 100 downloads in Mzansi. It also stands as number one on iTunes in Lesotho. According to Lady Zamar, she is not surprised because the solo-track is a fundamental part of her identity.
2. Lady Zamar "Mamelodi"
"Mamelodi", also called the "mother of melodies", is a hit-song which walked Lady Zamar into fame in the music entertainment industry. At a time when there were rumours as touching the originality of her voice, "Mamelodi" came in to clear the air and to also affirm her natural talent.
In this four-minute track video which was released in 2015 under the "Cotton Candy" album, the star-artiste collaborated with Junior Taurus and featured Odyssey 012 to blow up the minds of her listeners. Divine Brothers produced the hit song, and it ended up receiving more than 145,000 views since it was uploaded to the YouTube channel on October 6th, 2015.
READ ALSO: Who is Dwayne Johnson's wife Lauren Hashian? Her age, height, songs, movies, net worth, and pics
3. Lady Zamar My Baby
"My baby" track is one of the hit-singles in the "King Zamar" album that stole the hearts of many listeners all over South Africa and outside. The hit-track keeps going viral as it is played in radio houses, on television stations and even sung by many. Just as music is the African way of life, the instrument used in this song unveiled the beauty of Africa. The lyrics are heart-warming, and they are also well-conveyed.
My baby was released on October 14th, 2017 and it was self-produced by the star-artiste Lady Zamar. The five minutes and four seconds (5:04) track has been greeted with almost three million views on the YouTube channel since its upload on August 18th, 2017. The songstress, more so, has acknowledged this song to be her favourite so far, and that it is in memory of her first love: writing and teaching.
4. Lady Zamar "Moonlight"
"Moonlight" is one of the tracks in King Zamar album with the lyrics co-written by Katelego Tigele and Lady Zamar. The audio format is available on the YouTube channel and has been listened to more than 131,000 times with positive reviews since May 10th, 2017 when it was uploaded.
"Moonlight" song takes a duration of five minutes and forty-six seconds (5:46). With the kind of vibes that the track produces, you will always want to listen to it over and over again.
5. Lady Zamar "Run Away"
The "Run Away" track was the window to Lady Zamar's music career. This is because after the song was released, she had to abandon her Korean job for the sake of music. The settings of the four minutes and twenty-one seconds (4:21) track captured several African elements and environment.
In "Run Away", she collaborated with Junior Taurus who directed it, and it was produced by Cap City Records, Tshwane. Since its release in 2015, the video has been viewed for almost 300,000 times on the YouTube channel.
6. Lady Zamar "Pitori"
"Pitori" is a track in the "Cotton Candy" album collection. It was released on October 14th, 2015 in collaboration with Junior Taurus and it featured Odyssey 012. This seven minutes and twenty-one-second (7:21) video was produced by Pro Stevey Music and uploaded to the YouTube channel on October 25th, 2015 with more than 152,000 views.
7. Lady Zamar "El Diego"
El Diego is an amazing hit-song in the artiste's singles that was inspired by Dolly Parton's Jollen song of 1973. The song described El Diego as a saint and it portrayed him as the man of every woman's dream.
"El Diego" track was produced by Lady Zamar and it was released on March 31st, 2017. The audio is five minutes and fifty-eight seconds (5:58), and on the YouTube channel where it was uploaded on May 10th, 2017, it has been listened to for over 223,000 times.
READ ALSO: Idols SA winner Yanga breaks the mould with career in gospel music
Lady Zamar songs list 2018
8. Lady Zamar "What you need"
"What you need" is a deluxe version from her King Zamar album which was released in 2017. The song centred on relationships that are on the verge of breakup and it explained that the best decision for those in such situation is to part ways. Since "What you need" track was uploaded to the YouTube channel on September 20th, 2018, it has been viewed more than 111,000 times.
9. Lady Zamar "Collide"
"Collide" is one of the 2017 massive hits from the songstress which she released under the album "King Zamar". The six minutes and thirty-four seconds (6:34) track centred on a commitment to love, and in it, Lady Zamar tried to identify with Africa as the song featured its arts and culture. Any lover of the African culture will always want to listen to this song over and again.
"Collide" was co-produced by Frans Phetolo and Lady Zamar, and it was released on March 31st, 2017. Interestingly, after it was uploaded to the YouTube Channel on February 13th, 2018, it has attracted more than 887,000 views which is proof of its instant acceptance.
10. Lady Zamar It's You - Dreaming
"It's you - dreaming" is another single in the "King Zamar" album. The song is a mix of dance, RnB, and soul. The popular saying "if wishes were horses, men would ride on them" is a summary of what the two-versed song means. Lady Zamar dreaming track is a narration of a kind of love that is completely bereft of pain but filled with happiness and beauty so that with it, peace never ends.
Basically, "It's you - dreaming" is a song that motivates and stirs up hope in those who are willing to pursue their dreams. The video which runs for five minutes and fourteen seconds was released in 2017 and uploaded to the YouTube channel on July 24th, 2018 with more than 833,000 views. The truth is that when you feel like giving up, or you feel discouraged in the pursuance of your dream, you can listen to this song to build courage.
There is no doubt that the release of Lady Zamar songs in the music entertainment industry is really shaping South Africa's entertainment world. Known especially for her love songs, the shining star-artiste does not seem to reach her climax any time soon. Therefore, we can all anticipate what the queen of love songs has to offer in this year and beyond.
READ ALSO:
Jacob Zuma plays piano, inspires Mzansi: 'Wish he could be my mentor'
Golden Globes' broader inclusion resulted in awesome winners
Source: Briefly News