Who is Walter Meyer wife? Her name, age and story
Walter Meyer was a notable South African artist known for painting the best landscapes that the country has ever produced. Mr Carl Walter was born in Aliwal North in the Eastern Cape, but his artwork was recognized in as far as New York, Namibia, London, and Germany. For an artist of his caliber, and with the circumstances surrounding his death, many would want to know the woman he vowed to spend the rest of his life with. So, what is Walter Meyer wife story?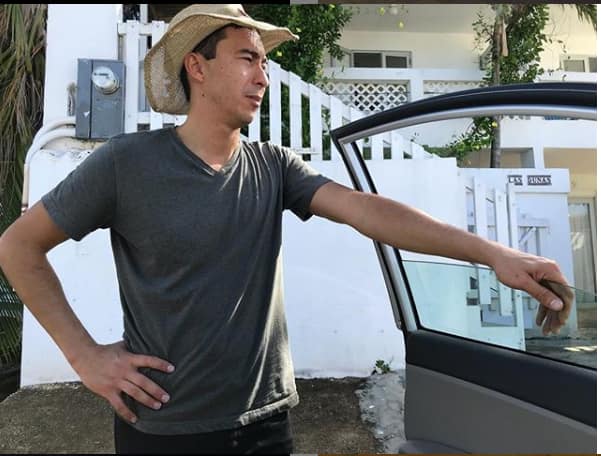 Some of the biggest collectors of Walter Meyer's works include Power Corporation Canada, South African Reserve Bank, and Rupert Foundation. December 22nd, 2017 was a sad day for South Africans as it was confirmed that Carl Walter who was about a month's shy from 52 years was stabbed to death by someone very close to him. According to Northern Cape Police, Sophia Meyer, Walter Meyer wife was the person behind the death of the celebrated landscape artist. So who is Walter Meyer artist wife, how old is she, and what is her story?
READ ALSO: Who is Dwayne Johnson's wife Lauren Hashian? Her age, height, songs, movies, net worth, and pics
Walter Meyer wife
The late Carl was married twice. Walter Meyer first wife was Catharina Scheepers. Catharina and the artist parted ways in 2006 and finally divorced in 2008.
Sophia Meyer was the painter's second wife. According to police reports, Sophia knifed Walter Meyer on the chest. Walter Meyer was discovered dead at his home situated at Augrabies Park on Friday night of the 22nd of December, 2017. Subsequently, Sophia Meyer was arrested for his murder and first appeared in court on the 26th of December 2017 for the murder case hearing.
How old is Sophia Meyer? According to Lieutenant-Colonel Dimakatso Mooi, the Provincial police spokesperson, Sophia Meyer was 29 years at the time of arrest and arraignment in court, although in an interview Sophia revealed that she was 17 years old when she met Walter Meyer in 2008. In 2019, it is safe to say that Walter Meyer wife is about 30 years old if she turned 18 years old later in 2008 after they met.
Sophia was granted a bail of R2000 on Monday, January 8th 2018 after appearing in front of the Upington Magistrate Court in Northern Cape. Following her release, the murder case hearing was postponed to August.
Walter Meyer and Sophia love story
The late painter immortalized his wife, Sophia Meyer, in oil artwork. Walter was celebrated for painting Karoo scenes which sparkled with melancholy, and it is reported that in his final years, he was more drawn to doing portraits of his wife.
Carl met Sophia, a singer with a beautiful voice, back in 2008 in Grootdrink, which is based in the Northern Cape. According to an interview with Sophia, when they first met, Walter told her, '"Your face and your earrings attracted me". In the same interview, Sophia revealed that Walter was somewhat unkempt when the two met and he was holding a bottle of red wine. After introductions and an invite to his place, she followed him and never left.
Soon after, Sophia was pregnant with Walter's child and was restless of what Walter Meyer family will think of their relationship since she was a colored woman. Walter, however, assured her that his people must accept it and on June 27th, 2010, which was the same date as his wedding day to Catharina, the two tied the knot. The two, however, did not live happily ever after because the siren of alcohol was a big issue in their marriage. Steve Botha, Meyer's friend and agent even revealed that he remembers how Walter would pass out in Sophia's lap while she stroked his hair and would later disappear for a couple of days.
Carl Walter Meyer had a long problem with alcohol addiction, and it was the main reason why his marriage to his first wife Catharina failed. Even after numerous attempts to go for rehabilitation in Pretoria, Port Elizabeth, and at Noupoort, his drinking became worse. His firstborn with Sophia was taken into custody, and after his death, Catharina stepped in to take the couple's daughter and son for safekeeping following Sophia's arrest.
On the fateful day of his murder, the police discovered empty beer bottles and rows of cabbages at his house that he shared with Sophia. Jackie Castella, a proprietor of a guest house across the road, expressed that the artist was charming while sober, but when drunk, she would call the police on the couple when their drinking, partying, and arguments became intolerable.
READ ALSO: Kwesta and his wifey celebrate 8 years of doing life together
With the above details, you have a picture of Walter Meyer wife, Sophia Meyer. It all started as love at first sight but turned sour.
READ ALSO
Who is Trevor Noah girlfriend?
Who is Cassper Nyovest girlfriend currently?
Nasty C girlfriend 2018
Who is Sonny Bill Williams wife Alana Raffie? Her age, background, business and pics
Who is Black Coffee's wife?
Source: Briefly News