Skarsgard family; interesting facts and photos
Almost everyone has been going on and on about this family with the world's youngest billionaire or the recent events of the royal family that we almost forgot about a very popular Swedish family. This family has a famous patriarchal figure and even more famous children; the Skarsgards. If you have watched True Blood, The Pirates of The Caribbean and Vikings, then you are probably familiar with a couple of the Skarsgard family members, and you do not even know it. Do you want to find out who exactly and what character they played? We have got you covered, just keep reading.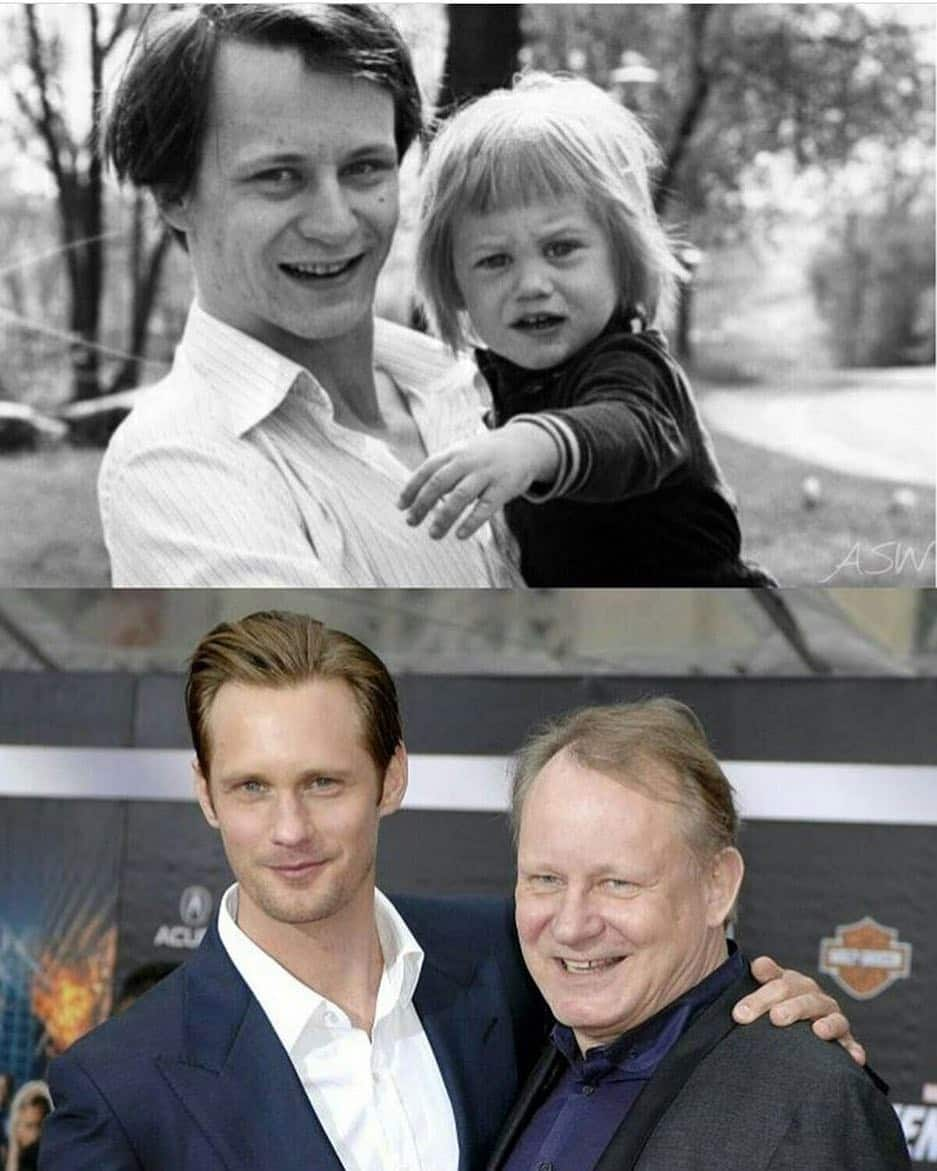 Below, we list the entire Skarsgard household and insert their pictures. You should find this article useful if you want to learn interesting facts about the Skarsgard family.
READ ALSO: John Cena net worth 2018 Forbes
Stellan Skarsgard
Age: 67. Height: 1.91m
Stellan is the man we all have to thank for the genetic blessing of the Skarsgard brothers. Some quick facts about him include:
He started acting before age 10 after being encouraged by his father.
He has starred in uncountable Swedish films, propelling his to fame in his home country.
He has also starred in several Hollywood films; he played Eric Selvig in Thor, Bill in Mamma Mia, Bootstrap Bill Turner in The Pirates of The Caribbean movies and Gerald Lambeau in Good Will Hunting.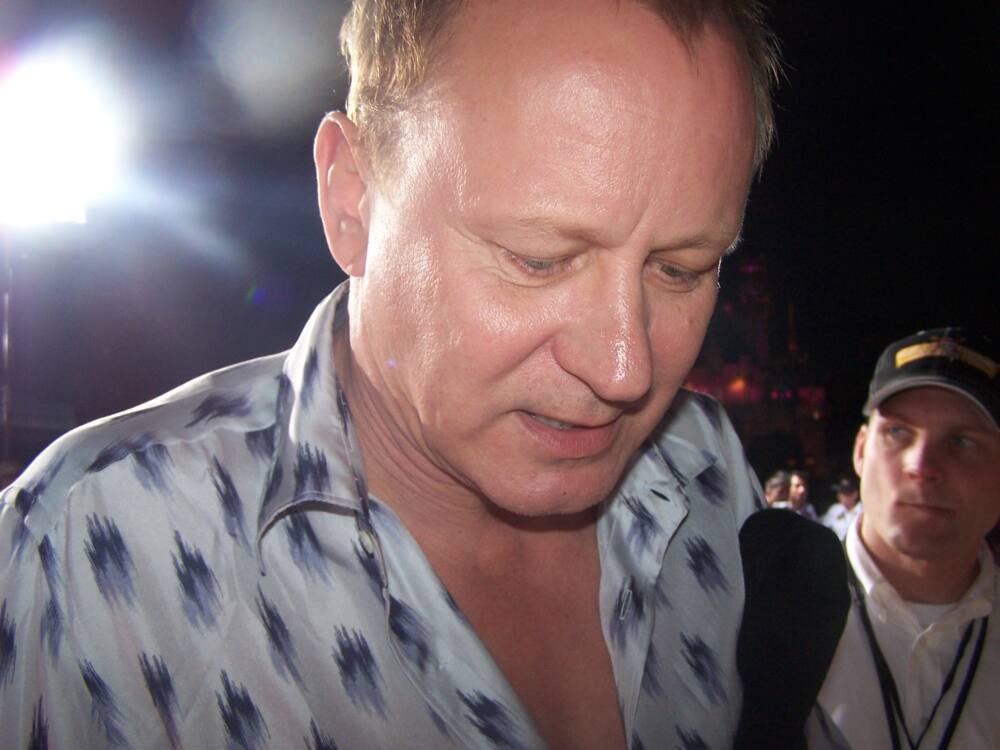 It is safe to say that he not only made a name for himself at home but also solidified his place in Hollywood, which is pretty great.
He is also known for his hands-off parenting which his children credit as the cause of their strong personalities and outspoken nature. The Skarsgard patriarch raised his clan in a Bohemian nature household.
Alexander, his son, once recalled on an interview how his dad would always walk around the house naked with a glass of red wine in his hand. His friends eventually got used to it since they had seen Stellan numerous times. The problem, according to Alexander, was when he was in his early teens and would bring girls home after school. It would get pretty awkward after his dad would be seen naked.
Stellan married My Skarsgard in 1975, and the two would eventually divorce in 2007 but remain in good terms, and the two refer to each other as best friends. My was a Swedish actress, now a doctor, who starred in Jim and The Pirates in 1986. Moreover, they had not one, not two, but eight children!
Alexander Skarsgard
Age: 42. Height: 1.94m
Now, without a doubt, Alex Skarsgard is one very handsome man, reigning as Sweden's number 1 man for 5 years in a row. The firstborn of the Skarsgard family, he followed in his father's footsteps and became an actor playing Eric Northampton in True Blood, Perry Wright on Big Little Lies, and Meekus in Zoolander.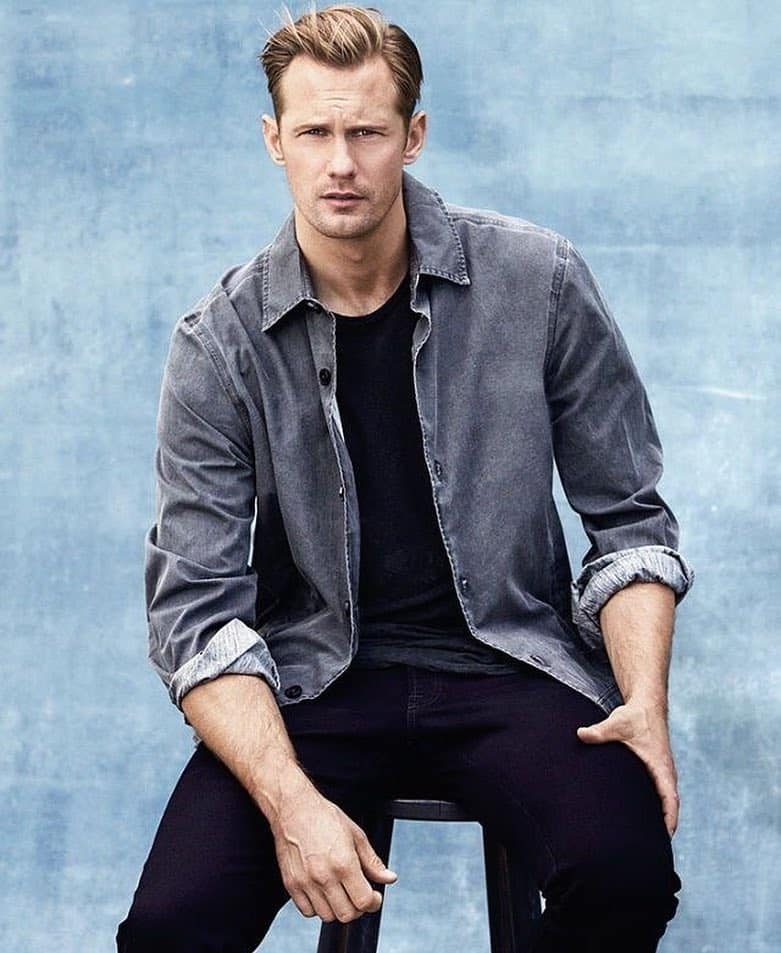 His character in Zoolander would eventually die, but he did a pretty good job in the movie. Alexander also played Tarzan in the movie Tarzan.
READ ALSO: Who is more popular between Beyonce and Manchester United star Paul Pogba
He got a lead acting role before age 10, boosting him to stardom. However, Alexander Skarsgard made the bold decision to quit acting at age 13 after the fame and said he "wanted to be normal". This decision would see the young talent leave the spotlight for a while. At age 19, he went on to join the Swedish Marines' Intelligence Force and serve his country.
Alexander Skarsgard is quite an interesting character; he has a tattoo of a bird on his leg that was drawn by Valter, one of his younger brothers, at age 7. Alexander took a picture of the bird and had it tattooed on him at the exact place Valter drew it. He took 2 years to show it to a then, 9-year-old Valter who did not even remember drawing it. Hopefully, now he comprehends the depth of the gesture and appreciates it.
The first of the Skarsgard brothers has a humanitarian side to him. In 2013, he participated in 'Walking with the Wounded', a charity aimed at aiding veterans to have a smooth transition back into normal civilian daily life. The event was centered on a race to the south pole. Participants were split into 3 teams competing to raise money. It stretched over 3 weeks, covering 200 miles with temperatures as low as -49°. Mid-race, the aspect of "racing" was taken out, and the teams were now focused on getting to the finish line.
A fun fact about Alexander's career; when he had just landed his role as Tarzan in the Tarzan movie, he showed up quite intoxicated to a Hammarby football match in Stockholm and was yelling at the crowd. Of course, someone took a video, and obviously, it was posted on YouTube. The video went viral with over one million views. Alex was so scared he would lose his role since everyone had definitely seen that video. This video worked wonders and solidified his position in the Tarzan movie after his agent sent it to the directors. The same intoxicated Alex clip landed him a role in War on Everyone after the movie's director, John Michael, saw it and liked the energy he put forth.
Gustaf Skarsgard
Age: 38. Height: 1.93m
If you are a Vikings fan, then you are probably familiar with the mischievous character with a little eyeshadow on. Yes, Gustaf Skarsgard as Floki, and he is good at it. He has had roles in several Swedish films giving him fame on the home turf, but his role in Vikings is about to propel him to Hollywood stardom. He also plays Karl Strand in Westworld Season 2.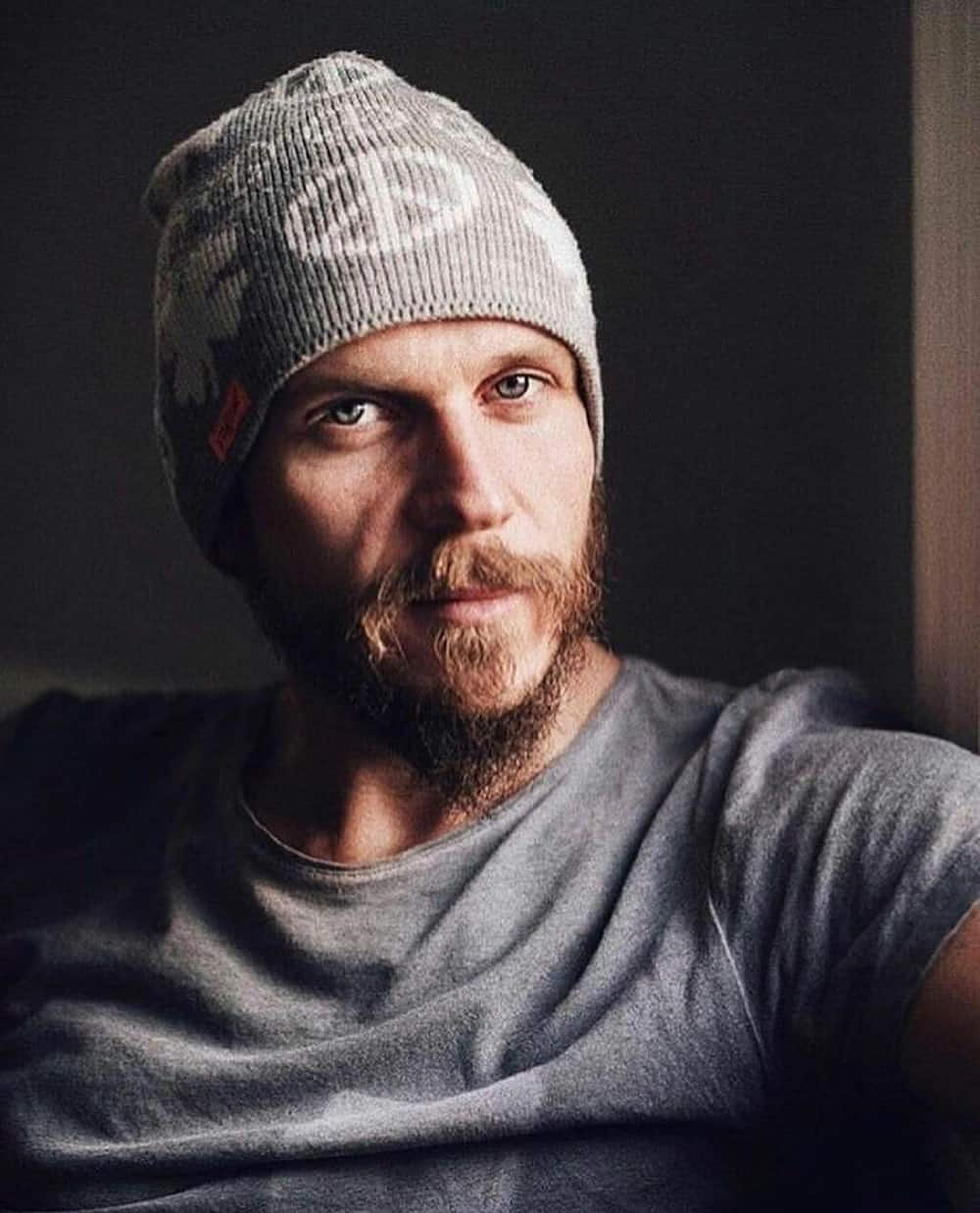 Gustaf openly admitted to some sibling rivalry between himself and Alexander. He never thought of Alexander as a good actor and took him a very long time to acknowledge Alexander's talent genuinely.
READ ALSO: Mayweather flaunts 41 expensive wrist watches and R692,000 cash
Sam Skarsgard
Age: 36. Height: 1.96
Unless you are a patient in Stockholm, then you probably do not know about Sam Skarsgard. He is the only Skarsgard sibling who moved away from the spotlight of acting and found comfort in medical practice. He is a physician in an ICU and also the only sibling to follow his mother's footsteps.
Bill Skarsgard
Age: 28. Height: 1.92m
If you are a fan of horror movies, then you have most probably watched IT. The 2017 remake of the classic horror based on a novel saw Bill Skarsgard cast as Pennywise. He has been dubbed the "new rising star" of the family. He has also played Roman Godfrey in Hemlock Grove, a Netflix original, Stephen King in Castle Rock, in addition to 4 Swedish movies. He had a large following in Sweden but took Hollywood by storm because everyone is finding it hard to believe that the actor playing an evil clown is quite dashing in real life.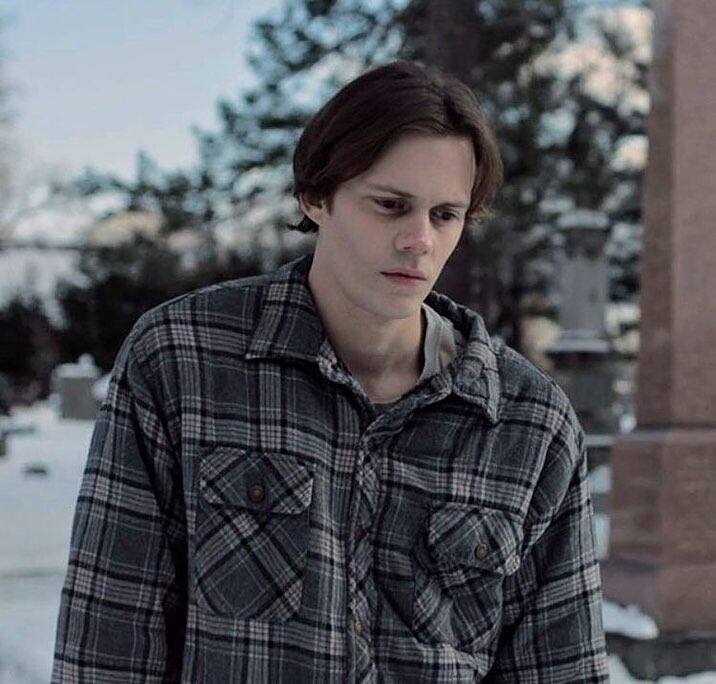 Bill says he has never compared himself to his elder brothers and father who have gathered tonnes of victories in their careers. He is proud of them but is set out to leave his mark in the acting world.
Eija Skarsgard
Age: 26. Height: 1.79m
Referring to the Beyoncé song, "Who run the world? Girls". It is no different in the Skarsgard household. Being the only girl out of 7 boys, she established herself as a "boss" in their rather large family and all her siblings, even her father, Stellan, unanimously agrees to her position in the household. She works as a model and is successful in her career. In the image below, she is the one on the left with blonde hair.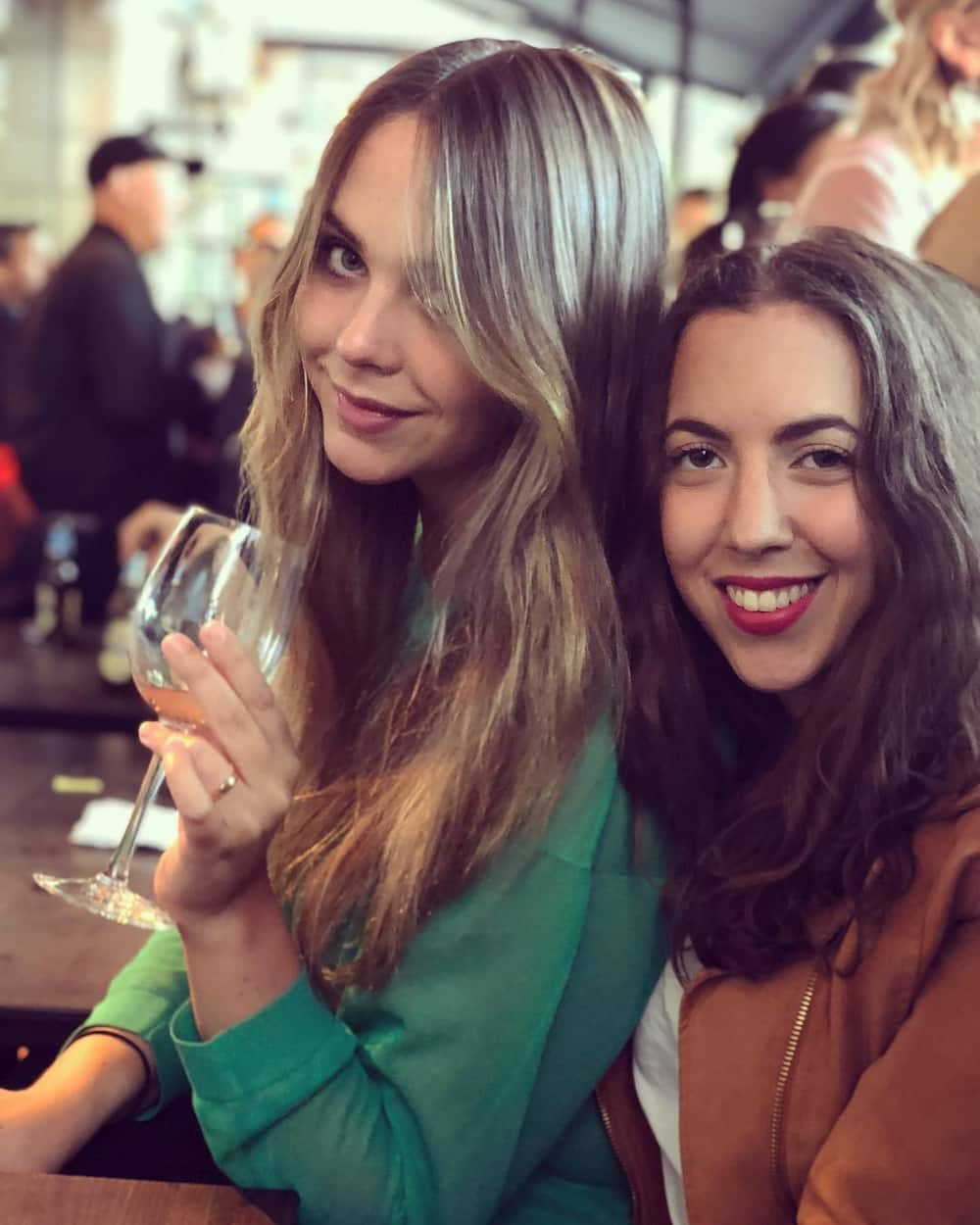 Valter Skarsgard
Age: 23. Height: 1.92
The last of My's children, Valter is set to step into the light and test the waters of the acting world as he plays a role in Black Lake, a Swedish drama series premiering on BBC soon. It is safe to say that we are all looking forward to seeing him on the big screen and maybe even outdoing his brothers with major talent.
Ossian and Kolbjörn Skarsgard
Ages: 9 and 6 respectively
After Stellan and My split up in 2007, Stellan re-married and chose Megan Everette as his new wife. Together, they bore 2 more sons; Ossian Skarsgard, born in 2009, and Kolbjörn Skarsgard, born in 2012. It must be a blast having all those famous siblings.
READ ALSO: Inside Tottenham Hotspur striker Harry Kane's £17m (R300m) mansion
All Skarsgard men towering above 6 feet, and a tall "Boss Lady" standing at 5'10. Skarsgard family is one of Sweden's top families. In the words of Alexander, "We are either actors or doctors", and we could not agree more. Despite all the rivalry (in good taste) and fame, it is clear to see that this is a very close-knit family whose members love and adore each other. They never miss an opportunity to talk about and genuinely hype each other during interviews, which is a very excellent characteristic. It seems that the hands-off parenting really paid off.
Source: Briefly News