Oliver Mtukudzi songs: 10 greatest hits ranked
Oliver 'Tuku' Mtukudzi was a Zimbabwean singer, songwriter, actor, an entrepreneur, a philanthropist and social activist. His music can be described as Afro-Jazz. Oliver Mtukudzi songs have a way of absorbing you in his art. The musician sang with such energy and enthusiasm that it was impossible for his audience to not fall in love with him. Tuku sang in Shona, Ndebele, and English.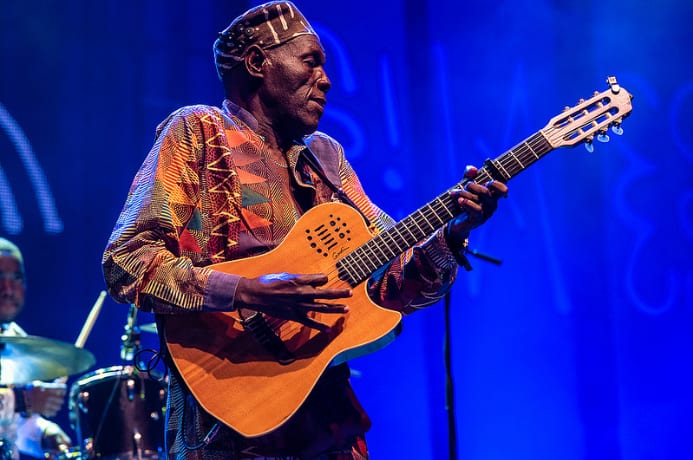 Oliver has recorded over 50 albums since the start of his career in 1977. He recorded his first single, 'Stop After Orange' at the age of 23. Through his music, he was able to reach people of all backgrounds and in every corner of the globe. The musician was recognised on many forums and even given awards because of his great music. Some of the awards he received include KORA Award for Best Arrangement for his song Ndakuwara in 2002, Best African Male Artist and Lifetime Achievement Award in 2003, NAMA Award for National Arts Personality of the Year in 2005 and Reel Award Winner for Best African Language in 2003.
The following are the ten best Oliver Mtukudzi songs.
1. Neria - Oliver Mtukudzi
Neria was released as a soundtrack to the film with the same title. The track came out in 1993 and is a single off the eponymous album. Neria was written for grieving widows who needed soothing and comfort after the death of their husbands. The track resonated with many Zimbabwean widows, as some traditions and old cultures contribute to the suffering of widows in Zimbabwe. In 2018, Tuku collaborated with Ladysmith Black Mambazo, a South African male singing group to recreate the song. This is not the first time the South African choral group has worked with Oliver; it has previously collaborated with Oliver Mtukudzi on other musical gems like "Hello My Baby".
READ ALSO: 15 best Don Moen songs
2. Todii - Oliver Mtukudzi
The song was recorded in 1999 and comes from his Tuku Music album. In this track, Oliver Mtukudzi spreads HIV/Aids awareness as the disease caused a lot of losses in homes. He sings passionately as he laments the threat of AIDS. 'Todii' became a massive hit in Zimbabwe and beyond, and led to the musician being named as a UNICEF goodwill ambassador. Many organisations used the song to discourage careless lifestyles in Zimbabwe, as AIDS became a plague.
3. Psss Psss Hallo - Oliver Mtukudzi
'Psss Psss Hallo' received massive airplay in Zimbabwean radio stations when it was released in 1990. In the track, the Afro-Jazz guru sings about the shameless habit men have of catcalling women when they walk on streets. Tuku explains that it is a pity that women have to go through that. The video of the track is attention-grabbing. It shows women walking down the streets and how some men blatantly do the cat-calling. The other interesting aspect of the video is the dance which can be compared to Michael Jackson's dance in Smooth Criminal.
4. Hear Me Lord - Oliver Mtukudzi
Oliver Mtukudzi had a way of making his fans connect with him. In this track, the musician takes a spiritual turn and asks the almighty God to listen to him. Oliver Mtukudzi talks about feeling low and being sinful and wants his creator to forgive him and grant him a sense understanding. "Hear Me Lord" is a good tune for one to reflect on, and think about their relationship with God. The track was released in 1995 and is off his 'Ziwere Mukobenhavn' album.
5. Ndipeiwo Zano - Oliver Mtukudzi
Released in 1978, 'Ndipeiwo Zano' was a track released as a theme song for the Rhodesian Bush War. The war lasted 15 years and the result was the introduction of the majority rule under Lancaster House Agreement. Zimbabwe later gained independence in 1980. The song is acknowledged as one of the most important revolutionary anthems in Zimbabwe. It is off Tuku's first solo album.
READ ALSO: Soulful RnB singing legend, James Ingram, passed away aged 66
6. Wasakara - Oliver Mtukudzi
Released in 2001, 'Wasakara' is the fourth track off Oliver's album 'Greatest Hits: The Tuku Years'. 'Wasakara' translates to 'You are old'. He sings about ageing and how old age catches up with people. In one verse, he talks about telling a father that his daughter has come of age and that he is growing old. The track was at some point taken as a message for former Zimbabwe president Robert Mugabe, as he had ruled for too long. The musician later refuted the claims.
7. Street Kid' (1995) - Oliver Mtukudzi
Oliver Mtukudzi sang this track as an observation to the many street urchins that ransacked bins in Zimbabwean townships to survive. He sang about homeless kids and hoped to bring into light social issues and the state of his country's economy. 'Street Kid' is off his 'My Child' album. Tuku was applauded for this track as he helped put into perspective what homeless children go through.
8. Tozeza Baba - Oliver Mtukudzi
'Tozeza baba' translates to 'We are afraid of father'. The African music giant talked about gender-based violence and domestic quarrels. The track is significant in more than one ways as the Tuku openly tackled issues some families face. At the start of the video, the father is rebuked for being too violent. The video shows a scared mother and child who feel unsafe and threatened by the father. Another approach of looking at it is that Oliver Mtukudzi touched on the issue of political leaders treating their servants with contempt. The song is from his 'Wonai' album.
9. Seiko Mwari - Oliver Mtukudzi
The 2000 track is from his 'Paivepo' album. Seiko Mwari is another spiritual song where Tuku sought to connect with his creator. Oliver Mtukudzi questions many things and asks God to help him define his stand with Him. The title of the track means 'Why God?'. Divinely, the Zimbabwean star uses the bible as a reference in his song. He talks about Job and Mary and sings about overcoming defeat. Seiko Mwari is a consolation hit song in Zimbabwe.
READ ALSO: Soccer's rich and famous: Meet the top 7 wealthiest African footballers
10. Dzoka Uyamwe - Oliver Mtukudzi
The fourth track off his 'Tuku Music' album tells the story of a son who left his ancestral land for a faraway land but is being mocked because of his skin colour. The mother to the son calls him back home as he will be shown affection and appreciated in his home. The song can also be interpreted to suggest the gap between urban towns and rural life in Zimbabwe. Dzoka Uyamwe was meant to speak to Zimbabweans who were going through misery in townships and to encourage them to go back to their roots in rural areas. The song was released in 1999.
Oliver Mtukudzi inspired different generations in Africa. He commanded a huge following even in Europe, America, and other continents. Oliver Mtukudzi's style of music was appreciated because he sang with compassion and talked about social issues we face every day. Oliver Mtukudzi songs had deep messages. He sang his heart out and hoped to change lives through his art. Millions of fans across the world mourned the 'Murimi Munhu' singer when news of his death was announced. His music continues to live in the hearts of many.
READ ALSO:
10 best Benjamin Dube songs 2018-2019
5 Things you might not know about the Dube Brothers
List of all Tasha Cobbs songs
10 best Neil Diamond songs
Source: Briefly News