Artificial grass: 30 best usage ideas with pictures 2019
The cost of maintaining grass can be a bit expensive, no doubt. This also couples with the fact that it can be time-consuming as you have to ensure that it is kept clean and green all the time. But guess what? You can boycott all of those troubles by giving your frontage that grass-like look which you have always desired with the use of artificial grass. With this, you would have successfully made your apartment to stand out among others in your neighbourhood.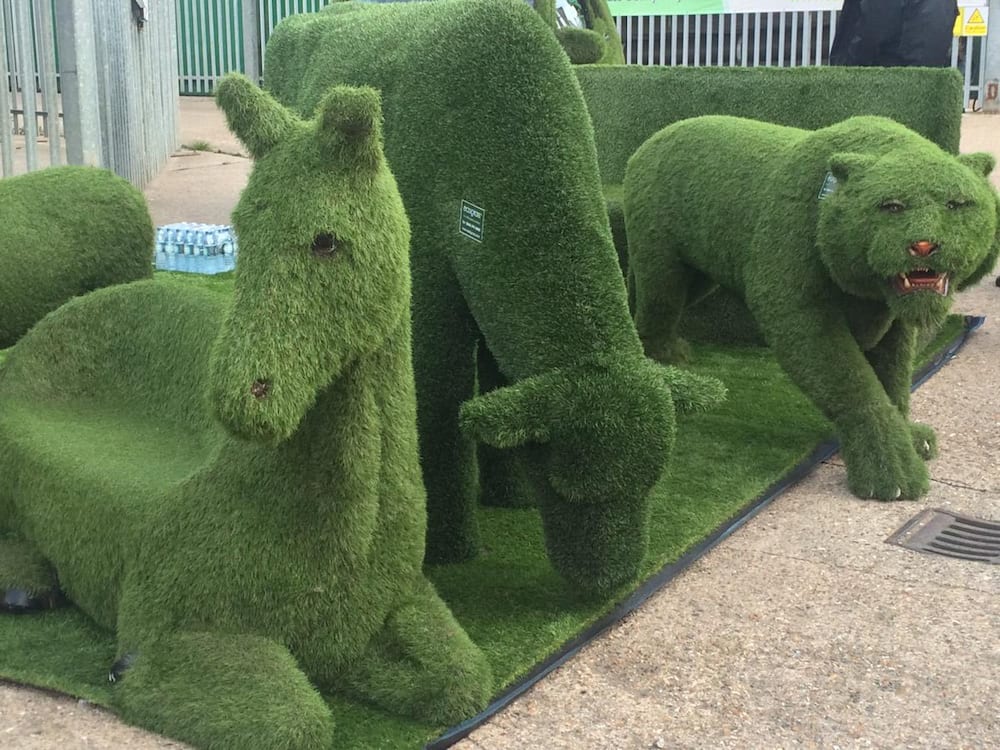 While some people have started considering using artificial grass instead of the real grass, there are those who are still challenged with how to go about using them. Therefore, in this article, we share various ideas that you can work with to give your apartment and lawn a feel of greenness and freshness all year long.
Artificial grass ideas
When it comes to making your home beautiful with artificial grass, creativity is essential. By putting your imagination to work, you will be amazed at the wow result that you would get eventually. Below are some ideas that you can try.
READ ALSO: List of child friendly restaurants Cape Town
1. Give your frontage the look of grass
The frontage of your home speaks volume about you. Depending on how well you decorate it, visitors can feel welcome or pissed off by what they see. So, you can make your home attractive and impress everyone that comes by with the use of artificial grass. When people feel the greenness and softness of your artificial grass, you would have successfully made your home look like a haven.
2. Rooftop gardens
If you know that your rooftop garden cannot support the weight of traditional lawns, then, consider using artificial lawn. This will be a good idea worth considering to give it a perfectly smart and classic view.
3. Substitute artificial grass for real grass
Have you got areas where real grass will not grow? Then you have got nothing to worry about. Your best alternative is to use artificial grass, and you will get the perfect and beautiful outlook that you have always longed for.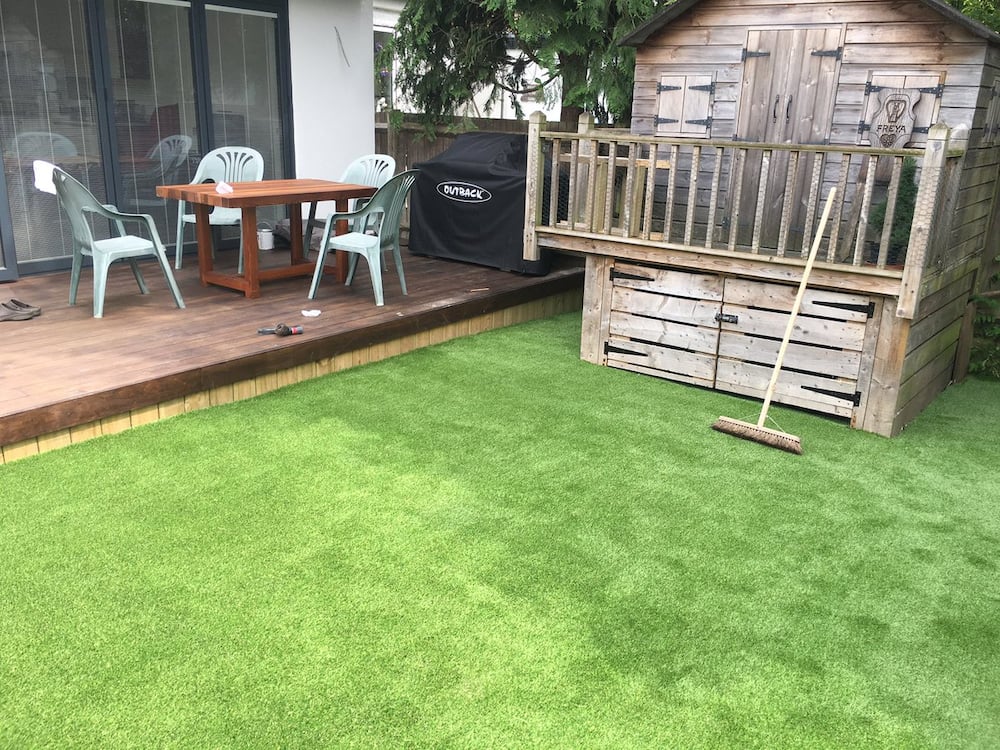 4. Get your living room a new rug
Getting and maintaining rugs or carpets can be expensive. Especially if you have kids at home, then you should be ready for some real cleaning every now and then with those ice cream and wine spills among others. But guess what? If you have an artificial grass rug, all you have to do is take it outside, hose it off and continue the fun.
5. Use it to create easily cleanable areas for small pets
Artificial grass is designed to absorb liquid waste without the colour being affected. When your small pets mess up the area, the fake grass is easy to clean up always without any pressure exerted on it.
6. Patio
Artificial grass is a useful material that you can use around your patio to brighten up the space, and you will not have to maintain the small lawn.
7. Use as a cover for furniture
Surprised? Yes! You can jazz up some furniture by using artificial grass. For instance, you could use it to cover stools at a bar and if you desire, you could cover a whole couch with it; it all depends on your level of creativity. Interestingly, you can even use it to update old furniture, and you will not have to spend much.
8. Create a fun touch on your booth
Your artificial grass does not have to be on the ground always; you could use it to attract visitors and potential customers as a business, especially when you go to conventions or other events. As the potential clients get curious about what the booth covered in grass does, you would have successfully captured their attention.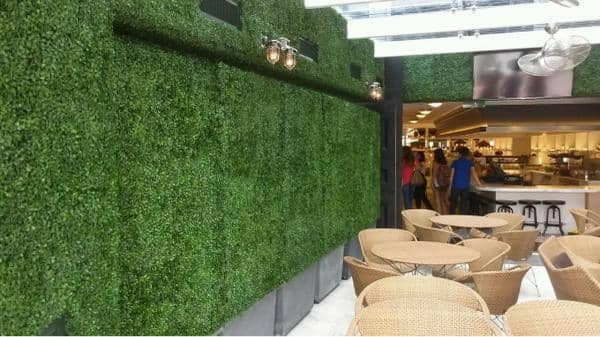 9. Keep your lawn looking clean and fresh all year round
You also know what happens in the hot summer months when the grass turns yellow. Artificial grass becomes an ideal solution to make your lawn look clean and real all year round. With that, you would have successfully said goodbye to muddy footprints and other forms of dirt caused by your pets or kids at your home.
READ ALSO: How to make slime without borax 2019?
10. Get your bedroom comfier!
There is no doubt you hate clogs right? Enjoy the comfort that comes with having an artificial grass in your room while you walk about on it using your flip-flops. It sure will feel like you are walking on freshly cut grass every day. And guess what? It is an excellent way to improve your mood.
11. Break room
If you have a break room in your organisation where your employees can unwind and renew their energy level, then consider putting artificial grass there. You know why? Green is a colour that helps people relax. It can also evoke feelings such as growth, optimism, safety, and rejuvenation. So, you should not be surprised when you notice an upward shift in energy levels within your workplace.
12. Car covers
It will interest you to know that artificial grass usage has gone beyond laying on the floor alone; you can use it to decorate your vehicles now. Surprised? That is one of the latest things in town.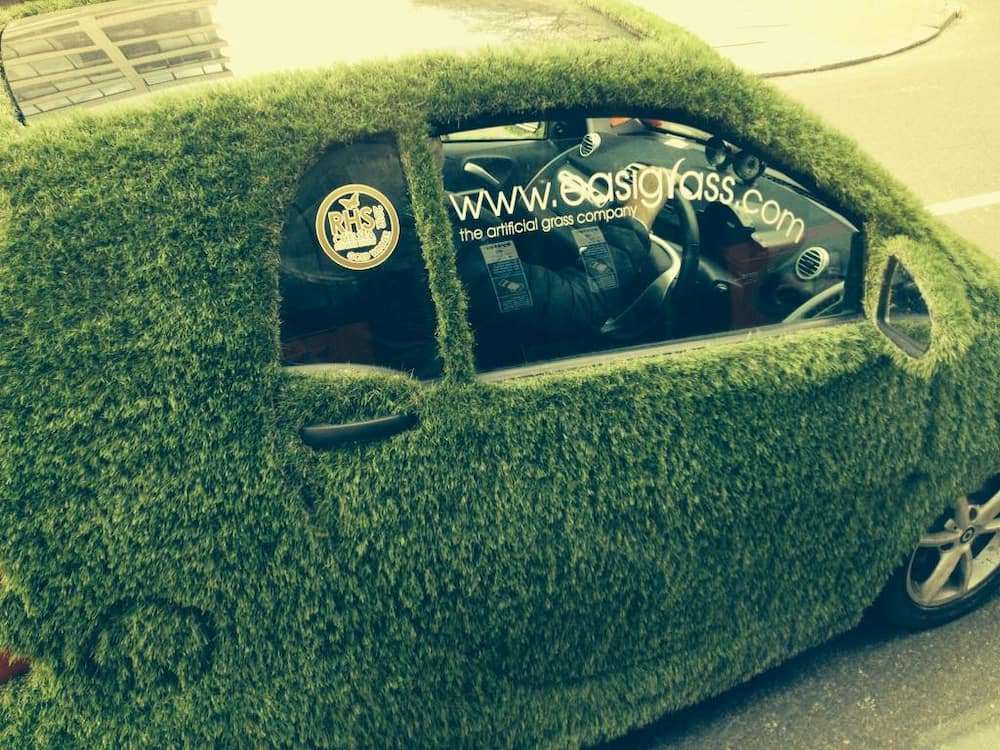 13. Indoor arena
If you have a sports arena where real grass will not grow because of low light, you can use artificial grass instead.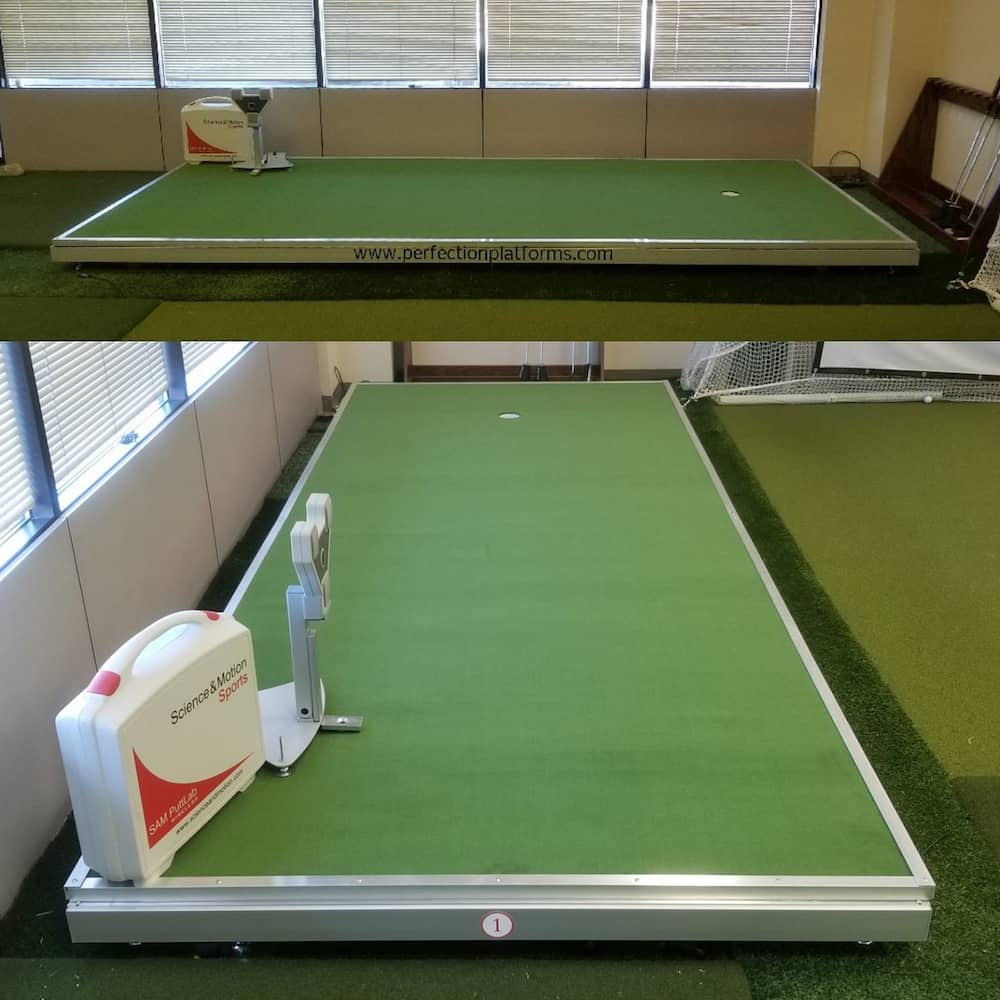 14. Use as an easy-to-clean play rug
Kids can be so rough, no doubt. Instead of needing to go through the stress of ensuring that the specks of dirt in your kids' room are cleaned every time, consider replacing the playmat or rug in their room with artificial grass. This will not only add to the aesthetics of the room, but it will make it very easy to clean any time it is dirty.
15. Fantastic table runner
Can you imagine how it feels to have your meal eaten on a fresh and green table? Sounds lovely right? Uhnn. With your green table runner, every meal becomes a breath-taking experience.
16. Lay as doormat
You can make your visitors feel welcome by laying an artificial rug instead of a doormat at the entrance of your house. Interestingly, this has its way of communicating freshness, and it even speaks life into the environment.
17. Sporting theme
If you love to watch matches with your friends in your lounge room or home cinema, you could just consider giving that space a sporting theme. For instance, you could throw it on your benchtop or over your table, and you will be surprised at the transformed look it would give the whole place.
18. Soften your balcony
You can simply turn your balcony into a garden by lushing potted plants together with the illusion that your artificial grass will give.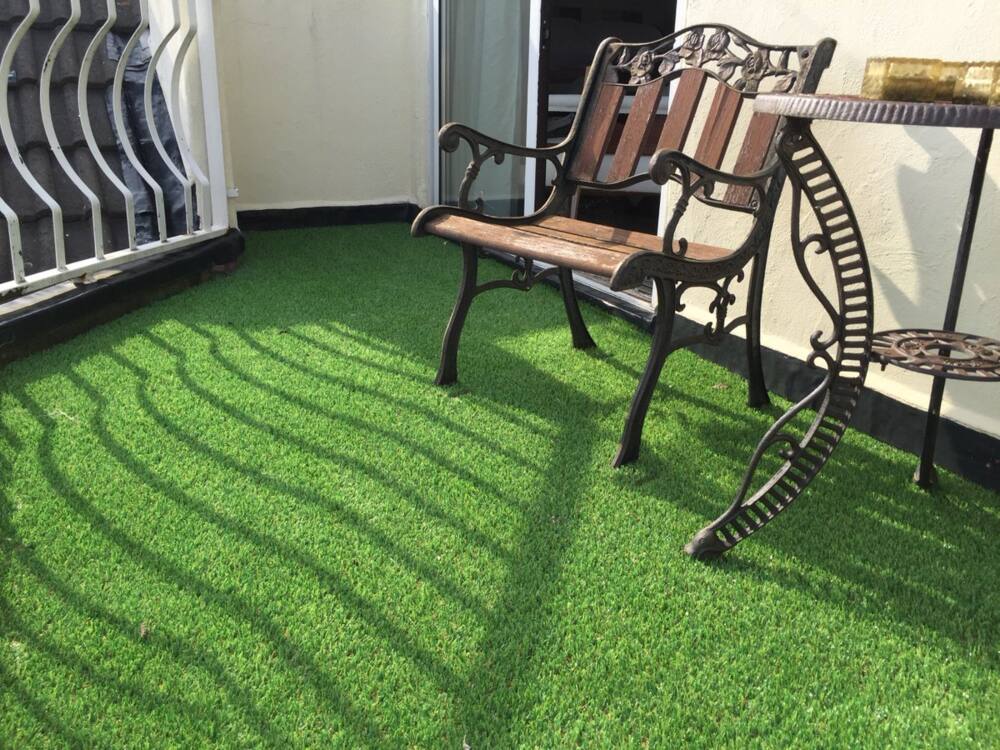 19. Place under the table
Another inviting place that you could consider is underneath your table. Instead of placing your bare feet on the floor, with your artificial turf rug, your table underneath appears soft and even inviting for bare feet.
Artificial grass backyard ideas
20. Use as a landing pad
If you have children's swing set in the backyard or anywhere, instead of getting a deck or patio surface, artificial turf gives a softer feel. As long as the area is away from direct sunlight or reflected heat, kids will find it comfortable to play on.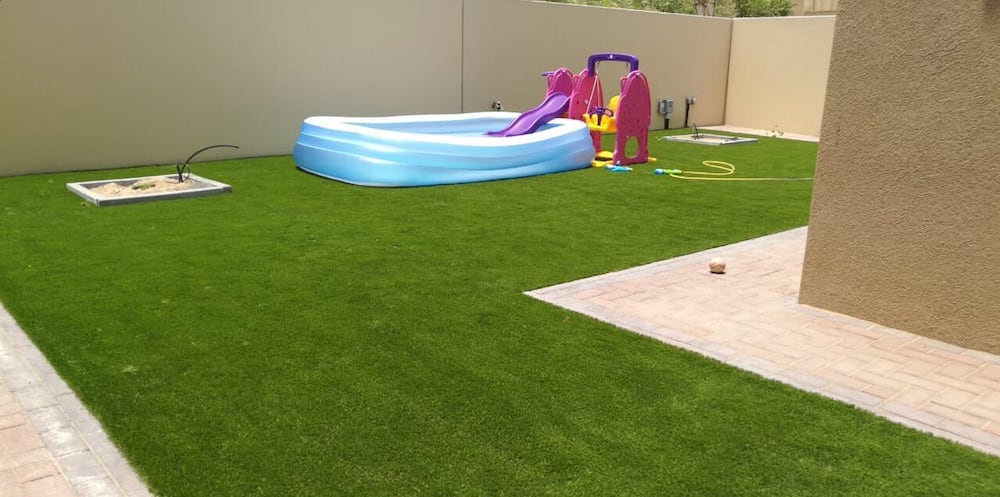 21. Break up expanses of hardscape
You could add a patch of green to your courtyard with the use of a soft artificial turf. If you have got a small backyard, you will also find it very useful with the impressive look that it will give.
22. Use around your swimming pool
Oh! You have never considered that before, right? Well, you can make a thin strip of your artificial grass around your swimming pool. By this, you will not have to worry about the place becoming waterlogged and turning into mud in no time. More so, it will give you a better grip under your feet.
READ ALSO: 20 best Gospel artists and singers ever
23. Reduce carbon footprint
Have you got areas where carbon footprint is prevalent in your home or the workplace? Consider putting artificial grass there.
24. Make your driveways look green
Because of the weight of cars, the soil around where a vehicle is parked may get compacted, and so, make it a bit difficult to plant grass. If you want to achieve the look of a lush in your garage or carport, rolling a strip of synthetic turf would be a good idea.
25. Brand your shoe
The truth is that fashion is taking a new shape, and everyday, new things are coming up. Another interesting thing that you can do with your artificial grass is to make a nice footwear with it. Imagine walking in your neighbourhood having your artificial grass-made footwear on, trust me, you will become a center of attraction. Is that not interesting?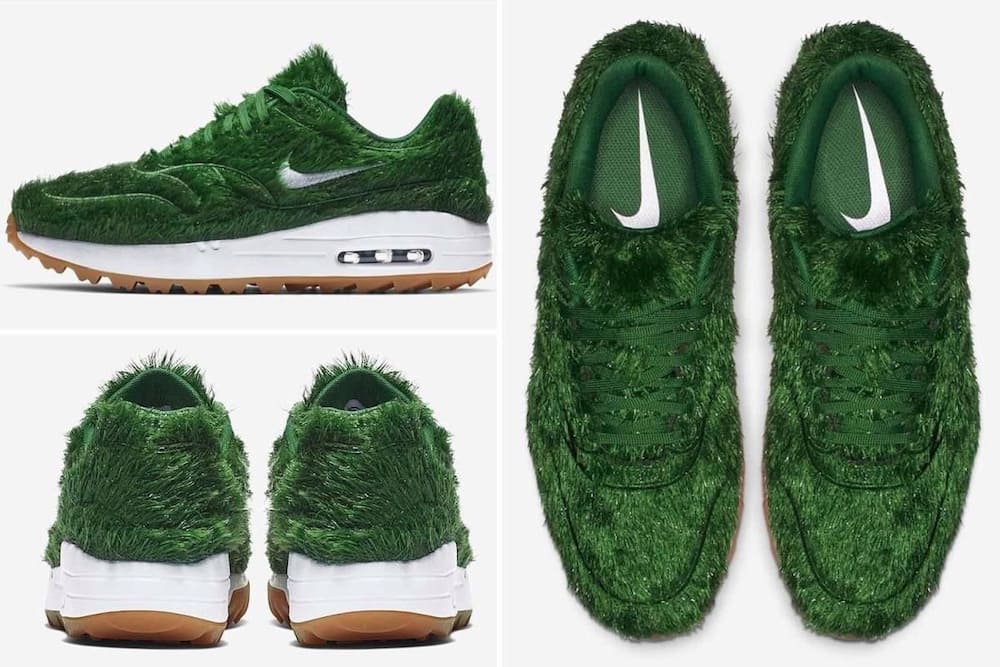 Paving ideas
As against those traditional square and rectangular slabs that used to be in vogue, there are dozens of paving slabs with different shapes and sizes that you can do with now. Here are some ideas that you can work with to transform your home.
26. Be inventive with patterns
Apart from the fact that your paving slabs impact on how your finished patio looks, the pattern with which you lay the slabs also matter. You can consider laying plank-shaped slabs in stylish herringbone patterns. You can also use square and rectangular slabs to form brick patterns. The important thing is to get a reflection of interior design trends.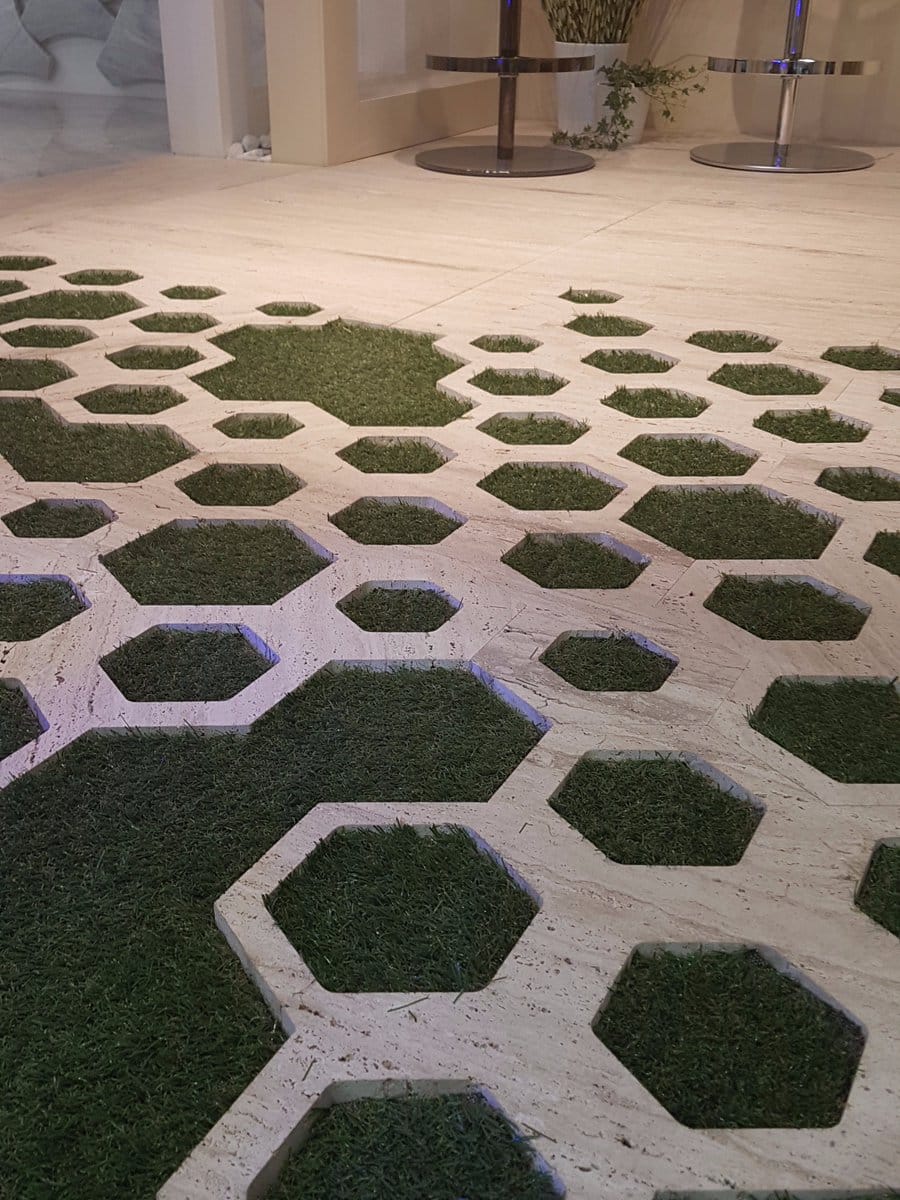 27. Try a range of textures
There are several textures of slabs that you can use to make a striking impact as far as your outdoor space is concerned. There are smooth and glossy porcelain slabs that will give you a sleek and sophisticated finish. You can also consider natural stone or natural stone effect slabs to create a stunning backdrop on your planting.
28. Go for a mixed paving pack
To get that rustic look which embraces nature-inspired textures and organic warmth, you can use mixed paving pack. The pack contains stones that have, usually, three different shapes as well as a guide on how to lay them. With that, you can create a pattern that looks relaxed and informal.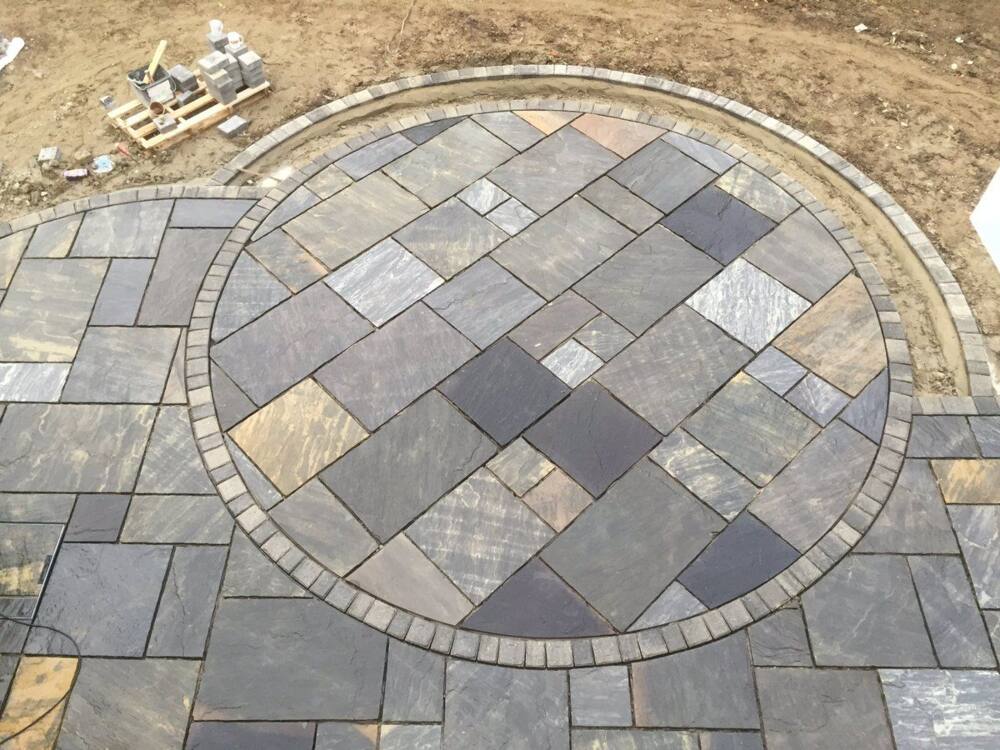 29. Consider decorative aggregates
The use of small stones, gravel, and pebbles add interesting and colourful effects to your paving designs. You may use them as a border instead of grout lines, and you can also use them to fill spaces that you have deliberately left in between your paving slabs. If you can get smooth pebbles or smaller pieces of gravel in soft sandy colours, that will be so lovely to give you a country garden feel.
30. Add plants for texture
How do you grow grass between pavers? You can intentionally leave gaps in between paving slabs for planting purpose. With the space that you have left, for instance, you can plant low-growing herbs or healthy plants to create interest in specific areas. You can also plant a mixture of taller grasses and fragrant herbs to get a brilliant rustic paving finishing.
If you want to compare artificial grass price with the cost of planting and maintaining real grass, you will find out that using artificial grass for your home is far better than the real grass. Apart from that, while the concern of some people has always been on how to install artificial grass, it is noteworthy that the installation does not take much time. Since the grass comes in a roll, you can measure where you want to lay it after clearing the area and cutting the grass according to the size. If you need to make any joins, use quality tape and glue.
With the various ways through which you can use your artificial grass that have been discussed so far, get creative and try out something new. The stress and time that you invest will be worth it after all with the incredible result that you would get eventually.
READ ALSO: 25 best romantic love pictures with quotes and messages
Source: Briefly News