Famous South African artists and their greatest pieces of work
South Africa is, no doubt, blessed with lots of artists whose works have received international recognition, and their contributions to the development of art in the country have been well appreciated. While some are still alive, others have died, but their works keep resonating in the world of art. Therefore, in this article, we focus on some of these South African artists and also review some of their works so far.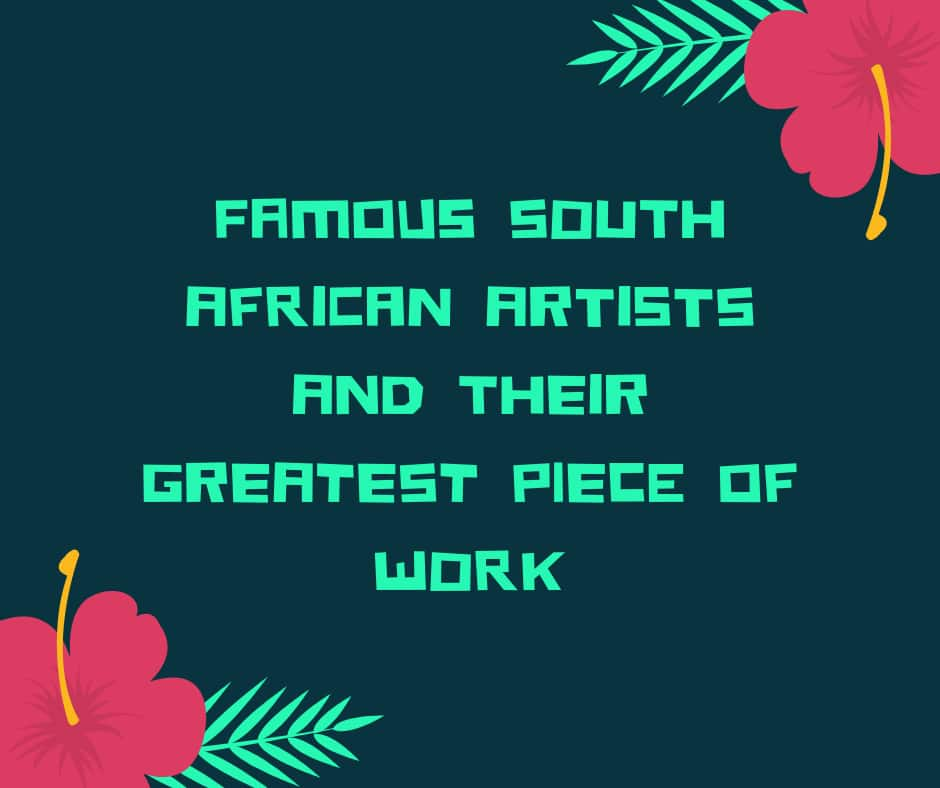 Artists and painters generally help us to appreciate the work of nature better. Creatively, they come up with visuals or performing artefacts that they use to express their conceptual ideas, imaginative, and technical skills in ways that viewers can appreciate beauty and emotional power. Read about some of these South African artists painters who have done so well in using their skills and talents to come up with extraordinary drawings and paintings that appeal to every sense of being.
Who is the most famous artist in South Africa?
1. Paul du Toit
A South African artist, Paul Johan du Toit, was working in sculpture, painting, paper, and mixed media with exhibits displayed globally. In 2001, three sculptures of his were selected for Florence Biennale, and among others, from the city of Florence in the Biennale Internationale Dell'arte Contemporanea, he has received a medal. Also, in 2002, he got a nomination for the Daimler Chrysler Sculpture Award.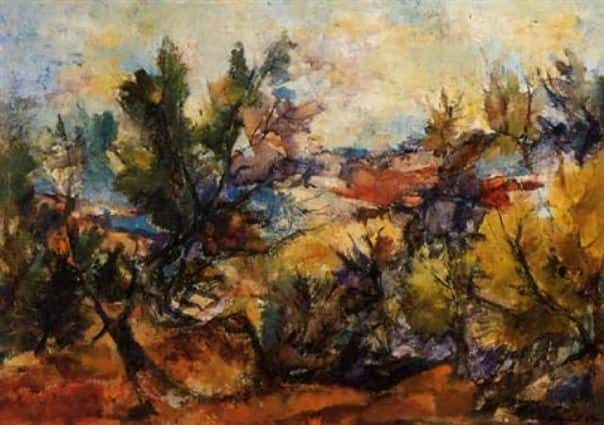 READ ALSO: 10 of the best South African ads of all time
2. Dumile Feni
The contemporary South African visual artist Zwelidumile Geelboi Mgxaji Mslaba "Dumile" Feni was specially known for his paintings and drawings. He was into sculptural elements and sculptures that reflected the Apartheid in South Africa. He was born on the 21st of May, 1942 and died in 1991. Even though he lived in extreme poverty until his death, he received an Order of Ikhamanga in Gold in 2003 for excellence in the arts. Also, his works have been exhibited at several occasions including Art on Paper, MOMO Art Gallery in South Africa back in 2010.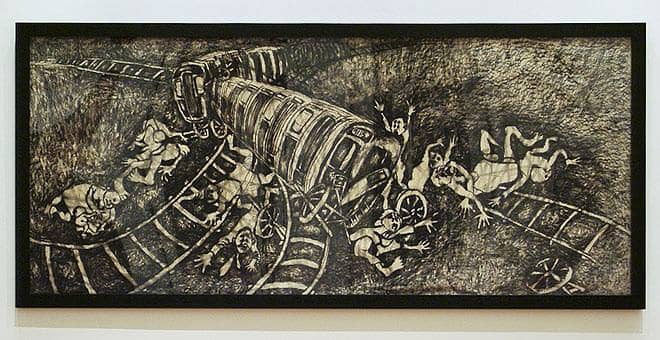 3. Cyril Fradan
Who is the best drawing artist? Cyril Fradan was one of the famous South African artists of his time. He was also a designer, and he worked almost virtually in acrylic paints while he incorporated different glazing techniques. He blended illusion, colour, and light with a sense of passionate movement, which gives every viewer a direct emotional appeal. Fradan was a well-respected and much-loved member of the London arts scene.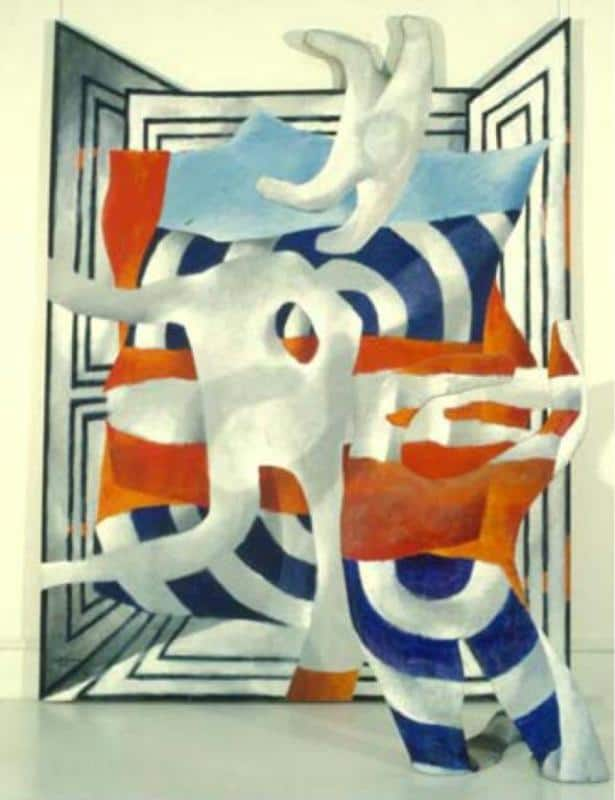 4. Kai Lossgott
A unique thing about Kai Lossgott is how he uses the body, objects, and lens-based practice to encompass writing, photography, performance, drawing, and filming. In recognition of his work, he won the Absa Barclay's l'Atelier Art Competition award in 2015 as well as the Magmart Festival Award. His works have also received several nominations.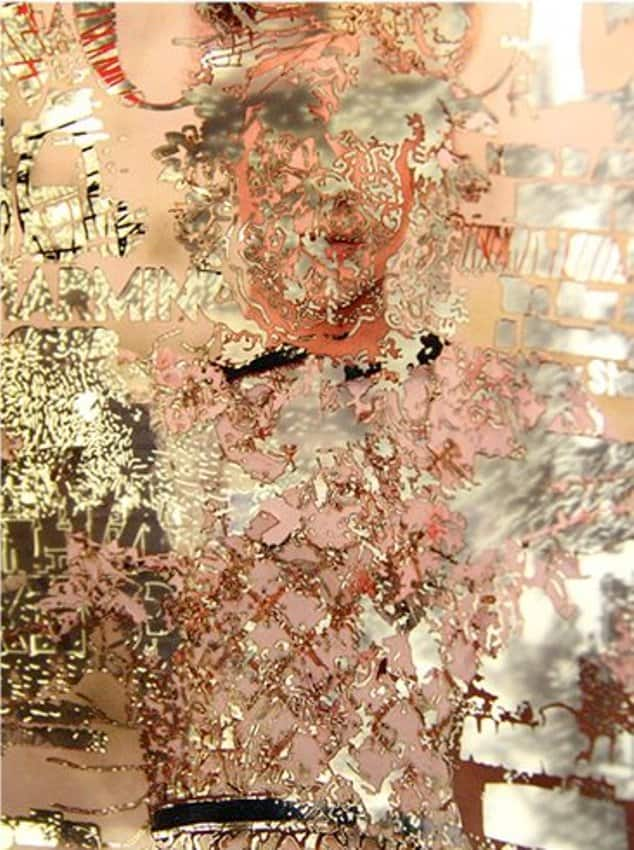 5. Billy Mandindi
Buysile "Billy" Mandindi was both an activist and artist who was known for his participation in 1989's landmark protest that was held in Cape Town. He then used his skill to create a linocut celebrating the spirit of freedom. The artworks of Mandindi combined comic figures and warm colours to create unsettling results. At a time, the renowned artist and curator David Koloane praised him for being one of the most versatile multi-media practitioners that South Africa have produced.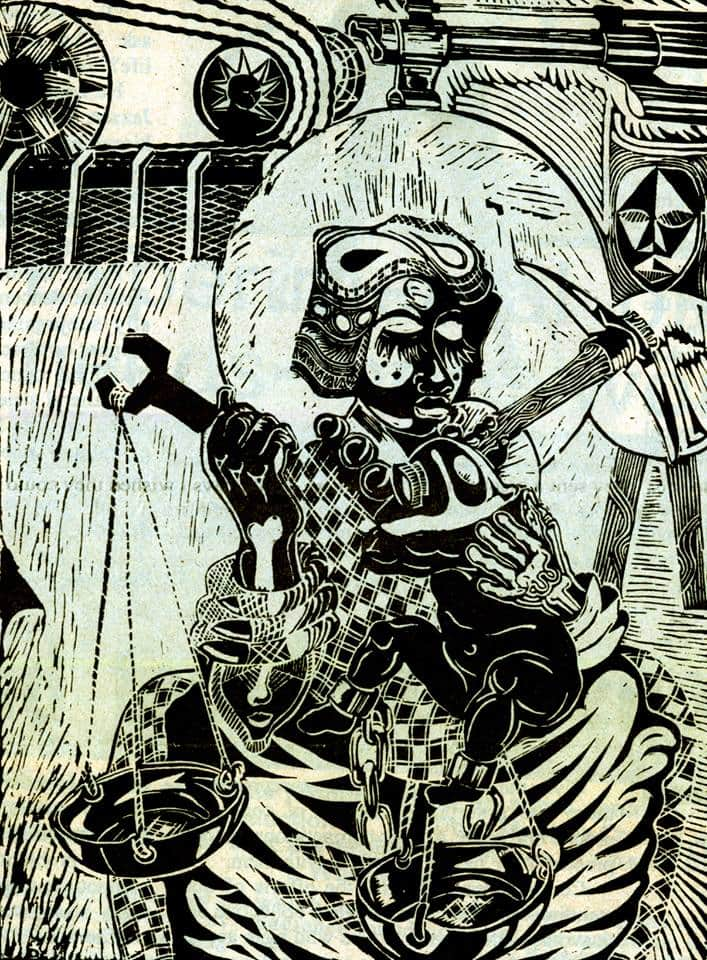 6. David Koloane
The South African artist David Koloane did so well by exploring questions that centred around human rights and political injustice in his paintings, drawings, and collages. While he was alive, he was described as "an influential artist and writer of the apartheid years" as far as South Africa is concerned. In recognition of his contribution, Rhodes University honoured him with Doctor of Fine Art (honoris causa) in 2015. Before then, he was honoured with a Prince Claus Award in 1998 based on his contribution to South Africa's art development.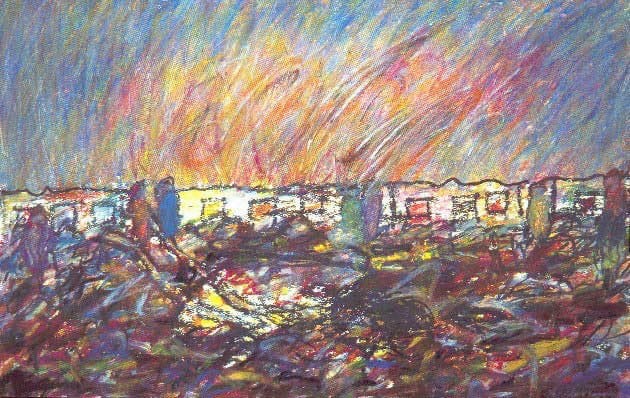 Contemporary South African artists
7. Peter Eastman
Born on the 1st of July, 1976 in Newcastle upon Tyne in the United Kingdom, Peter Eastman has a distinctive monochromatic style which he is known for. At Primo Marella Gallery in Milan, Italy, Eastman exhibited a series of black portraits in 2010 curated by Yacouba Konaté. He was also part of the 17 International artists that produced South Africa's 2010 FIFA World Cup poster which was later auctioned in New York City at Phillips de Pury.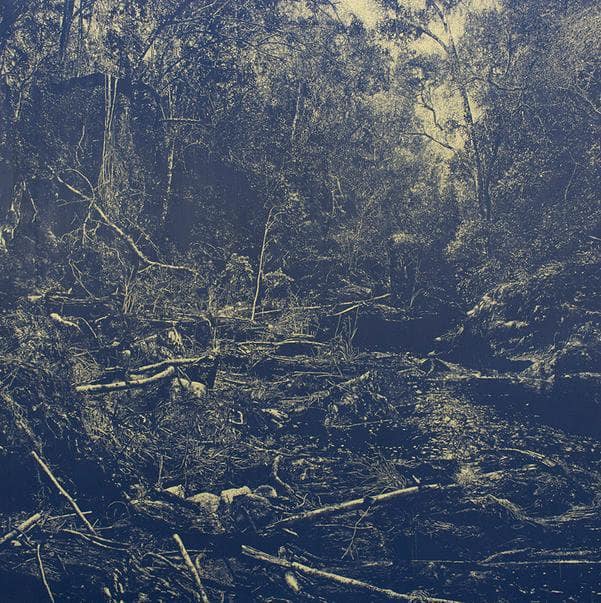 8. Anja Marais
Who are some famous artists? Anja Marais is one of the most celebrated artists in South Africa, as she has produced several solo and group shows in various parts of the world including Florida, Seoul in South Korea, Havana in Cuba, as well as St. Petersburg in Russia. Her works have been proudly chosen as parts of collections in the Chair of American Folk Art Museum, Jean Carper Private Collection, Victoria Lesser Private Collection, and Ed Reilly Private Collection.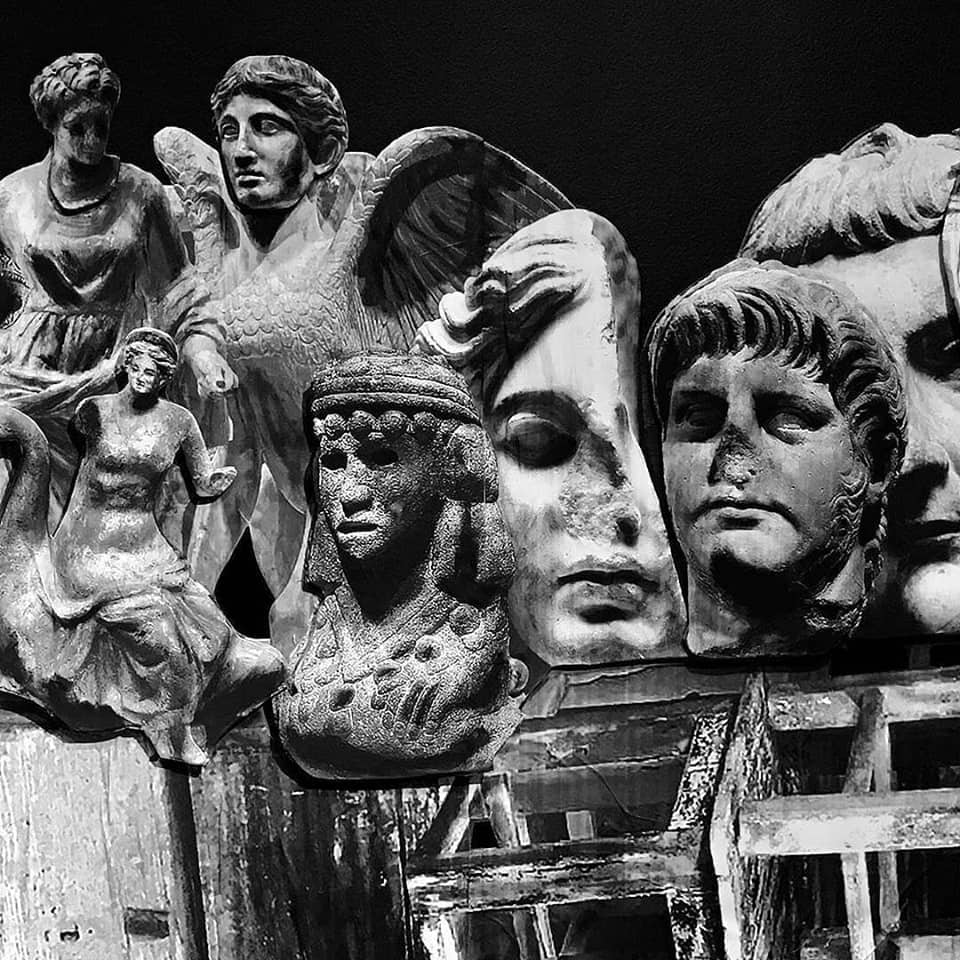 READ ALSO: 10 best Nollywood movies of all time
9. Frances Goodman
Frances Goodman uses unconventional materials alongside acrylic nails to do her artistry works. She does beautifully well in portraying the relations among costuming, femininity, and role-playing. A lot of her works have been exhibited at solo and group levels all over Africa, North America, and Europe. In 2014, she got the Cecily Brown Fellowship award for Outstanding Woman Artists.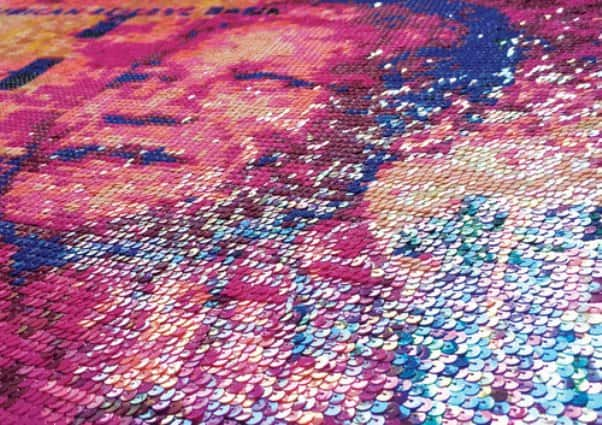 10. Tracey Rose
Tracey Rose was artist-in-residence in Cape Town between February and March 2001 at the South African National Gallery. While she was there, she developed her work that was curated by Harald Szeemann for the Venice Biennale 2001. Basically, her works address the flaws in institutionalised cultural discourse and the limitations of dogma. She has made a lot of solo and group exhibitions, and at a time, Jan Avgikos, while describing her works said, "part of Rose's appeal is her fluid referencing of '60s and '70s performance art".
Other famous South African artists
Charles Ernest Peers
Cecil Skotnes
Irma Stern
Jean Welz
Donovan Ward
Maurice van Essche
Daniël Cornelis Boonzaier
Judith Mason
Charles Ernest Peers
Willem Boshoff
Famous south african painters
1. Deborah Bell
The internationally-recognised South African sculptor and painter Deborah Bell did some notable paintings that are still appreciated today. She worked in Paris at the Cité Internationale des Artes in 1986 and also worked in collaboration with South African artists Robert Hodgins and William Kentridge to carry out various projects. Among others, they created works of computer animation. She won several awards, and her works are proudly displayed in public and private collections all over the world.
READ ALSO: All your favourite Nigerian actors including those who died in 2018
2. Hans Aschenborn
Hans Aschenborn was notable for his African wildlife painting works. He worked in both southern Africa and Germany, and his work has been featured in the Saur art encyclopedia. Also, in terms of illustrations of books, writing and poetry, Hans is well recognised. At a time, he was revered for being a pioneer in portraying African wildlife realistically, and he has been honoured at several occasions with dedications in southern Africa.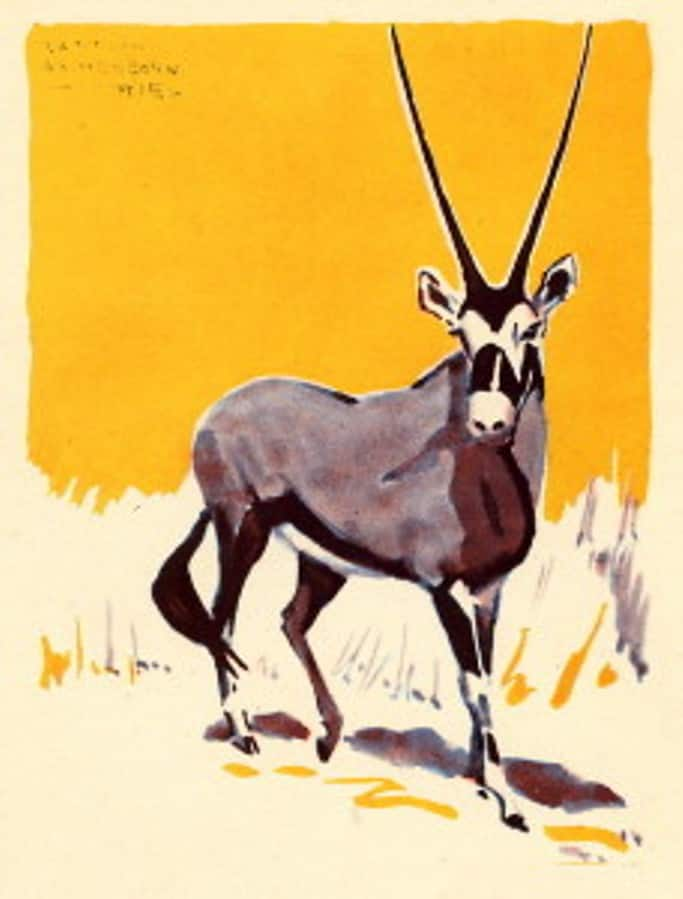 3. Winifred Mabel Brunton
What is the most beautiful painting in the world? The South African painter, Egyptologist, and illustrator, Winifred Mabel Brunton, had one of the most beautiful portraits which have been celebrated and adopted in various documentaries and films. This is because her works define the Queens in Popular culture and the faces of the Pharaohs. Consequently, her portraits of Egyptian pharaohs became her means of popularity, and they have been published as Great Ones of Ancient Egypt and Kings and Queens of Ancient Egypt.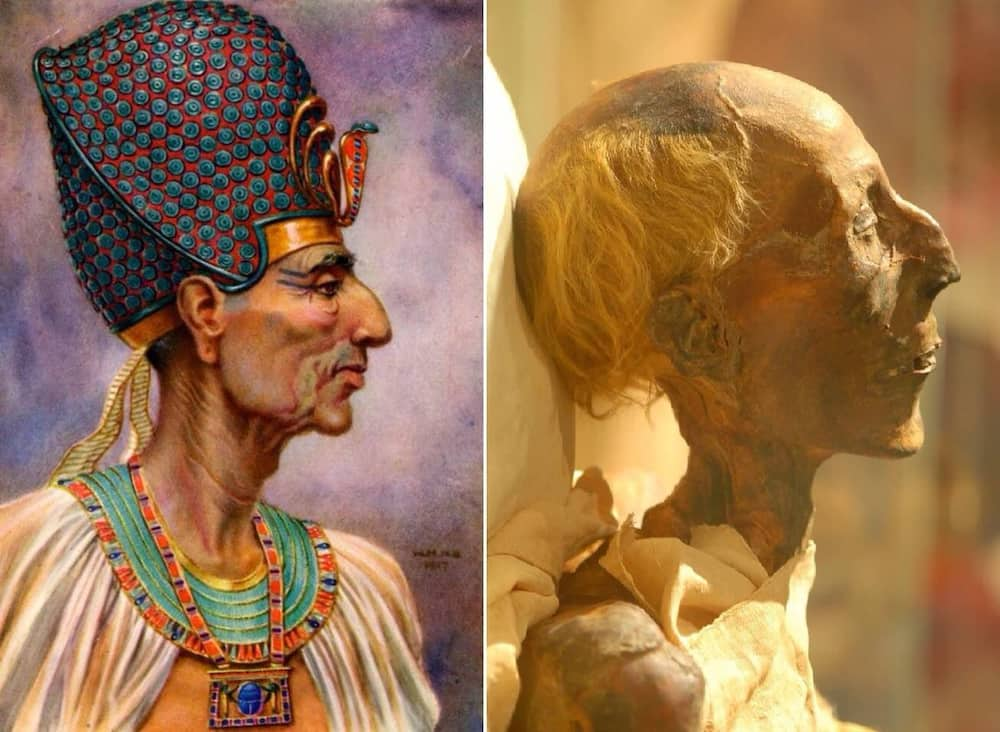 4. George Pemba
Despite the financial limitations that he had, the passion for painting that George Pemba had made him relinquish his shop and face painting full-time. He has a successful solo exhibition in 1948 at Port Elizabeth. The University of Fort Hare awarded him in 1978 with an honorary Master of Arts degree. In the late eighties, he rose to become one of the most revered black artists in South Africa, and he ended up being recognised for his significant contribution to art in the country.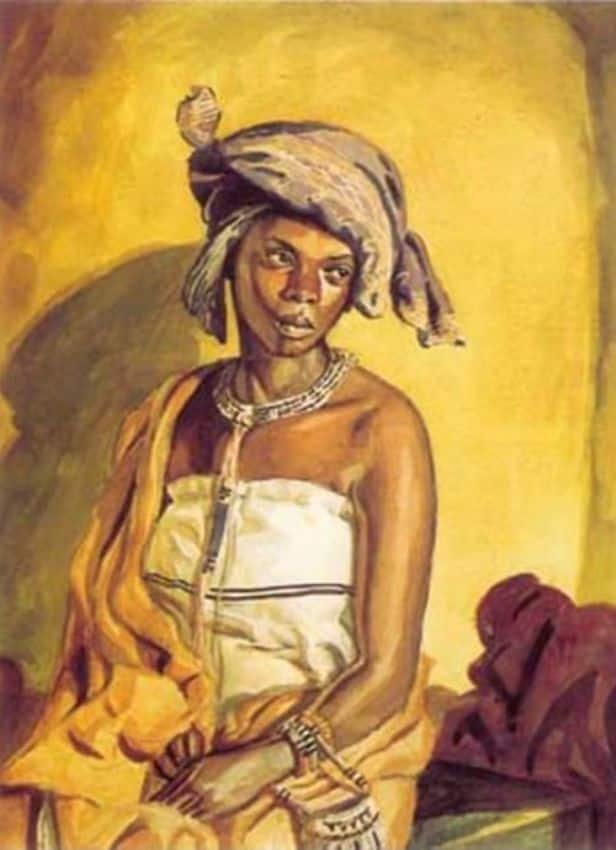 5. Gavin Jantjes
Gavin Jantjes is not only a painter but also a writer, curator, and lecturer. The South African painter had served as a consultant for the formation of the Institute of New International Visual Art (InIVA) as well as a council member of the Arts Council of Great Britain between 1986 and 1990. Gavin Jantjes has exhibited his works on several occasions, and he is proud to have his work at collections of Tate Britain in London, Arts Council Collection, Victoria and Albert Museum, London and so on.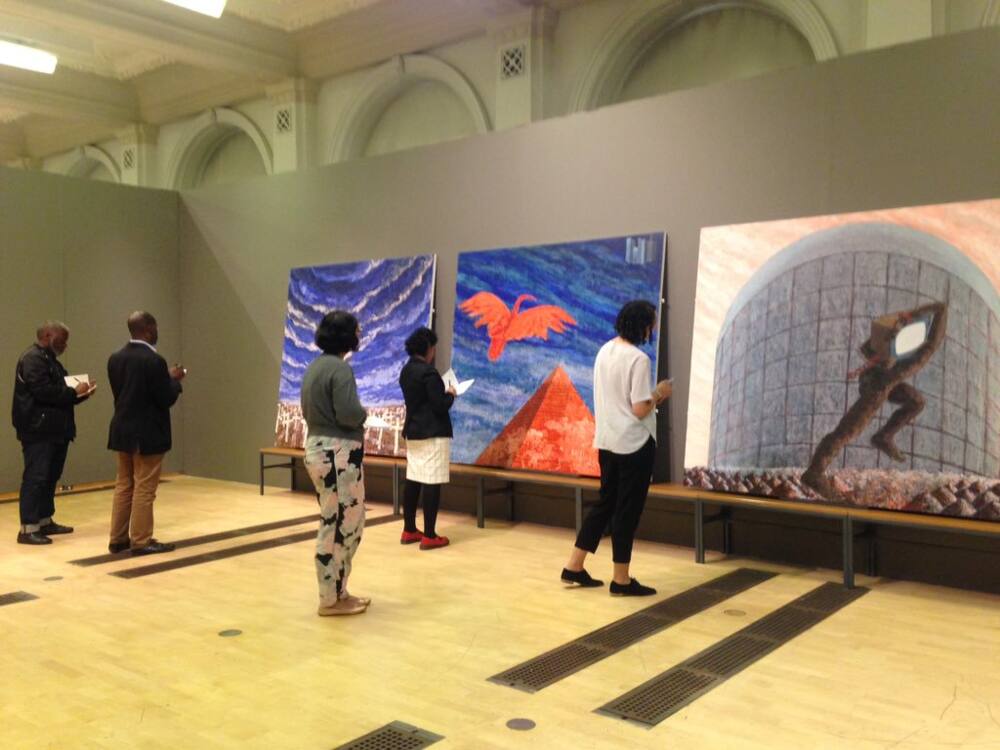 6. Hermann Niebuhr
Hermann Niebuhr lives in Johannesburg where he documents urban decay and rural landscapes by utilising oils on canvas in a classical painterly style. He has done several exhibitions like 2005 In Night Ride Home, 2008 Night Shift, and 2013 Stillness. Presently, Hermann Niebuhr operates studios in Johannesburg, Fordsburg, and De Rust in the Klein Karoo.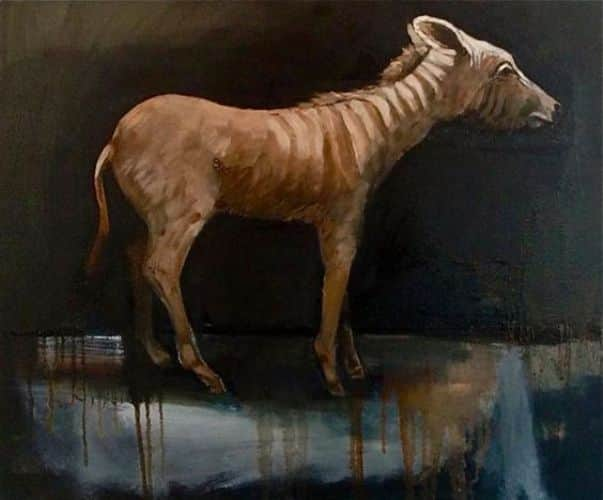 7. Dolf Rieser
The passionate Dolf Rieser did a range of works on scarves for Liberty using applied prints. Apart from pioneering printing on translucent fibre-glass laminates and panels, he was the person who introduced colour intaglio. Rieser did some international solo shows, and collections like the Arts Council UK, The Victoria & Albert Museum and New York Public Library are proud to hold his work.
READ ALSO: List of the best South African movies ever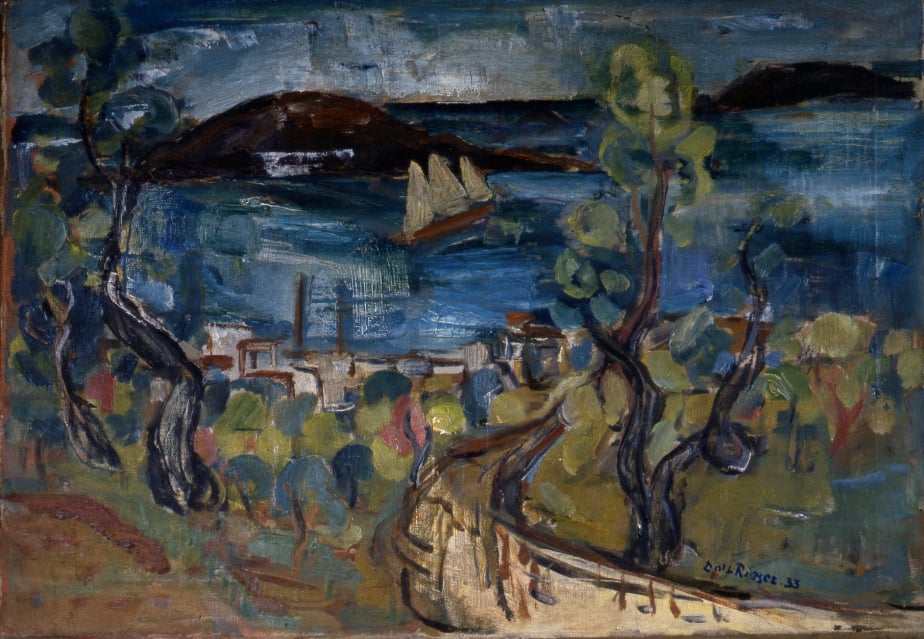 8. Gavin Rain
Among other painters, Gavin Rain is best known for his Neo-Pointillist style paintings. According to him, the motivation behind the development of the new style is to enforce "viewers to acknowledge that part of the narrative of each painting is 'hidden in plain sight', whereby it is impossible to see the subject of the painting until the viewer takes a few steps back".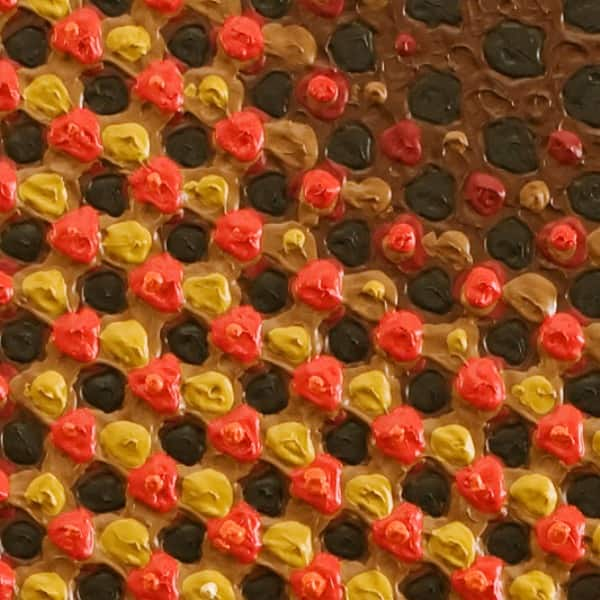 9. Alexis Preller
Alexis Preller trained at the Westminster School of Art and at the Académie de la Grande Chaumière in Paris. On his paintings that centre on South African subjects, he uses elements of Gauguin. He developed his own style later, and most of his works focus on different elements from African masks, nature, and other African art, and over time, attentions on his work have steadily grown. On the 13th of October, 2009, a major exhibition of his works that was held at Standard Bank Gallery, Johannesburg.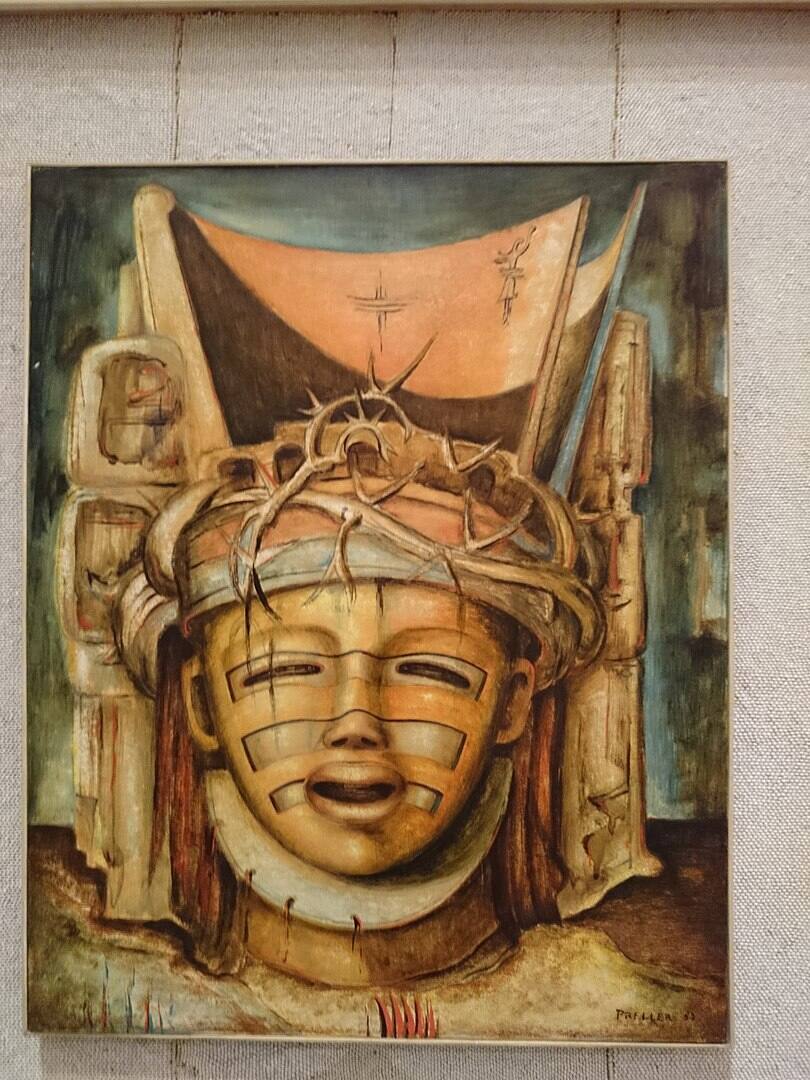 10. Deborah Poynton
The South African painter Deborah Poynton is best known for her hyper-realistic and detailed, monumental, nude portraits that are usually of family and friends. Most of her works are realism categorised, and besides, they are intellectually confounding and aesthetically engaging.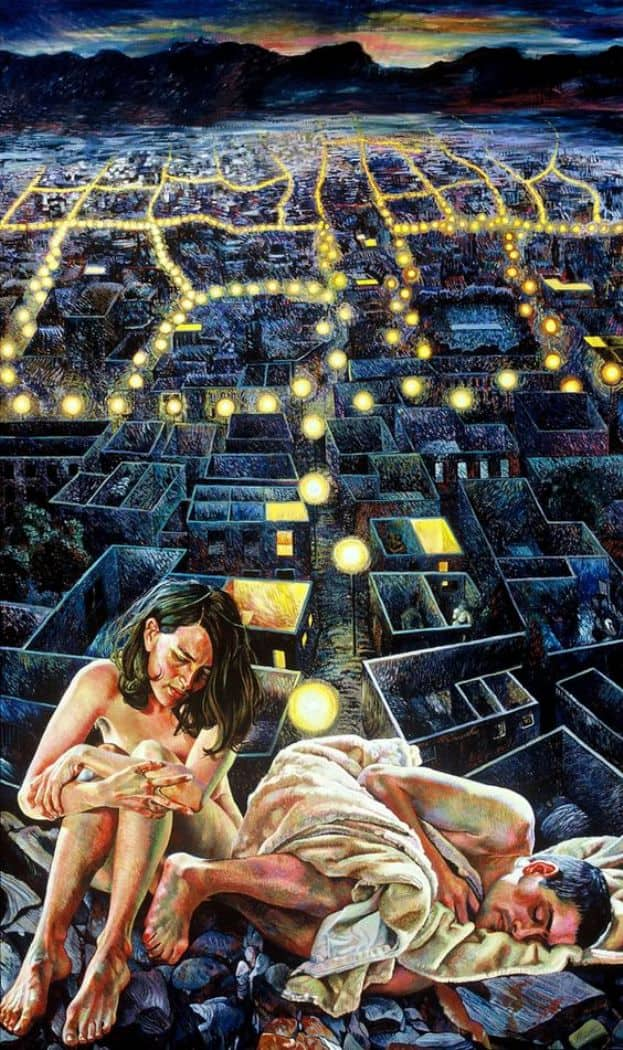 Painting South African artists names
There are lots of other South African painters whose works have received international recognition. A list of some of them includes the following:
Dr. Anton Hendriks
Gerard Sekoto
Maggie Laubser
Pieter Willem Frederik Wenning
Walter Battiss
Piet van Heerden
Jackson Mbhazima Hlungwani
Gerard Sekoto
Hugo Naudé
Gregoire Boonzaier
The South African artists discussed above, today, are celebrated because of the tremendous impacts which they have made on the art development in the country. With their mindblowing artefacts, more people are encouraged to see the need to explore this field as a career.
READ ALSO: Latest funny South African memes 2019
Source: Briefly News