Vuyani Jarana is the current South Afriican Airways (SAA) Chief Executive Officer (CEO). He also happens to be the former CEO of Vodacom Business Africa (2012). His top positions have put in in the lime light as a transformational leader.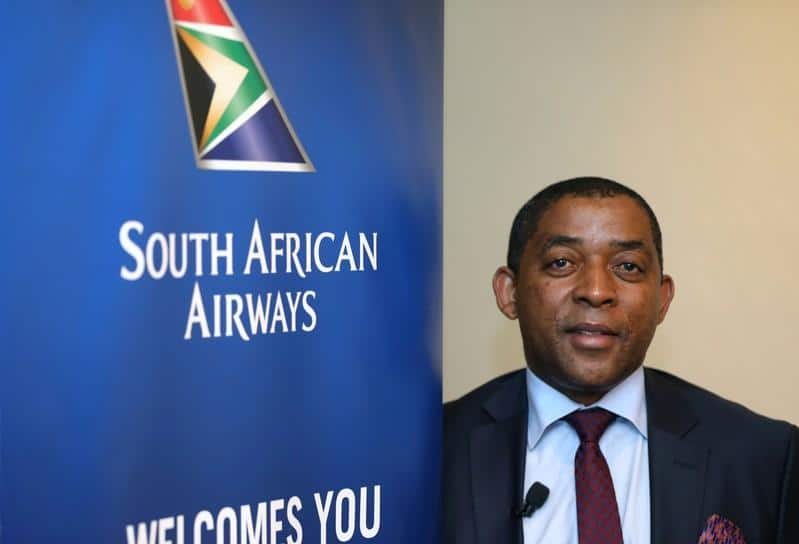 Vuyani Jarana biography is detailed with interesting life facts that saw him start from a humble background to leading two of the most powerful companies in South Africa. From a young age, Jarana took up the role of being a young breadwinner and is currently a respected family man and business leader.
Vuyani Jarana Age
Vuyani was born in 1970 in Qunu. Currently, he is 49 years old. His parents raised him in the Republic of Transkei, that means "the area beyond" river Kei. Transkei happens to be the home of Nelson Mandela. Vuyani grew up in a small rural village known as Qunu, South Africa.
Early Life
As a young boy, he came from a humble family. Furthermore, Qunu was underdeveloped with residents struggling with inadequate access to resources, infrastructure, among others. According to his interview in The Money Show hosted by Bruce Whitfield, Jarana stated that the hardship they faced made him and other youths come together in an attempt to seek longtime solutions.
A young community activist
In the podcast interview, Jarana said that he started as a young community development activist. This enabled him to unite the youth together with the adults. Collectively, the community achieved development projects. His hardship of traveling 4-5km to and from school, made him want to bring change to future generations.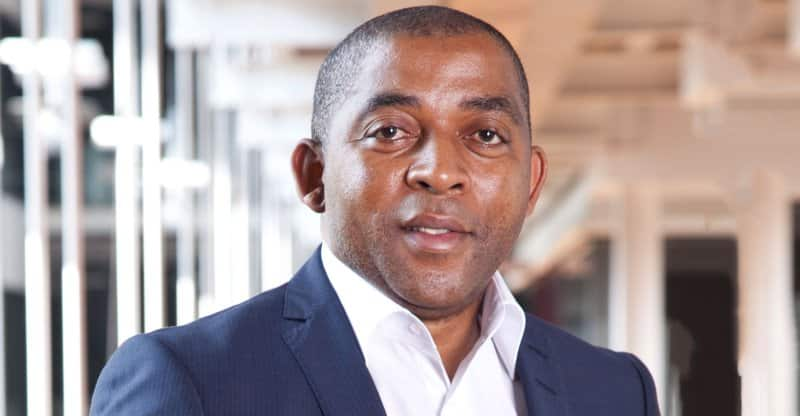 Jarana and his fellow youth activists developed schools, water projects, and recreational halls to improve the Qunu society. He states that he became more aware of bigger issues such as apartheid and world issues in high school. The knowledge inspired him to become great and make the change he could in his community and country at large.
Educational Journey
As a student, he had an ambition of doing medicine and electronic engineering. According to the interview with Bruce, he confirmed that he grew up as a curious boy. During Jarana's final year in high school, "Matric Year", he suddenly lost his father. His father was working in the mines and supported the family. As a result, he had to sacrifice his dream of becoming an engineer and became a young breadwinner for his family.
As a result, Jarana had to leave his village in search of a job that would offer his family upkeep money and school fees. Fate had it for him to join the telecommunication industry. As his first work, he was a trainee technician at the Transkei Post and Telecommunication.
As a trainee, the company paid his fees while giving him practical experience. He worked hard and achieved his degree while still in the company. Vuyani did his Bachelor of Commerce (BCOM) and later Masters of Business Administration (MBA).
Family
Vuyani Jarana wife is known as Brigitte Jarana. As a couple, they are blessed to have three children. The couple celebrated Africa, their last-born son, through an initiation ceremony called "ulwaluko". The celebration is according to his Bhayi clan's customary practices. He also has a firstborn son, followed by a daughter. Jarana's last-born son, Africa, was born deaf.
READ ALSO: Paul Mashatile age, wife, education, qualifications, party, current office, contact details and latest news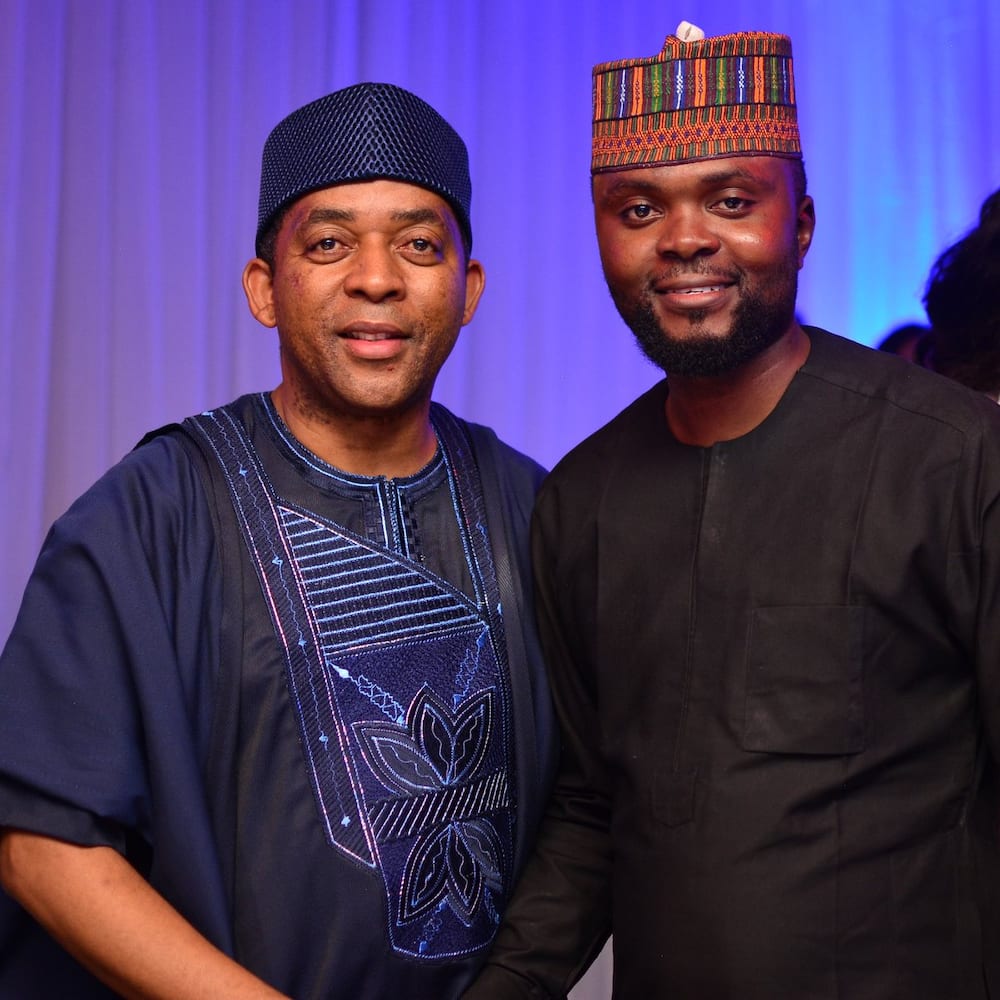 From trainee to CEO of Vodacom
As a determined worker who is driven by his passion for technical solutions, Vuyani managed to climb the hierarchy ladder. He graduated from being a technician trainee to becoming a successful CEO. He has been working for Vodacom as a CEO since 2012.
The CEO of South Africa Airlines
In search of greener pastures, Vuyani applied for the position of being the CEO of SAA. He went through the SAA interview process and selection process, to the appointment. Jarana became inspired by the board of governor's dedication to improving the South African airline.
According to his interview in The Money Show, hosted by Bruce Whitfield, Vuyani stated that SAA was a company that was undergoing lots of strain. He describes his position as SAA CEO as "a mammoth task", since SAA represents the entire country to the world
Jarana's idea was to restructure SAA, as he believed the past failures had nothing to do with the future. He believed that he would assist in directing the company to profits and regain its pride as a South African airline.
Vuyani Jarana Qualifications
On third August 2017, The National Treasury officially announced that the South African Airways had appointed Vuyani Jarana as its CEO. According to the Finance Minister, M. Gigaba,
Given that Mr. Jarana has turned around a loss-making subsidiary of the Vodacom Group, Vodacom Business Africa, into a profitable and growing business, we believe he will be key in turning around SAA.
Furthermore, Vuyani's academic qualifications with a Bachelor of Commerce (BCOM) degree and Masters of Business Administration ( MBA) placed him as the best candidate. Below is a summary of Vuyani Jarana CV as listed on his LinkedIn account:
Experiences
Private Consultancy;
Business Transformation Leader and Digital Evangelist;
Currently on Sabbatical;
Chief Executive Officer SAA.
Vuyani Jarana educational qualifications
Stellenbosch University/Universiteit Stellenbosch MBAField Of StudyBusiness Administration (2000-2004);
Unisa SBL VAEP, Management Studies (2004-2004);
University of Transkei/Universiteit van Transkei BCOM (1990-1997).
Skills and Endorsements
Telecommunications;
Business Strategy;
Operations Management.
Contact details
linkedin.com/in/vuyani-jarana-54a730
Twitter: Vuyanij
At the moment, the SAA was considered bankrupt and unable to pay its employees' salaries. The financial crisis that was presented to the MPs indicated, that by July 2017, the SAA had a negative deficit of about R568 million.
Salary
As the CEO of the airline, Vuyani's salary was R6.7 million per annum. In 2017, the airline used a total of R16 million as salary payments to executive consultancy services. According to the high payments in a bankrupt airline, the CEO argued that it was necessary to acquire the best-skilled human resources for the company to achieve its goals.
Read Also: South Africa's Comair pulls the plug on Boeing 737 Max flights
South African Airways Vuyani Jarana resigns from CEO
On 2nd June 2019, Jarana was trending on every South African news station. He had decided to resign from his position as the CEO of SAA. According to his 29th May 2019 resignation letter, he clearly stated that the lack of adequate government funding of the airline's long-term turnaround strategy was inhibiting his role of piloting the airline to success.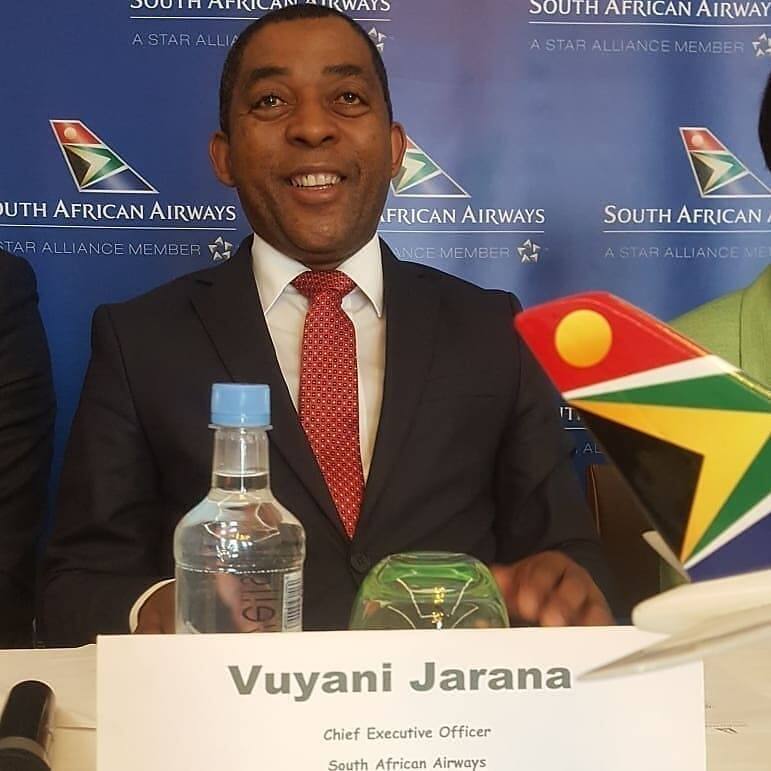 Vuyani Jarana resignition letter
In his resignation letter, the CEO said,
The strategy is being systematically undermined, and as the Group Chief Executive Officer, I can no longer be able to assure the board and the public that the LTTS is achievable.
He added that the National Treasury had approved a total of R21.7 billion to run the LTTS in March 2018. However, the treasury only allocated R5 billion. Vuyani's resignation came as another big blow to the state's president, Ramaphosa.
From being a young community development activist in high school to becoming the CEO of South African Airlines - Vuyani Jarana has proven that consistency and hard work leads to success. After his father's death, he did not lose hope but took the role of becoming a young breadwinner. He worked to get school fees and also sustain his living. Vuyani started from being a technician trainee to a successful CEO.
In 2017, he was selected by the National Treasury as the CEO of SAA. Vuyani delivered his resignation letter after barely two years. According to his resignation letter, the government was not financially supportive in committing to the firm's long term strategies.
READ ALSO: Theuns Jordaan age, children, wife, songs, albums, record labels, awards and Instagram