- Sithembiso Victor Ndebele, a security guard, obtained a National Diploma in Safety Management
- Ndebele revealed that his journey to success was not easy and it is far from over
- He plans on pursuing a PhD in the future and starting his own businesses
PAY ATTENTION: Click "See First" under the "Following" tab to see Briefly.co.za News on your News Feed!
Many children who grow up in disadvantaged areas often reach adulthood without tapping into their full potential. With limited jobs, expensive study fees and family responsibilities, many people never truly succeed.
However, one man, Sithembiso Victor Ndebele, decided to take hold of his future and create a path for himself. And, although it might not have been easy, every struggle was worth it.
Ndebele recently graduated with a National Diploma in Safety Management at the University of South Africa (UNISA).
The 27-year-old spoke to Briefly.co.za about his journey to success and all the struggles he had to overcome.
Ndebele grew up in a rural area called eNdombeni, under eMfekayi area at Mtubatuba, North of KwaZulu-Natal.
He lived in a household of 16 people with only one person who had a job:
"At Mthethwa family we were around 16 family members in total, including my grandmother and grandfather. The only person who was employed was my late grandfather who was working at Transnet at that time, so you can imagine the whole family depended on one person, the head of the family."
Ndebele revealed that food was scarce in the home and he and his relatives would often have to share a plate.
He revealed that at the beginning of the month, two people could share a plate while it went up to three people per plate by the middle of the month as everyone tried to eat.
Despite growing up in poverty, Ndebele excelled in school. In Grade 8 he managed to take the seventh spot in the top 10 and he has been awarded certificates for subjects ever since.
He managed to excel in the Afrikaans subject and was given the nickname "Mfana we-Afrikaans" (a boy of Afrikaans).
In 2011, Ndebele matriculated with distinctions at the Masibonisane High School and earned a Bachelor's degree pass in his matric exams.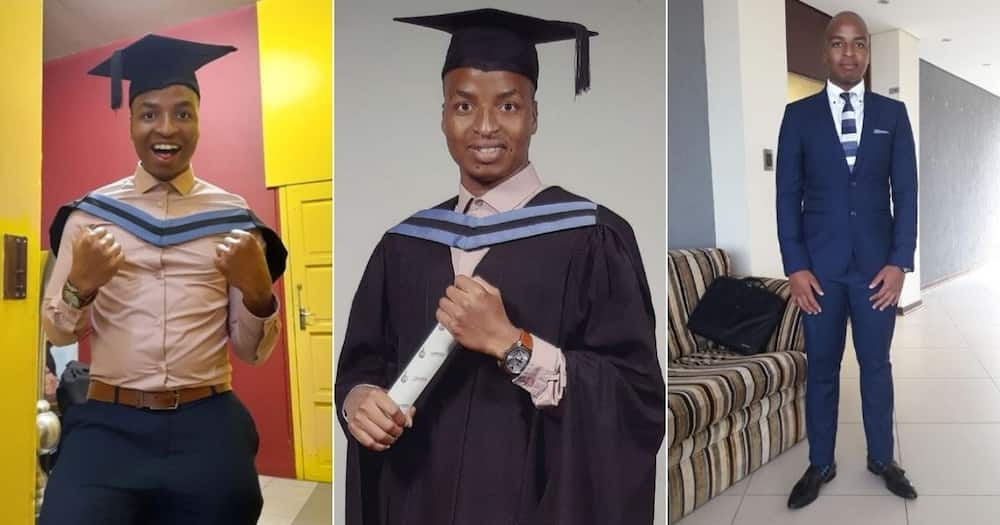 Because of a lack of funds, Ndebele could not study after school and in 2012 he moved to Durban with the hope of landing a job.
He managed to secure a contract job but it was not full-time and it did not pay well.
"I was a contract worker and our contract was a three-week contract. When your three-week contract is finished, you will go home and wait for three weeks to be finished and then they will call you when you are lucky."
Ndebele knew that he wanted more out of life and he used the R350 weekly salary he received to fund his studies.
He said:
"With my first salary I chose to do a security certificate at Zenzele Security Training. I did three grades, Grade E, D and C, and I did not go back to work for that company because I had my certificates."
Ndebele then landed a job at a private security company where he earned as little as R1 700 a month. After a couple of months, he took a job at another firm and was given a salary increase.
Despite earning more money, Ndebele was working a lot of overtime and he did not have time for anything else.
However, his life changed in 2017 when he was employed by UNISA as a security guard. While working on the varsity's premises, Ndebele starting looking into furthering his studies.
He had more time off and received a decent salary to fund his studies.
Ndebele juggled work, raising a daughter and studying towards a National Diploma in Safety Management all at the same time.
Although his journey was hard, Ndebele is grateful for his success. Through bettering himself, he can give his daughter, who was born in 2012, a life he never had.
Ndebele hopes to further his studies even more and to eventually complete a PhD in his field. He told Briefly.co.za that he then hopes to start his own businesses and create job opportunities for other South Africans.
The 27-year-old loves being part of a big family and he hopes that one day he can be successful enough to have his own large family.
He said:
"My biggest dream is to get married and have six to eight children, I don't want my children to suffer. That is why I want to get married so that they will have a good warm home with their parents."
Ndebele has encouraged other young South Africans to follow their dreams, even when times are tough. He added there are more bursaries and scholarships available nowadays to help those who can't afford education.
He said:
"Your duty is work hard where you are regardless of the situation you are facing. Yet, that too shall pass. Never be ashamed to fail. Keep on trying until you win. No one will do the work for you. Be independent. Be optimistic."
His story was also shared on Twitter by social media user Blessings Ramoba and it inspired South Africans.
READ ALSO: Husband goals: Siya Kolisi cooks for family and reads book to kids
Earlier, Briefly.co.za reported on an inspiring young woman. Lindiwe Shabane gave birth to two children while still in her teens.
Although she was ridiculed within her own community, she went on to achieve her academic dreams.
While working part-time, she still managed to graduate and is now aiming for her Honours degree.
Enjoyed reading our story? Download BRIEFLY's news app on Google Play now and stay up-to-date with major South African news!