- Tyla Ann Gurney is wheelchair-bound and relies on her carer for nearly everything and she is grateful for Samaira
- She took to Facebook to wish her happy birthday and share a heartwarming message for her carer
- Facebook users were delighted with the thoughtful message for the kindhearter woman
PAY ATTENTION: Click "See First" under the "Following" tab to see Briefly.co.za News on your News Feed!
Tyla Ann Gurney has taken to Facebook to pay tribute to her caregiver, Samaria, who has looked after her for the past 13 years.
She posted the message on Samaria 's birthday to thank her for all that she had done for her in the Facebook group #ImStaying.
Briefly.co.za learned that Tyla had confessed that she did not know what she would have done without Tyla to help her.
Here is Tyla's full post:
"I guess today is the day I've decided to post on this group as to why I'm staying. Today is my caregiver's birthday! This beautiful soul has looked after me for 13 years this year and I can honestly say that she's brought nothing but joy and love into my life. When I look at her and the qualities that God placed within her such as joy, love, peace, patience, goodness, gentleness, faithfulness and self-control, I can honestly say that without a doubt I am blessed with the best Caregiver. I now understand why we call her a caregiver, it's because she gives cheerfully with such a caring, pure and beautiful heart without ever expecting anything in return and I believe that she is definitely fulfilling the purpose God has called her to do here on earth! I am truly blessed and lucky to be the person she has chosen to dedicate her time looking after. She inspires me to reflect God's light and love to those who so desperately need it and she inspires me to help others in some way just like she's helped, cared, supported me and loved me throughout every day even on my worst days and how she continues to love me unconditionally no matter what circumstance I may find myself in and no matter how differently-abled I am, Hence why I believe God has placed the desire on my heart to study life coaching. My prayer for her is that God will bless her with many more years of good health, strength and many blessings for everything she does and continues to do for me. I appreciate and love this golden soul more and more every day. I am thankful to the Lord for the biggest blessing in my life by having Samaria by my side. Thank you for being my bestest friend even in the middle of the storm, for being like a mom to me, for loving and nurturing me every day we get to live this life and for the time we get to spend together and last but not least for being the role model I will always look up to. This is one of the mere and most precious reasons why I am staying ❤️❤️❤️❤️"
READ ALSO: Rami Chuene breaks her silence on working with the Fergusons once more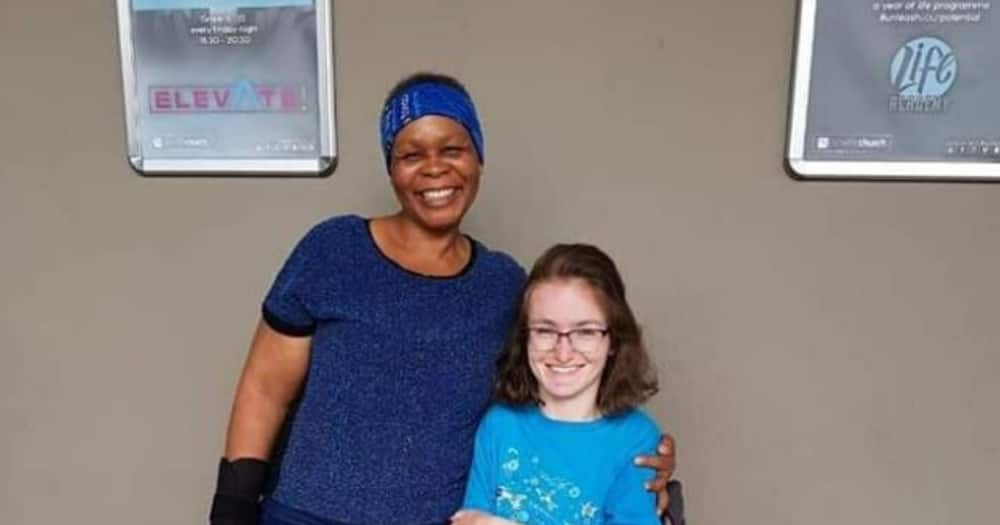 Facebook users flooded the post with messages of support and congratulations for Samaira:
READ ALSO: Cindy Mahlangu and Bongani Zungu rumoured to be in relationship
Cheryl Masters:
"Happy Birthday to your caregiver may she be Blessed in Abundance today and always May GODS AMAZING GRACE surround her wherever she may be."
Susan Jane Meintjes:
"What a wonderful, heart-warming tribute to your carer! Bless you, both ."
Lorna Raphunga:
"I'm so touched. May God's favour and blessings be yours in abundance."
Leighton Geldenhuys:
"You have been truly blessed by a woman touched by God Himself! What a great and Loving journey "
Irene Venter:
"Samaria .... like Samaritan. Chosen by God to fulfil a purpose so special. Bless your Angel hearts .... both ladies "
Briefly.co.za had earlier reported that Nicole De Abreu, warmed the hearts of many South Africans on Facebook.
Taking to the #ImStaying page, De Abreu revealed their nanny is going to be a grandmother in the near future.
She and her family wanted to do something special for the gogo-to-be and they decided to throw her a baby shower.
In other news, Briedly.co.za reported that a couple is a living testimony to what can be achieved when you set your mind to something.
Britt Williams, a stay at home mom with her own business, and her husband are celebrating the first day in their new house which they built from the ground up.
Enjoyed reading our story? Download BRIEFLY's news app on Google Play now and stay up-to-date with major South African news!