Exclusive: Meet the female engineer, 26, who is building her own house
- Zama Philisiwe Zungu went viral in Women's Month when photos surfaced online showing her building an additional room on her home
- The 26-year-old inspired South Africans with her skills in construction and she proved women have what it takes to succeed in a man's world
- Speaking to Briefly.co.za, Zungu opened up about why she became an engineer in the first place
PAY ATTENTION: Click "See First" under the "Following" tab to see Briefly.co.za News on your News Feed!
In August, South Africans celebrated Women's Month. One of the ladies who managed to inspire citizens was Zama Philisiwe Zungu.
Photos of Zungu's handiwork were posted on the viral #ImStaying group and social media users were in awe of her.
The 26-year-old, who grew up in Pietermaritzburg, KwaZulu-Natal, was photographed building an extra room onto her existing house. The female civil engineer captioned the post:
"This is what I am good at."
Now, Zungu spoke to Briefly.co.za on why she decided to become an engineer. The inspiring young woman revealed she grew up with both her parents and siblings - who provided a strong support structure for her.
She said:
"Growing up both my parents played a very vital role in making sure that I believe in my self and also instilling the thought that nothing is impossible when you put both your mind and effort into it."
READ ALSO: Exclusive: Dedicated teachers use own cars to transport kids to school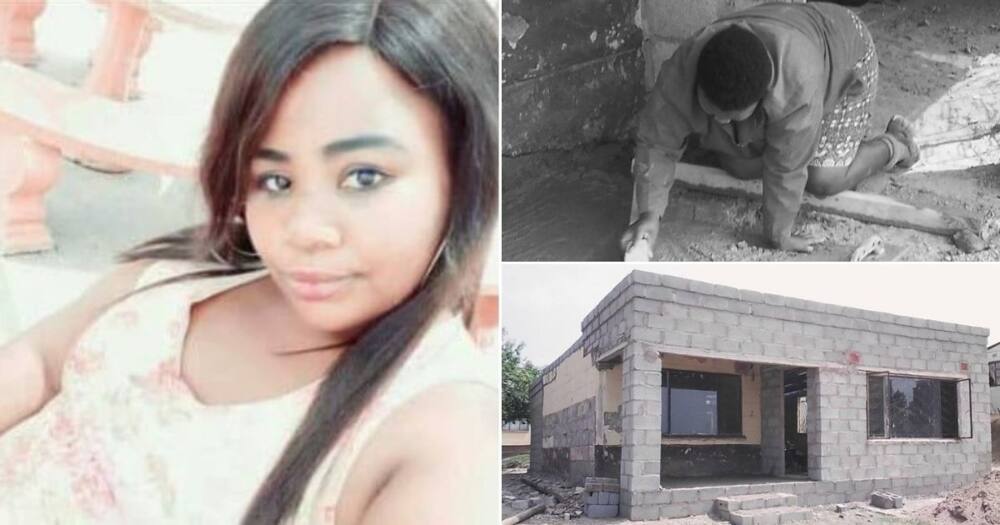 Zungu made the decision to become an engineer in 2014 and her father was a major motivation for her.
"My dad was my inspiration since he is also a builder," she said, adding: "Also I was inspired by the lack of women in this industry, since it was labelled as a man's job. I took the challenge knowing very well there are quite a number of challenges I'd encounter in a male-dominated career."
The Umgungundlovu TVET college student said there are many challenged women face in the engineering industry.
She said:
"As a woman you are most likely to be underestimated by your male classmates, which I later used at my advantage because I would exceed everyone's expectations."
Zungu said she had never built a house before when she decided to renovate her home. However, the skills she learned during her practical exams in college gave her the confidence she needed to take on the project.
"Renovating my home is very fun and exciting at the same time, practicals are more fun than theory. All thanks to my trade lecture Mr Mbatha who brought the best in my abilities, he would say, 'These things should be at your fingertips and you should know it by heart'."
Zungu dreams of one day being the director of her own construction company - through which she plans to empower more women in the engineering industry. The inspiring lady thanked her dad for being her role model and introducing her to the world of construction.
As for other ladies who dream of becoming engineers, Zungu said:
"Always put your best in everything that you do, never underestimate the power of pouring your heart in what you do. Always seek to improve and empower yourself."
Meanwhile, in other news, a newlywed man has posted a thank-you message to his bride on social media. Thulane Mlandu Mtsweni took to the Facebook group #ImStaying to share a beautiful story about his amazing bride, who didn't care about his money.
Thulane said it took him around eight years to gain footing and financial stability and his wife waited for him without a complaint in the world. He talked about times being so tough for him that he couldn't even afford to buy her chocolate sometimes.
He said:
"I grew up hearing people women are after money and material things. But the truth is that, there are women out there who love men no matter what they have or don't have."
Enjoyed reading our story? Download BRIEFLY's news app on Google Play now and stay up-to-date with major South African news!
Source: Briefly.co.za