Malema's call for 'ground forces' to mobilise raises eyebrows
- Economic Freedom Fighter leader Julius Malema has sparked immense debate after calling for 'ground forces' to mobilise
- Malema wants Red Beret supporters to attend the next trial date in Senekal later in October
- However, some feel that this move proved more divisive than progressive and voiced their opinions online
PAY ATTENTION: Click "See First" under the "Following" tab to see Briefly.co.za News on your News Feed!
Julius Malema is no stranger to promoting debate on social media with his often provocative comments.
Now, his call for 'ground forces' to mobilise in order to attend the Senekal trial hearing on October 16 in order to 'defend state property and democracy has raised a few eyebrows. Malema had taken to social media to rally support for the endeavour, commenting that:
"Since the government of Cyril Ramaphosa is extremely scared to respond decisively, we are on our own. Next appearance, all ground forces and peace-loving South Africans will be in attendance, in defence of our democracy and property. Magwala a chechele morago! Fighters attack!"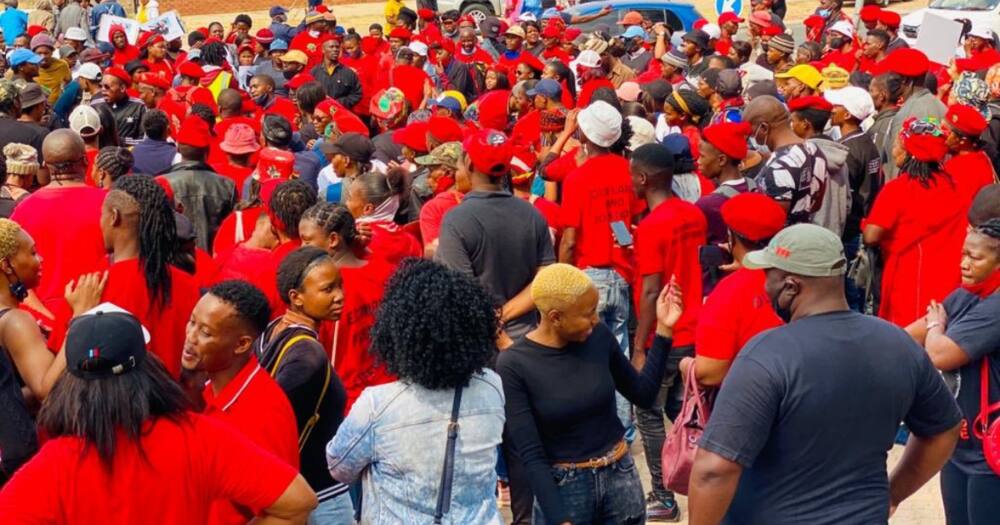 While some feel that Malema was perfectly justified in this endeavour, others felt that the comment was divisive and detracting from the issue that had prompted the unrest.
The community had been protesting against farm murders after 21-year-old Brendin Horner was found murdered. The two suspects taken into custody had been identified after bloodied shoes and clothing were discovered.
When the case had been postponed earlier this week to later in October, the community had become enraged and sought to gain access into the holding cells where the suspects were awaiting trial.
In the chaos that followed, the community had set a police vehicle alight and shots were fired by authorities. Malema had felt that, had black citizens been protesting, the response from authorities would have been far less forgiving.
Earlier, Briefly.co.za reported that the Economic Freedom Fighters had issued a statement demanding arrests and condemning the failure of authorities to keep the situation under control.
The Red Berets had demanded that an inquiry should be held to determine whether or not the police officials on the scene had done the right thing.
Meanwhile, a 52-year-old farmer has been arrested and will be facing charges of malicious damage to property and public violence.
Take a look at just a few of the responses from social media to Malema's comments below:
Enjoyed reading our story? Download BRIEFLY's news app on Google Play now and stay up-to-date with major South African news!
Source: Briefly.co.za