Pazuzu Algarad: Here is everything you need to know about The Satanist killer
Pazuzu Algarad was a notorious American Satanist killer. His name hit the deadlines from between 2006 and 2015. Pazuzu had a terrifying and wicked past. It is approximately five years down the line since his demise, but his story is frightening to tell as a horror film. So, who was Pazuzu, and what did he do?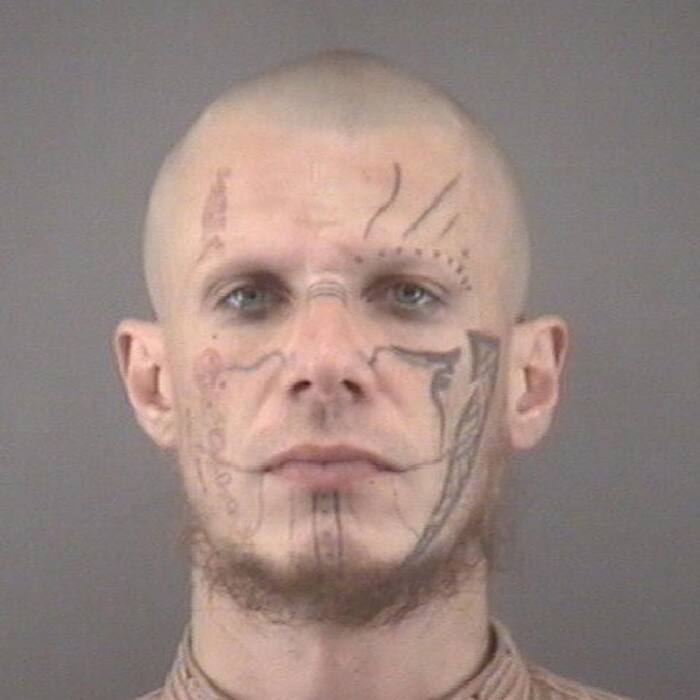 Over the years, many people have tried to explain Algarad's case through writing, documentaries, and television series such as The Devil You Know. He has been described as a person who had a questionable character and frightening look. His satanic influence turned him into a cold blood killer.
Everything you need to know about Pazuzu Algarad
Pazuzu was born like any other normal kid, but he changed along the way because of his upbringing and several other external factors. Below are facts about his disturbing case to help you understand him better.
1. He was born as John Alexander Lawson
Pazuzu Algarad real name is John Alexander Lawson. The self-proclaimed Satanist was born on 12th August 1978 in San Francisco, CA in the United States. The name of Pazuzu Algarad parents are Timothy J and Cynthia Lawson. He spent most of his life with his mother.
At some point, they relocated to Clemmons, North Carolina. This was after his parents divorced in 1990. Pazuzu and his mother, precisely, lived in 2749 Knob Hill Drive, Winston-Salem, North Carolina.
2. He changed his name for 'religious' purposes
The deceased resolved to change his name in 2012. His favourite name choice was Pazuzu Illah Algarad, a name he became known for until his death. He derived the name from a horror movie titled The Exorcist. In the movie, Pazuzu is an Assyrian demon.
3. He was diagnosed with two mental illnesses as a child
Growing up, Pazuzu was diagnosed with two mental illnesses, agoraphobia and schizophrenia. The two illnesses had a huge impact on him as a child. Unfortunately, his mother's attempt to treat him failed when she ran out of resources.
At 13 years old, he started consuming alcohol and using different drugs. It became worse with time when he made it a routine. Also, he allegedly started harming animals.
4. Pazuzu's violent and satanic behaviour started at their home
He allegedly started becoming violent while residing at 2749 Knob Hill Drive in Clemmons. First, Pazuzu was accused of putting his mother in a chokehold. The incident saw him be convicted of the misdemeanour. He was put under probation for 12 months.
Second, he was charged with accessory in the involuntary murder case of Nicholas Pasquale Rizzi. The two were linked to the death of Joseph Emmrick, whose body was found by Yakid River.
5. He lived in a house full of satanic symbols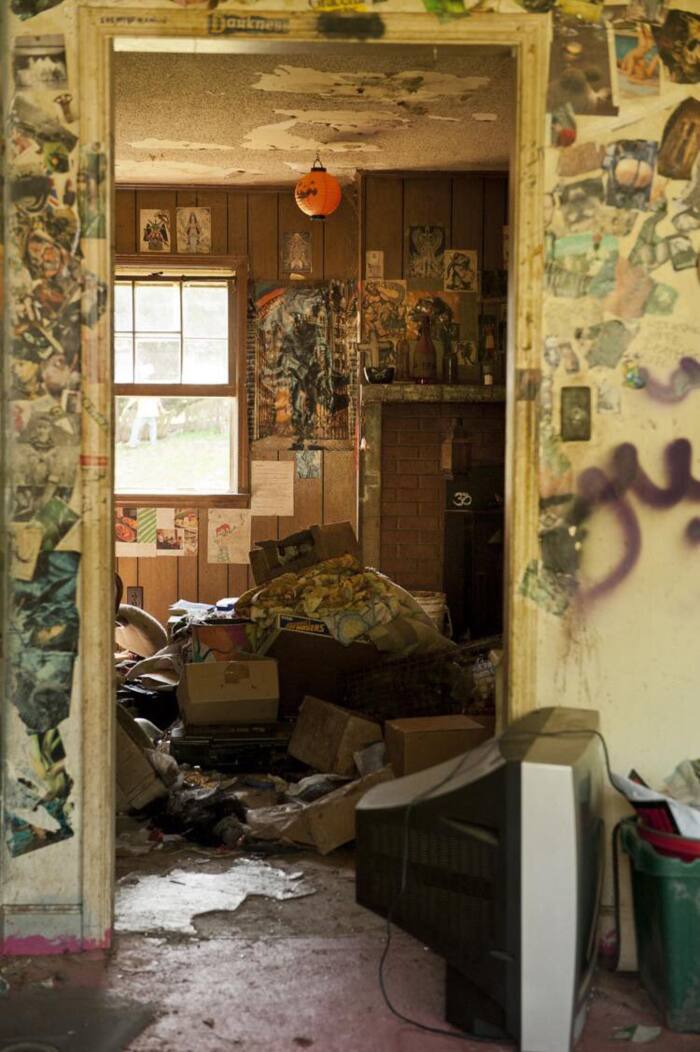 A video published by Daily Mail not only showed the inhabitable condition he was living in but also frightening satanic symbols/pictures on the walls. His neighbours started noticing a stench odour coming from his home.
Pazuzu Algarad house was filled with a heap of garbage, animal faeces and carcasses, bottles of alcohol, and pictures of inverted crosses. Later, the house was demolished. In 2015, the land was bought by Stephen and Vicki Brewer, who were his neighbours.
Also, Pazuzu Algarad tattoos made him look scary – he had many of them on his face. Some people allege that the tattoos had hidden satanic meanings.
6. Algarad buried two bodies in his homestead
After his arrest, the police issued a search warrant at his 2749 Knob Hill Drive in Clemmons home in 2014. The team was accompanied by forensic experts. The remains were buried in shallow graves.
The autopsies revealed shocking information; the skeletons belonged to Fredrick Wetzler and Tommy Dean. The two were last seen in 2009.
The two Pazuzu Algarad murders were done with the help of his girlfriend. His girlfriend assisted him in disposing of one body in his backyard.
7. He had a partner with a criminal history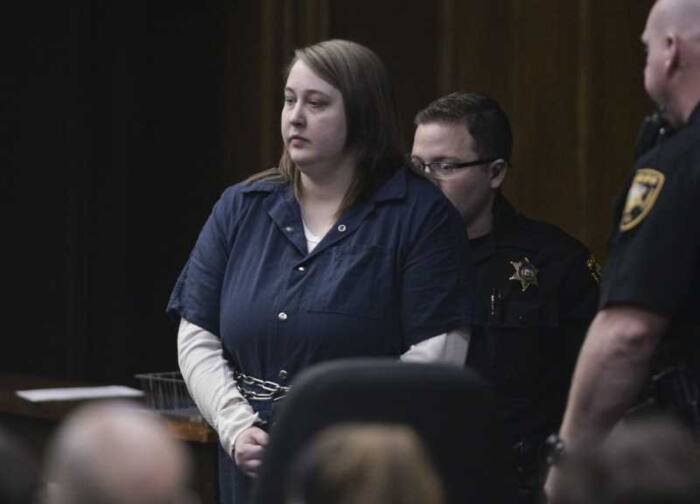 John Alexander Lawson was reportedly married to Amber Burch. The two were living together, but they had not legally married each other. Like him, Amber had a criminal history. She allegedly tried to chokehold Pazuzu Algarad mom.
On 9th March 2017, Pazuzu Algarad girlfriend pleaded guilty for second-degree murder in the case of Tommy Dean Welch. In addition to the murder charge, she also pleaded guilty to accessory and armed robbery.
8. Pazuzu Algarad passed away in 2015
Several theories have been developed to explain Pazuzu Algarad death. So, how did Pazuzu Algarad die? One may ask. He committed suicide in his cell.
This was after he had been shortly transferred to Central Prison in Raleigh for safekeeping purposes. In the early morning of 28th October, he was discovered unresponsive with a wound on his left arm. At 4:20 am, he was pronounced dead because he had lost a lot of blood.
Pazuzu Algarad teeth were filed into points. Some alleged that he might have bit himself on the arm, losing excessive blood. Some of the things found in his cell are an electric razor and a clear bottle.
Frequently asked questions
Apart from the above-discussed facts, you may find the following information useful about him. The details are addressed in a question-answer format. They include:
What does Pazuzu Algarad mean?
Pazuzu Algarad is an Assyrian demon from a supernatural horror film. The title of the movie is The Exorcist. Carlotta Mercedes Agnes McCambridge plays the character in the film.
What is the story of Pazuzu?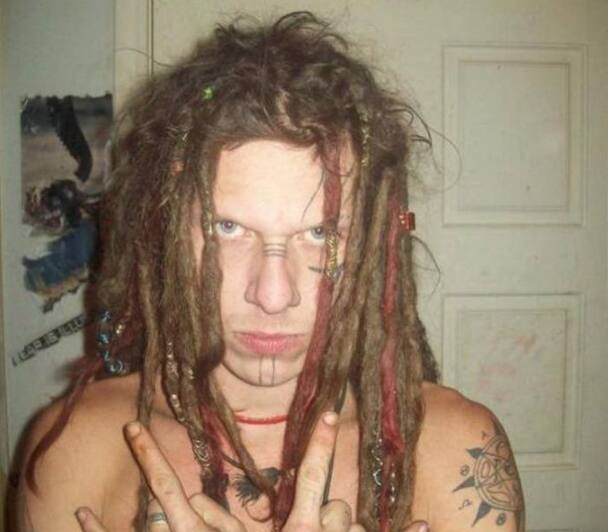 John Alexander Lawson, best known as Pazuzu, was an American national. He was a self-proclaimed Satanist killer. He killed two people and berried them at his backyard at 2749 Knob Hill Drive in Clemmons, his home. In 2015, he committed suicide in his cell.
Is Pazuzu Algarad alive?
No, he died on 28th October 2015. Reports indicated that he committed suicide in his cell. A wound was discovered on his left arm.
When did Pazuzu Algarad die?
Pazuzu was discovered unresponsive in his cell on 28th October 2015. At 4:20 am he was pronounced dead due to excessive loss of blood. He had been transferred into the jail for safekeeping reasons.
Pazuzu Algarad is remembered for being a killer and murderer. The self-proclaimed Satanist committed suicide in his cell in 2015. The families of his victims continue asking themselves endless questions regarding his actions.
READ ALSO: Facts about Senzo Meyiwa death and case that you ought to know
Briefly.co.za highlighted facts about the death of Senzo Meyiwa, former Bafana Bafana goalkeeper. It has been six years since his demise, but his killers are yet to be brought to justice.
His family is yet to find closure, considering the case has taken longer than they expected. Even so, officials in charge of his case had promised to bring his killers to justice. The police interrogated the suspect and found in possession of the murder weapon.
Source: Briefly.co.za