Prophet Nana Poku bio: age, married, cars, prophecy, church, contact details
Nana Poku is a familiar name in South Africa's Christian TV channels, YouTube, radio, and social media. He forms the growing list of modern preachers whose style of preaching has elicited admiration, doubt, and controversy in an almost equal measure. Is Nana a true man of God or a religious imposter? What is the substance of his prophecies and miracle works? Well, read on to find out more about this flamboyant and charismatic spiritual leader.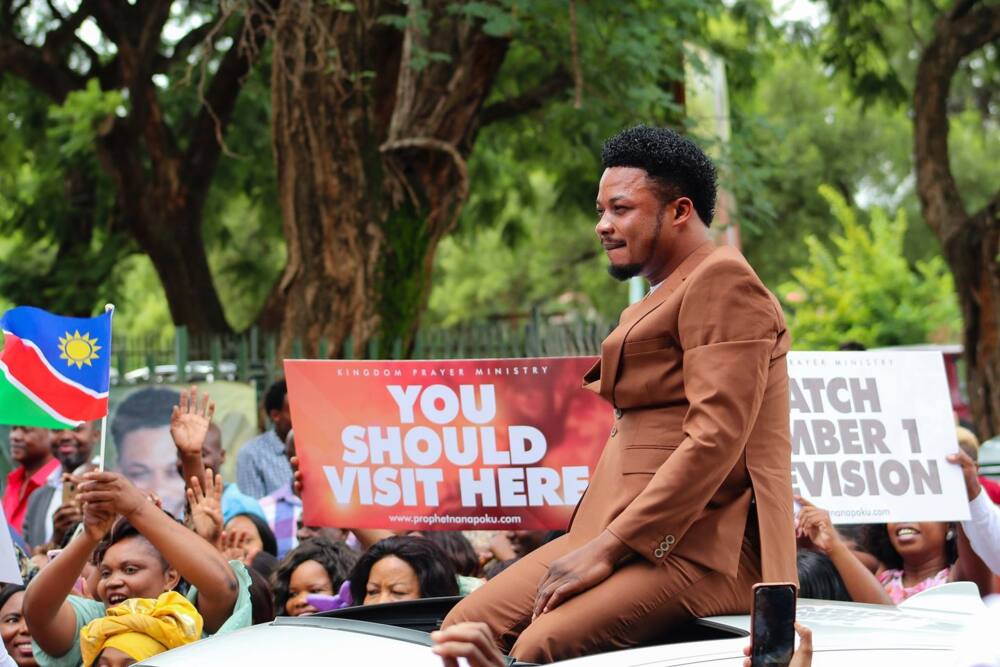 Prophet Nana Poku is a South African tele-evangelist of Ghanaian descent who leads the Kingdom Prayer Ministry. He launched his ministry in July 2013 and has since been preaching, performing miracles, and receiving revelation on behalf of his followers.
Is Nana Poku married?
Nana's handling of women among his congregation has raised several moral concerns and elicited criticism from different quarters. During one of his miracle stunts, for example, he audaciously kissed a woman to pass on divine healing ostensibly.
In another case, the daily sun reported an episode of Madam Mbali Simelane threatening to take him to court for impregnating and dumping her.
Our relationship was only three months and then I got pregnant. His son is 10 months now but he has never bought him anything. She lamented
She said that the tele-evangelist possibly neglected her because she refused his proposal to abort the child.
But in his defense, the Prophet said,
"This was just an accident as I was not ready to be a father. However when she told me that she is pregnant, I accepted responsibility".
In yet another mindboggling allegation, the fellow tele-evangelist Jay Israel, on a YouTube channel, boldly threatened to release a video recording of the cleric attempting to defile a woman who had visited his office for special prayers. Pastor Jay claims that his friend shamelessly made the advances right in his presence and this is how he managed to take the footage.
Why Nana Poku was arrested
Most recently, a photo of him in handcuffs in a police van sent many wondering what the man of God has gone wrong. It later emerged that the police had either intercepted or found one of Prophet Nana Poku cars on the road during the lockdown hours and arrested him. He was in the company of a 23-year-old lady who is supposedly his assistant.
He vehemently refuted the police claims that they arrested him while parked by the roadside and said that the law enforcers actually stopped him while driving.
When they flagged me down, I did not stop immediately because it was late into the night and I could not tell if they were policemen for sure.
Soon after news of his arrest broke out, the internet was rife with speculation regarding the cause of his arrest. And stemming from the police report was a narrative that the preacher was caught in a compromising position with his assistant. In one of Prophet Nana Poku videos on Facebook, the cleric distanced himself from this allegation, terming it a mere creation of the police that is aimed at building a strong case against him.
Later on, he shared a video saying;
"There is so much talk going around that I have been arrested. Beloved don't panic at all because I am not in custody. The officers put me in their car for failing to produce my lockdown movement permit. The lady and I were going to help those who are worst affected by the pandemic lockdown".
READ ALSO: Deshaun Watson bio: age, girlfriend, contract, net worth
Which is Nana Poku's Church?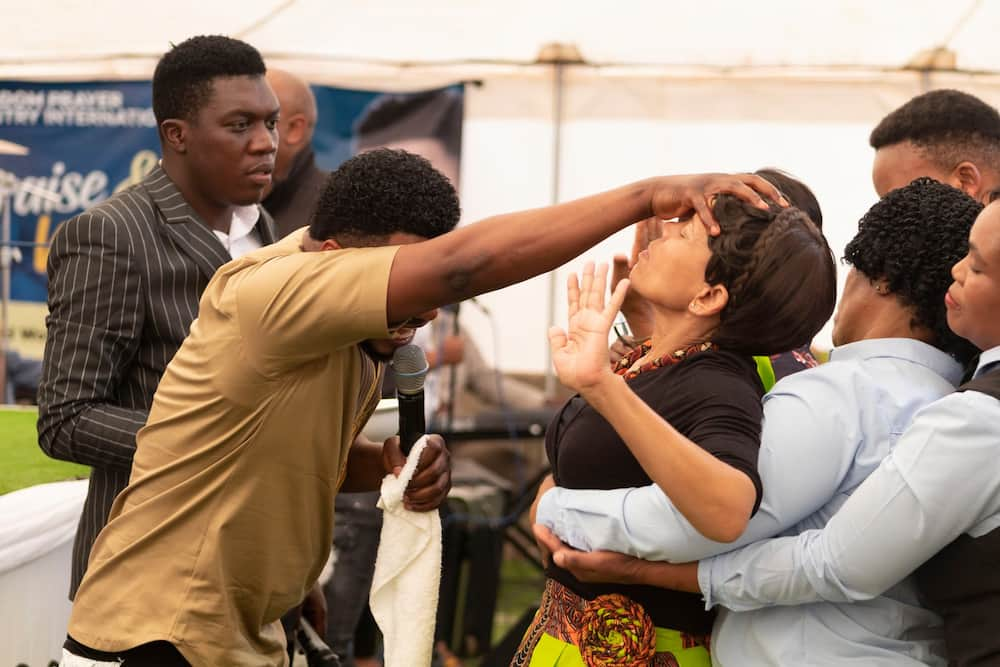 As mentioned earlier, Prophet Nana is the founder and leader of the Kingdom Prayer Ministry located at Rustenburg, North West province, South Africa. He weaves his doctrine around prophecy and miracle healing.
Although no one has the moral authority to question his anointing, complaints from some of his visitors have raised concerns about his credibility.
For example, one woman who had gone for Prophet Nana Poku prophecy left his sanctuary disappointed and heartbroken. She complained that Nana had charged her R4000 and that he promised to leverage his spiritual gift to trace her lost son. After making the payment, the man of God sent her away unresolved, claiming that he could not locate the boy in the spirit.
READ ALSO: Lebron James bio: age, wife, children, stats, salary, playoffs, education, net worth
Prophet Nana Poku contacts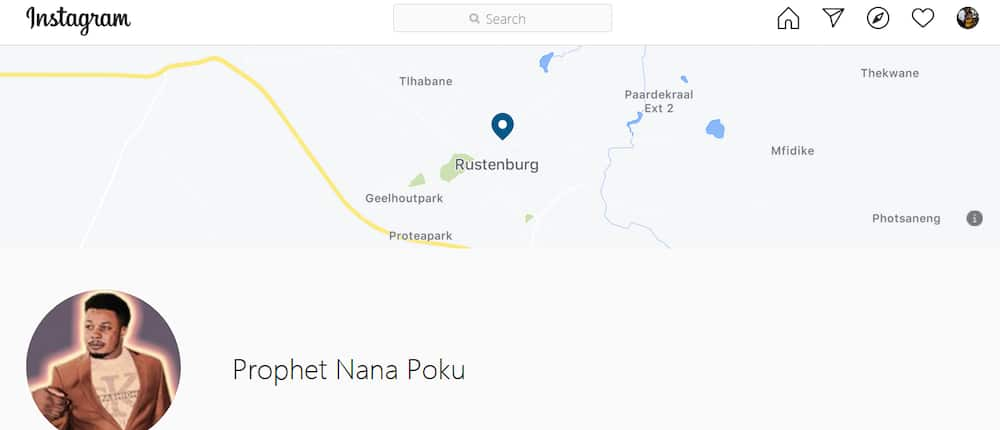 Church: The Kingdom Prayer Ministry
Prophet Nana Poku cars church address: 94 Klopper Street, 2999 Rustenburg, South Africa
Phone : +27833189176
Email: prophetnanapoku1@gmail.com
Prophet Nana Poku Facebook : facebook.com/ 2048484498726017
Instagram: Prophet Nana Poku
Prophet Nana Poku South Africa website: www.prophetnanapoku.com
Reading Prophet Nana Poku biography may be entertaining and confusing at the same time because of the numerous white, grey, and black patches on his ministry. Also, a lot of the basic information about him, including prophet Nana Poku age, is undisclosed. Perhaps knowing a bit about prophet Nana Poku cars and spiritual father would help one understand the preacher's actions better.
READ ALSO: Manaka Ranaka's getting ready to welcome her 3rd baby into the world
Briefly.co.za has reported that the veteran actress Manaka Ranaka is happily expecting her third child. For the Generations: The Legacy actress, her third baby is a double blessing because she welcomed a grandchild recently.
Although naysayers are wondering why she went for another kid at her age, but Manaka is not bothered at all.
READ ALSO
Culoe De Song: Age, girlfriend, songs, and albums
Tiffany Barbuzano bio: age, kids, husband, weight loss, TV shows, movies, profile
Jabu Mahlangu bio: age, wife, broke, car collection, new car, house, salary, profile
Source: Briefly News