-In an exclusive interview with Briefly.co.za, a student opened up about how she received postgraduate registration fees from a family she had been serving at the restaurant she worked for.
-The 24-year-old self-funded her undergraduate studies, through money earned as a waitress.
-The young lady will study towards a Bachelor of Arts Honours in International Relations at the University of Witwatersrand.
PAY ATTENTION: Join Briefly News' Telegram channel! Never miss important updates!
By: Gig Mensah - Freelance Writer
It's not everybody that gets to experience the feeling of winning the Lotto.
Octavia Nombulelo Ndlovu, 24, had such an encounter, recently announcing on her Twitter page that an angel sent her R10 000 to cover her postgraduate registration fees.
The Twitter post contained a screen-shot of an acceptance letter from Witwatersrand and followed with a screen-shot of a bank confirmation showing payment of R10 000 into her bank account.
Taking some time to speak to Briefly.co.za, in an exclusive interview, Octavia shared details of how encounters with a family she refers to as angels, made it possible for her to begin her postgraduate studies.
Octavia begins by providing a glimpse into her study career. Like many young South Africans, Octavia lacked financial support and had to get a job to pay off her tuition fees.Fuelled by determination, hardships did not deter her from achieving her goals.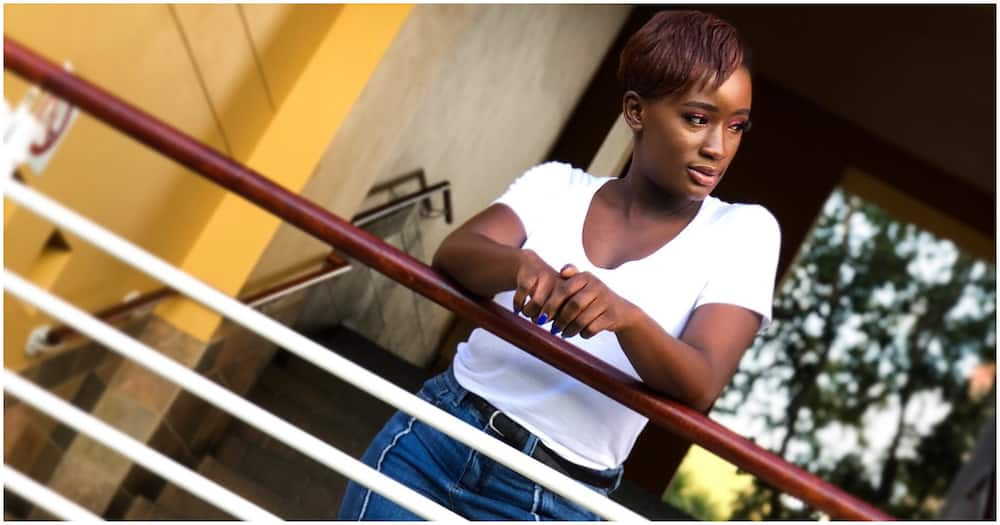 "I started studying in 2015. I also started working in a restaurant, to support my studies. I have been in the restaurant industry since then and throughout I have had complications in terms of paying my school fees. I studied for a year and then I had to drop out, and then Iwent back to study in 2017."
As a particularly young lady working at a restaurant, Octavia's age attracted concern by many diners.
"People see you working for the first year, then the second year and so forth, and because you are quite young, people become very interested as to what it is that brought you to working in a restaurant at such a tender age because I started working at 18 years old."
Octavia then accounts for a family she had met soon after she had begun working at the restaurant, who would often engage her on the developments of her study.
"I have always liked a family that has always eaten where I worked for the past five years. They have always been interested in my studies. And so we spoke often about my fees"
Octavia completed her undergraduate degree in 2020. The determined young lady set out to register for her postgraduate studies at the University of Witwatersrand, however, due to tough pandemic restrictions and its impact on the restaurant industry, paying school fees became uncertain.
"With Covid-19 that popped up last year, things have been different at work. We have had salary cuts which now kind of makes it hard to make that little cash to pay the fees."
A little disheartened about her situation, Octavia waited for a sign from God.
"I am a very spiritual person so I believe in signs and I believe that God speaks to us. I have always wanted a sign to know if I have to do my Honours this year"
"I met that family again this year and they popped up a question wanting to know how far I was with my studies. I said I had just finished my undergraduate education and I am looking into doing my postgraduate"
"They asked for my fee estimate. I had not had my fee break down as yet. They asked if I registered and I said I was still putting together funds to register. They asked how much I was looking for and I said R9340 to which one family member asked for my bank account number and that was it. I had R10 000 in my account to pay for registration fees."
The family has hinted at paying Octavia's 2021 tuition fees during the year. Octavia hopes to complete her postgraduate studies and move on to work in her field of study.
In other news, Ppopular Facebooker BI Phakathi has done in again, this time blessing two young boys who collect cans to support their family .
The do-gooder took to Facebook to post a video of himself giving the kids some cash after they had explained that they collect the cans in the streets to help their family at home .
Facebook users were once again left touched by BI's act of kindness and thanked him for always doing what he does best.
Enjoyed reading our story? Download BRIEFLY's news app on Google Play now and stay up-to-date with major South African news!