Video of Security Guard Hiding from Heavily Armed Robbers at ATM Causes a Storm
- South Africans are left divided by a video showing a security guard's actions in ignoring gun-toting robbers at an ATM
- While many believe the security official was correct to ignore the robbery, citing some valid reasons, others have questioned the move to station guards at ATMs in the first place
- Moreover, some followers' comments suggest the security officers are paid peanuts and cannot take risks with their lives
PAY ATTENTION: Join Briefly News' Telegram channel! Never miss important updates!
A recent video of a robbery at gunpoint in front of a security guard who ignored the robbers has left tongues wagging on social media platforms in South Africa.
The visibly scared official decided to hide behind a pillar in what looks like a shopping centre where bank ATMs are situated.
Dressed in full uniform, the security guard decided to take cover and protect his life instead of guarding the robbery victim from gun-toting robbers.
Taking a glance at the comment section on @Manyotie_Sol's video, the account holder used the hashtag #Malema for some reason. Some followers believe the guard had to escape for his life.
@FaizelPatel said:
"What's he supposed to do? The criminals clearly have automatic weapons, he doesn't stand a chance. Had he intervened he would probably have been dead by now. Question is, should bank security be armed? What can a security guard with no weapons do? He's just a sitting duck."
@InfluencerWanna is puzzled on the man's duties:
"Is he there for security reasons or just to assist people struggling to draw or deposit money? Perhaps someone should clarify that for us."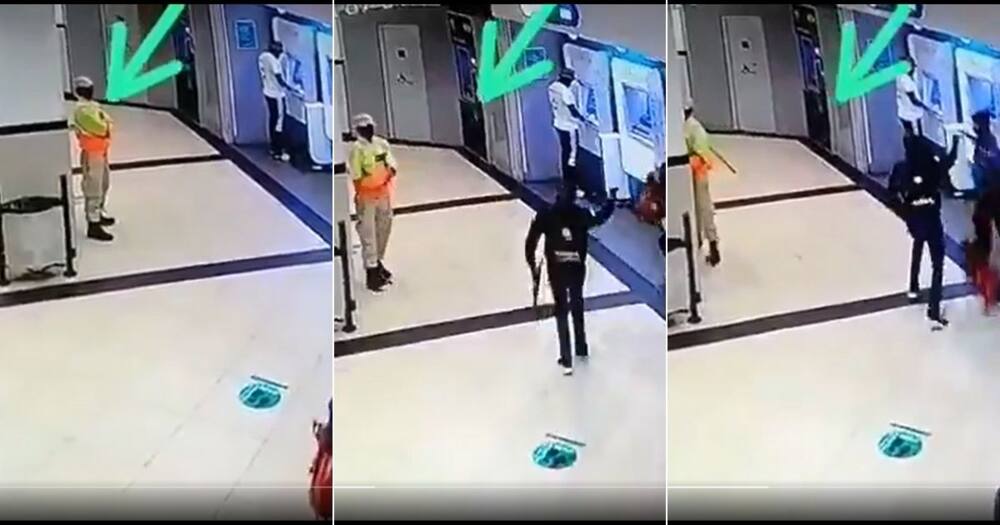 @Welcome_1818 said he would have done the same thing but run:
"I would do the same. At least he walked away, I would run."
@Elias64688260 said:
"(You) can't save thousands of Rands while being paid R4 800, big up to the officer."
@NolenceMashego seems to have an idea on why the security guard is stationed there:
"So you wanted him to risk his life over the money he don't even knows where it comes from? He's not a bulletproof remember. Security is there for insurance and to make statements if incidents like this one happen. They're not there to protect you, that one is SAPS and SANDF's job."
@@SabelosNgcobo40 said:
"Security guards at the malls are not allowed to carry guns inside the mall so there's nothing he could've done."
@ZikhaliMavin saluted the man had a word or two for the guard:
"He was out numbered, let alone they have weapons, lastly they needed one person with that bag, wena (you) what would you do die for that R4 000 p/m? I salute this man."
@CharlesMakgobel said:
"They are even advised to save their own lives before everything."
In another story, Briefly.co.za recently reported that the Fidelity ADT armed response company received an alert via a community WhatsApp group.
Officer Mahlangu was one of the security personnel on duty and quickly rushed to a scene on the corner of Waterkloof Heights, Pretoria.
To his dismay, he discovered a man who had fainted at the intersection. Mahlangu did a quick assessment and requested medical assistance.
This website further reported that the man was rushed to hospital and it was confirmed that he suffered an epileptic attack. Fortunately, officer Mahlangu came to his rescue and saved the day. ADT shared the news via social media and Mahlangu was praised for his quick-thinking.
Enjoyed reading our story? Download BRIEFLY's news app on Google Play now and stay up-to-date with major South African news!
Source: Briefly.co.za