Snake Catcher Rescues Massive Python, Explains Why It's Illegal to Eat Them
- Well-known South African snake catcher, Nick Evans, has rescued a big python after it was set to be eaten by a cattle herder
- The Durban-based wildlife enthusiast, Nick Evans recounts how his mission unfolded as he warns people not to eat the pythons
- While it was not really a difficult mission to save the python, which had 25 eggs, Nick Evans says the snake is now safe
PAY ATTENTION: Click "See First" under the "Following" tab to see Briefly.co.za News on your News Feed!
Famous snake rescuer Nick Evans has done it again, he saved a python that was set to be killed for a meal on Saturday afternoon in Osindiswini near Verulam.
Evans says he received a call from a resident in the Osindiswini area in KwaZulu-Natal and he was informed that a cattle herder had captured a large python a day before.
However, the shepherd had different ideas, that of feasting on the snake as a meal. The environmentally-friendly resident convince the man otherwise and Evans came in to save the serpent.
The seasoned snake catcher says it is illegal to kill and eat these protected species as he recounts how he managed to save the snake. He wrote on Facebook:
"Pythons are fantastic mothers. Not only do they protect their eggs, but they incubate them too. They'll bask, get nice and warm and go back down the hole to wrap around the eggs and keep them warm.
"I knew though they should be extremely close to hatching, as it's late in the season. I'd imagine no incubation at this late stage would be less harmful."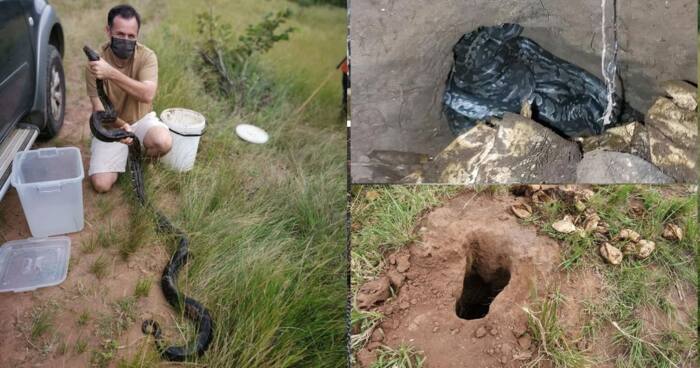 Evans added that it was not an easy mission to reach the caller and ensure the snake was safe, but he managed to make it. He added:
"I contacted @Reaction Unit South Africa, who I know are very well known and active in that part of the world. And I would feel much safer if I had them accompany me in a rural area unfamiliar to me. Thankfully, they kindly obliged, and officer Amith joined me.
"It was a long drive, but we eventually met up with the caller. He then found the cattle herder, who fetched the python. He had hidden the bucket in the bush.
"I opened it. The snake had emptied its bowels at some point, and it was now sitting in that, freezing. I pulled the filthy snake out. I became really concerned about its condition. It was extremely underweight. Not the longest either, around 3m-3.5m.
"However, this is quite normal at this stage. They of course lose a lot of weight after laying eggs. During the 3-month incubation process, they do not ea at all. So, yes they become really skinny.
"Once the babies hatch and disperse, the mother will go off in and lie in an ambush position, hoping for a small animal to pass by. But if it doesn't get that soon, it can die.
"We were then led to the python's den, a hole in the ground. The eggs were visible from above. It looked like some had hatched. Before sticking my hand down without checking what was there, I stuck my phone down, while on record, with the light on. To the right, I could see baby pythons! The eggs had hatched! They quickly dashed down a tunnel and out of sight. I was so excited! What a beautiful sight!."
As he continued to help the stranded mother, Evans recounts how he started pulling the eggs out and says they were 25 of them.
"I started pulling eggs out and quickly realised they had all hatched. There were twenty-five eggs, a pretty small clutch, although it wasn't the biggest female. To get the babies would require extensive digging in hard ground, with a team, and even then it could take hours. These tunnel systems can go deep.
"The eggs were away from the homes, in the bush, and near a cliff leading down to a river. It was a beautiful valley, pristine python habitat. We decided to leave them after the residents said they didn't mind. Phew. A relief.
*It must be noted that not all these babies will survive, in fact, probably very few will. They have loads of natural predators, such as birds, other snakes, Mongoose, and Monitor Lizards.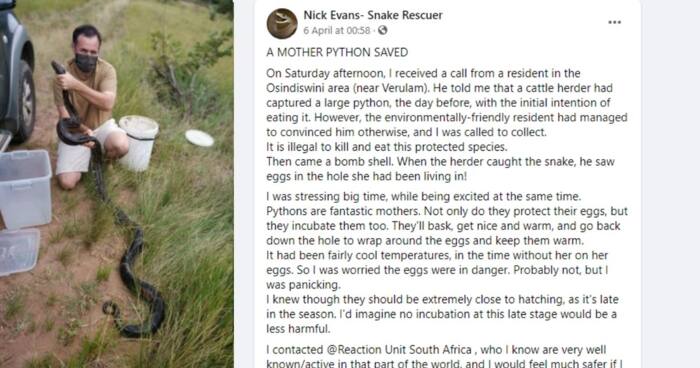 "I am so, so grateful to the caller, who I'm choosing not to name, for his efforts here. He saved this beautiful python. He has also educated the cattle herder, which we hope won't try something like this again.
"A massive thanks also to Reaction South Africa and officer Amith for their company and help. The python is now at Dangerous Creatures at Ushaka, where it will receive treatment, and most importantly, Food! If she pulls through and recovers, she'll be released in a safer area."
Briefly News also reported on the Durban-based snake catcher's mission to save a black mamba trying to feast on unsuspecting chickens that caused a stir on social media.
The video was captured and posted on Facebook by Evans who as he said the video is a result of a combination of surveillance camera and GoPro footage.
In the video, titled 'Mamba and Roosters', the black mamba is seen invading a spot seemingly reserved for the chickens, but the serpent is seen looking for cover just as the rescuers arrive on the scene.
Enjoyed reading our story? Download BRIEFLY's news app on Google Play now and stay up-to-date with major South African news!
Source: Briefly.co.za