Uninvited Guest: Brave Nick Evans Rescues Another Black Mamba in a Shack Roof
- Durban-based snake catcher Nick Evans has successfully rescued another serpent, a dangerous mamba, tucked in a shack roof
- Nick says he was sceptical about going to save the snake in an informal settlement but explains it turned out to be a quick procedure to capture the mamba
- Evans' proud followers on social media have also reacted to another successful rescue as the black mamba is now safe and so are the residents of the shack
PAY ATTENTION: Click "See First" under the "Following" tab to see Briefly.co.za News on your News Feed!
In another account about how he rescued a black mamba trapped in plastic roofing in Reservoir Hills, Nick Evans explains how he successfully made it.
The Durban-based snake catcher says he recently received a call from a man in an informal settlement in KwaZulu-Natal and he added that he was somewhat apprehensive about going into the area.
However, with the help of a private security company, he managed to reach the destination and remove the uninvited guest.
He continues to say he was amazed to see the members of the community coming out to witness the process and many decided to grab their cameras to document the exercise. Evans wrote on Facebook:
"Last night, I received a call from a man in an informal settlement in Reservoir Hills (off Annet Drive) for a 'huge' Black Mamba in the plastic roofing of a shack.
"I'm always sceptical of calls for snakes in the plastic of roofs, because so often, it turns out not to be a snake (I've had rats, monitor lizard and even wind). But one thing was genuine - the panic! For safety, I requested a company from Inkosi Security, who as they've done in the past, gladly obliged, and I met them there.
"Driving through a patch of bush, into the settlement, a genet crossed the road. I was so chuffed! They really amaze me at how they survive among humans. It seemed like everyone in the community had come out to see the snake. We walked through the shacks, before I was shown into the one that the snake was in.
"To my surprise, I immediately saw it after it was pointed out to me. So at least it wasn't a waste of everyone's time. The mamba was curled up in the roof, pretty much above a bed. And the roof isn't high. Quite a place for a mamba to be!"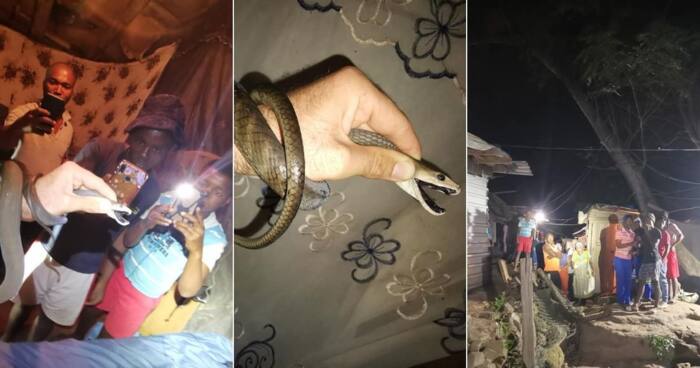 As the snake at some point thought he was a rat, Evans says the crawling creature started to make its moves but it was not going to be another daunting exercise as he quickly grabbed it. He continued:
"It started moving, so I quickly grabbed it with my tongs. I quickly discovered it was a small mamba, about 1.8m, and I had an awkward grip on it. I had it by the mid-body, although not high enough that it would reverse its head back.
"I pulled it out of the roof, and as I did so, I could hear, and out of the very corner of my eye, see, people coming in, most with beer bottles in hand.
" 'Get out, move,' I said very loudly yet sternly. I wanted to secure that mambas head, as I knew we were going to have people creeping in. I lifted it back up to a beam, and let it start slithering onto it. I then grabbed the tail with my hand, the neck with my tongs, and lowered it down, onto the bed, and pinned it down there.
"I always feel so relieved once I have the head secured, especially with people around. The little mamba has a battered tail. Someone gave it a good hiding or three, presumably with a stick. The residents were not impressed.
"They said they don't kill snakes, they know to call for help, which was so great to hear. Someone did though. The snake was supposedly moving around the shacks a lot. It will be fine - no major injuries. Thank you to the Inkosi Security members for keeping me safe. Thanks also to Jason Arnold for the referral."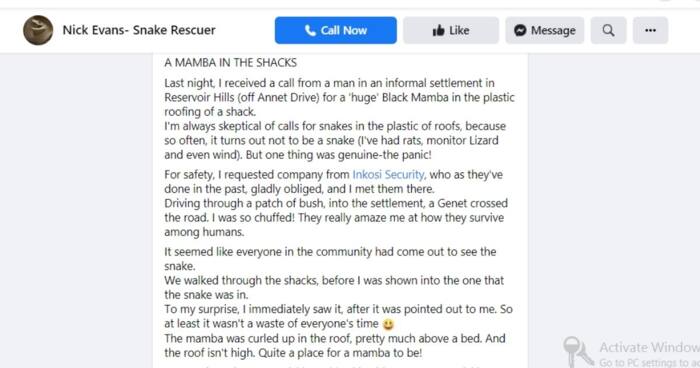 @Karen Moodley said:
"Yoh, just reading it gave me the jitters for the safety of both snake and people, you came through once again Nick, awesome."
@Val Tweedie said:
"Wow Nick, scary rescue in all aspects. I'm glad you and the mamba are safe."
@Carolina van Heerden said:
"Goodness Nick how many have you captured this season? I bet it's dozens! I can only say well done Nick and as always keep safe and God bless."
In other reports, Briefly News reported that a famous snake rescuer, Evans had done it again, he saved a python in the past few weeks that was set to be killed for a meal in Osindiswini near Verulam.
Evans said he received a call from a resident in the Osindiswini area in KwaZulu-Natal and he was informed that a cattle herder had captured a large python a day before.
However, the shepherd had different ideas, that of feasting on the snake as a meal. The environmentally-friendly resident convinced the man otherwise and Evans came in to save the serpent.
Enjoyed reading our story? Download BRIEFLY's news app on Google Play now and stay up-to-date with major South African news!
Source: Briefly.co.za