Gauteng Department of Health Launches Mobile Clinics in Schools, Principal Calls for Focus on Mental Health
Gauteng School Health Programmes, in partnership with the Mobile Health Clinics Foundation, was officially launched on Thursday, 16 March
The mobile clinics provide primary healthcare on school premises to learners who cannot afford it
The Gauteng Department of Health hopes to get more sponsors to join Bayer and expand the programme to other schools
The Gauteng Department of Health and the Department of Basic Education launched the Gauteng School Health Programmes on Thursday, 16 March, at Blair Atholl Primary Farm School in Lanseria, Johannesburg.
The programme, in partnership with the Mobile Health Clinics Foundation and sponsored by Bayer, will ensure that pupils in rural areas receive the necessary healthcare.
Mobile health clinics to provide Gauteng schools with basic healthcare
Speaking to Briefly News at the launch, Dr Rosy Ndhlovu, Mobile Health Clinic Foundation CEO, explained that the programme aims to provide school learners and teachers with essential healthcare services.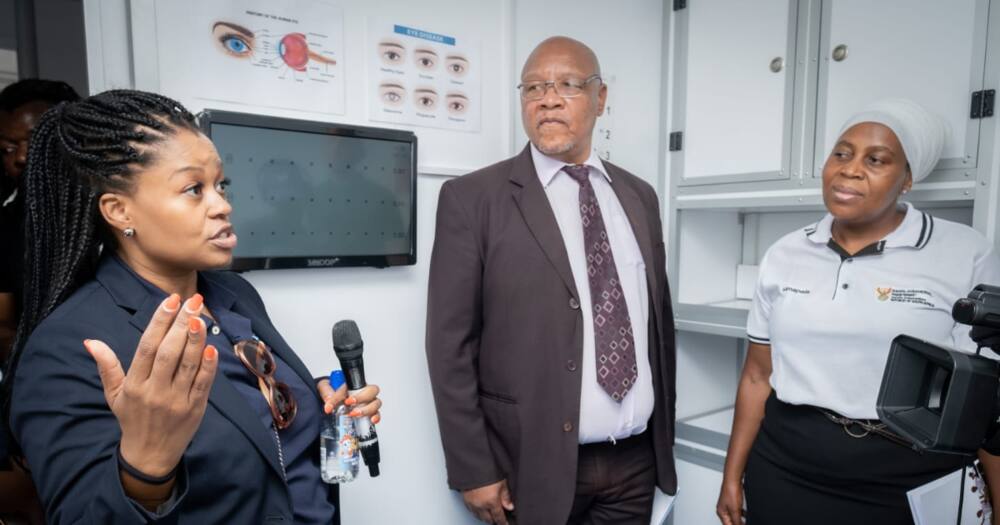 PAY ATTENTION: Follow Briefly News on Twitter and never miss the hottest topics! Find us at @brieflyza!
These services include primary healthcare screenings, dental services, optometry and health and water safety education.
"The whole idea of behind school health programmes is to screen learners from Grades 1, 4, 8 and 10 for health barriers to learning.
"That will mean things like if they have poor vision, if they have dental or health issues or if they have primary healthcare issues such poor hearing," explained Ndhlovu.
Ndhlovu added that pupils are typically treated by the mobile clinics unless teachers identify issues they cannot handle and refer them to other medical practitioners.
The mobile health clinics go from school to school on a scheduled basis and address different issues with each visit. The foundation has been ongoing for the past four years and four Gauteng schools are the latest to have been privileged with this service.
The foundation has performed 60 000 screenings in the past year and hopes to impact over one million lives. Ndhlovu added that these screenings are important because some learners suffer from ailments such as poor vision and hearing and are often branded as naughty children because of these health issues.
"We have some case studies where principals say a learner who was doing poorly, and after they received their glasses, you can see this learner improved dramatically academically," said Ndhlovu.
Lanseria school principal praises Mobile Health Clinics Foundation
The mobile health clinics do not only benefit learners, but they also benefit teachers who may not have the time to get their health checked.
The school principal of Kwena Molapo Secondary in Lanseria, Micheal Maligana, told Briefly News that the programme has been very beneficial for his school.
The foundation first approached Maligana's school during the Covid-19 pandemic to help curb infections and the relationship has been ongoing since then.
Maligana stated that the mobile clinics have been instrumental in assisting pupils and teachers who may have health challenges.
"It's not only learners who benefited, even teachers when they were free during break time they would get checked. Some knew that they had challenges with whatever, but sometimes getting a free second opinion in this expensive world is very good," said Maligana.
Maligana stated that the learners and teachers were thrilled to have the mobile clinics at school and hope that the clinics can be stationed there permanently if possible.
School principal is glad mobile health clinics will start addressing mental health issues
The Kwena Molapo Secondary School principal stated while the mobile clinics cater to basic healthcare needs, they also need to start addressing mental health issues for learners and teachers.
"I was happy to hear that they are going to introduce mental health. To me, mental health is a big thing in South Africa. There is unemployment, and you can imagine how that is going to affect a child," said Maligana.
Maligana added that he is very passionate about mental health since some people suffer in silence. He says by addressing mental health problems, many things, such as suicides, drug use and gender-based violence, can be avoided.
The principal added that teachers also need mental health assistance because they are expected to deliver while facing their own troubles and are not allowed to bring their challenges to learners.
"If they can get that [mental health] support, it will impact the learners as well because a healthy teacher will produce a happy child," added Maligana.
Gauteng School Health Programme cuts out government red tape
Gauteng Department of Health Director of Maternal Child Health and Nutrition, Sikhonjiwe Masilela, told Briefly News he is happy about the private-public sector partnership the Gauteng School Health Programme has created.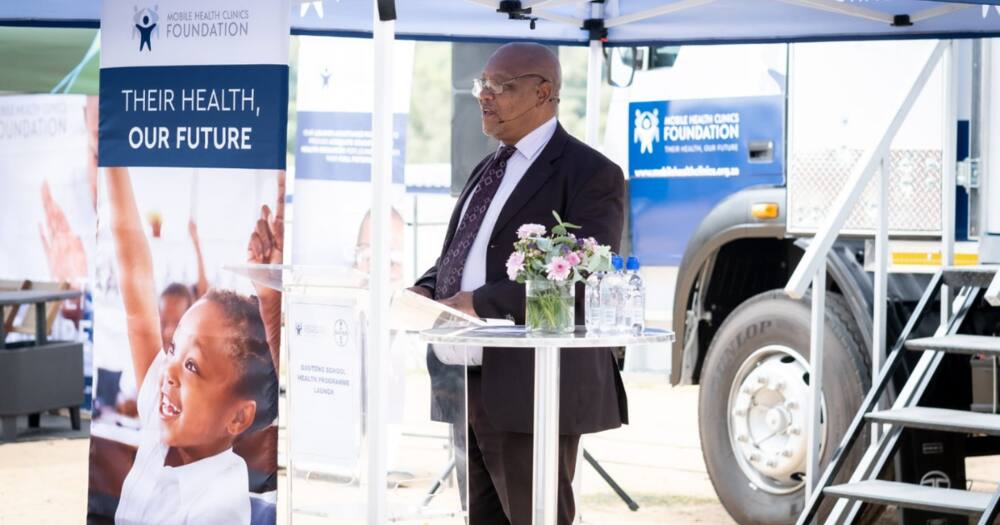 Masilela stated that this programme removes a lot of obstacles for learners because the private sector does not have to jump through as many hoops to get things done.
The Gauteng health director added that sometimes government processes are too long because a person needs to have a tender before providing a service such as free glasses.
Masilela added that they are looking into partnering with more companies to ensure services such as the mobile health clinics are not limited to just four out of the 2 400 schools in the province.
Health Department unveils newly upgraded hospitals in Eastern Cape and Gauteng
Briefly News previously reported that the Eastern Cape Health Department revealed the new and improved child and adolescent facility at Fort England Hospital in Makhanda on Thursday, 13 October.
The facility, which caters to patients between the ages of 13 and 17, received a R29 million upgrade as part of World Mental Health Day and Mental Health Awareness Month.
The 14-bed ward will provide rehabilitation services for mentally ill teenagers. In addition to admitting non-acute patients for diagnostic purposes, the facility will provide in-patient treatment for acute situations.
PAY ATTENTION: Сheck out news that is picked exactly for YOU ➡️ click on "Recommended for you" and enjoy!
Source: Briefly News