UCT 3rd Year Students Tackle Medical Simulation in Humorous TikTok Video
A video of UCT students demonstrating a medical simulation session on a dummy went viral on TikTok
The students practised CPR, checking heart rate and blood pressure, inserting an IV drip, and checking for a pulse to resuscitate the patient
Netizens were amused by the scenario of the medical simulation training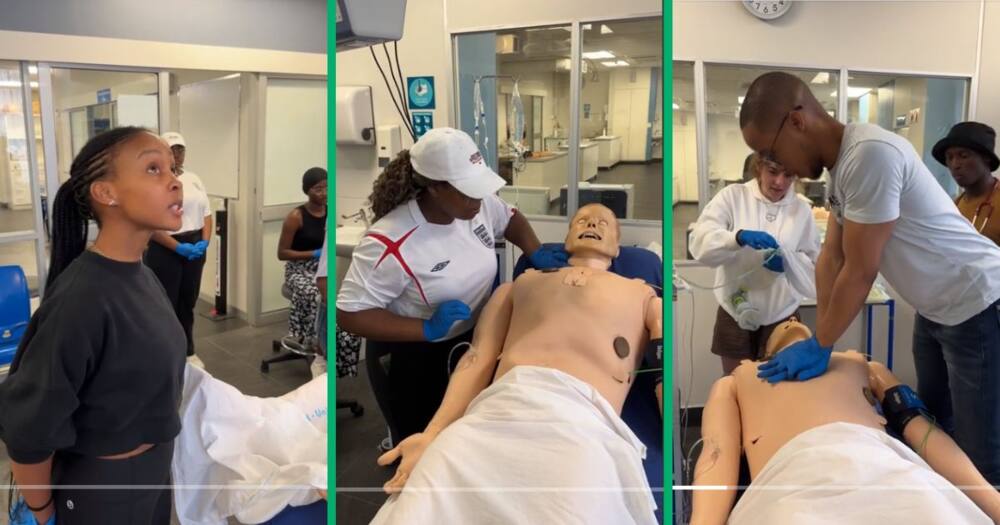 A video of the University of Cape Town students busy with a medical simulation training session gained much traction on TikTok.
UCT students resuscitate dummy patient
The footage shared by @dr.marvin.jansen shows the group of students demonstrating a medical simulation on a dummy, characterised as 58-year-old Mr Dlomo, who came into casualty with chest pain and shortness of breath as his wife pleads the doctors to help her unresponsive spouse.
The students are seen practising various medical procedures such as CPR, checking heart rate and blood pressure, inserting an IV drip and checking for a pulse as they try to resuscitate the patient.
Watch the video below:
According to the National Institutes of Health, a medical simulation session is an educational experience that uses simulated patients, scenarios, and environments to help healthcare providers develop and practice their clinical skills.
Mzansi amused by the medical training
The scenario of the medical simulation training amused netizens.
bongiwe mabunda replied:
"Be honest Mr Dlomo died neh."
Mandisa Mthembu replied:
"Into engingayihleka ngeke ."
nomfundogwamanda2 said:
"Mina ngiyoGcina ukuba uDokotela wase Grey's Anatomy ."
Mas said:
"uDlomo naye kodwa."
Nomonde Naledi commented:
"Awww kodwa ubaba kaBheki."
Phumla Zwane wrote:
"iCPR ifuna udle ipapa. You sweat laphaya.... Dead uBaba ka Bekhi❤️."
Wits medical student visit the morgue for practical
In another story, Briefly News reported that as rewarding as it is, studying medicine comes with its fair share of grim experiences.
A group of students from Wits knows this all too well after having a first-hand experience of visiting the Forensic Pathology Services in Johannesburg as part of their practicals.
According to NBC News, Before first-year medical students lay their hands on the living, they learn anatomy from the dead.
Source: Briefly News