White South African School Children Rock Vellies on Heritage Day Dress Up, Video Shows the Invasion
A TikTok video shows how white students embraced South African culture by wearing vellies on civvies day
The clip captured the heartwarming and humorous moment showing off all the veldskoen at school
Mzansi joined in the laughter, celebrating cultural appreciation and the love Afrikaans people have for vellies
PAY ATTENTION: Have you recorded a funny video or filmed the moment of fame, cool dance, or something bizarre? Inbox your personal video on our Facebook page!
In the world of TikTok trends and viral videos, one recent sensation left Mzansi in splits as white students took their school's civvies day by storm with the proudly Afrikaans shoe known as vellies.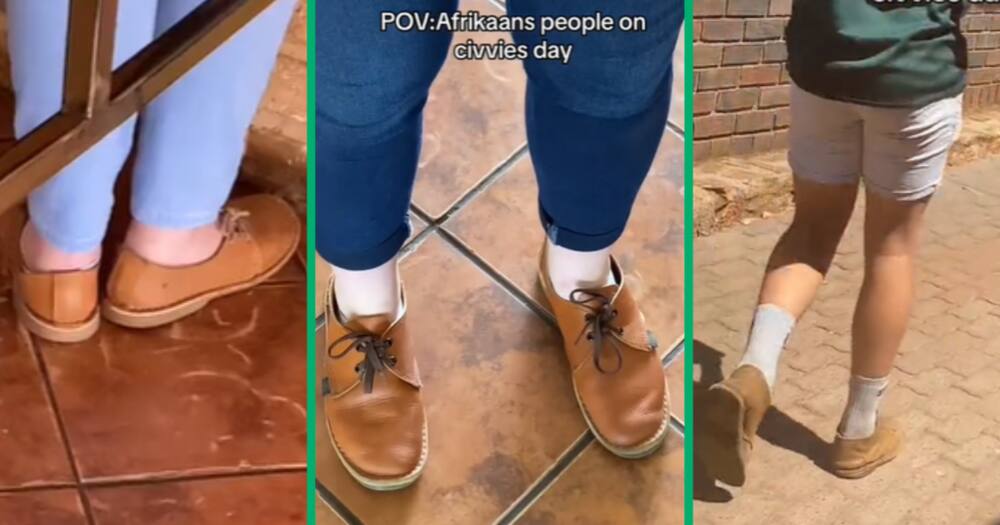 Heritage Month always brings some laughter as people celebrate their heritage. Mzansi is filled with so much culture, and our people unapologetically rock fashion close to theirs, like the beloved vellies.
Mzansi schoolchildren take over with vellies
In a heartwarming and amusing display of cultural appreciation, students chose to wear vellies (veldskoen), traditional South African footwear, to school. The result? A TikTok video that had the nation laughing and celebrating unity in diversity.
PAY ATTENTION: Click "See First" under the "Following" tab to see Briefly News on your News Feed!
The TikTok video, which quickly went viral, showcases a group of white students proudly strutting their stuff in vellies, a type of leather shoe with a rich history in South African culture. Civvies Day, which is when students can wear casual clothes to school, took an unexpected twist as these students chose to don vellies, drawing both attention and laughter from their peers and teachers.
The video captures the hilarious reactions of onlookers as these students confidently walk through their school's halls in vellies. The juxtaposition of this traditional footwear with modern attire created a comical and heartwarming moment that resonated with viewers.
Take a look:
Mzansi people live for the vellies video
South Africans from all walks of life joined in the laughter as they watched the TikTok video. It became a symbol of unity in diversity, showcasing how individuals from different backgrounds can come together and appreciate each other's cultures in a light-hearted and inclusive manner.
Read some of the comments below:
@LaughWithLungi said:
"This is the best thing I've seen all week! Vellies on Civvies Day? Genius!"
@ProudlySA loved the idea:
"What a beautiful display of cultural appreciation. We love it!"
@CulturalBlendZA commented:
"This video reminds us that we are all proudly South African, no matter where we come from."
@TikTokFanatic99 laughed:
"I can't stop replaying this video! The vellies had me in stitches!"
@UnityInDiversity said:
"This is exactly what South Africa needs right now – a good laugh and a reminder that we're stronger together!"
SA man wearing vellies dances to Mandoza, Nkalakatha, Mzansi citizens react with all the hype and love
In related news, Briefly News reported that if you do not know the Mandoza song Nkalakatha, then you are definitely not from Mzansi. One man wearing veldskoen filled SA hearts with pride as he busted impressive moves to the proudly Mzansi track.
While the people of Mzansi have their differences, and we are still navigating our way to true unity, moments like this are around us. They are reminding us that we are one.
TikTok user Nikki Du Toit shared the video of the oom dancing to Nkalakatha. We have to give it to him; he squeaked those vellies properly!
PAY ATTENTION: Сheck out news that is picked exactly for YOU ➡️ click on "Recommended for you" and enjoy!
Source: Briefly News