"Black Child It's Possible": South African Entrepreneur Creates Buzz With Snail Farm Project
Bayanda Bayas's TikTok showcases his snail farm project, aiming to provide a source of escargot
The Mzansi man proudly showed off his up-and-coming snail farm in an impressive TikTok video
Proud snail farmer shares invaluable insight into his venture, answering questions
Bayanda's viral video stirred curiosity among viewers about the purpose and benefits of snail farming, prompting a flood of questions and comments
PAY ATTENTION: Have you recorded a funny video or filmed the moment of fame, cool dance, or something bizarre? Inbox your personal video on our Facebook page!
In a captivating TikTok video that has been making waves in South Africa, user @bayandabayas takes viewers on a journey to explore the construction of what is set to become the largest commercial snail farm in the country.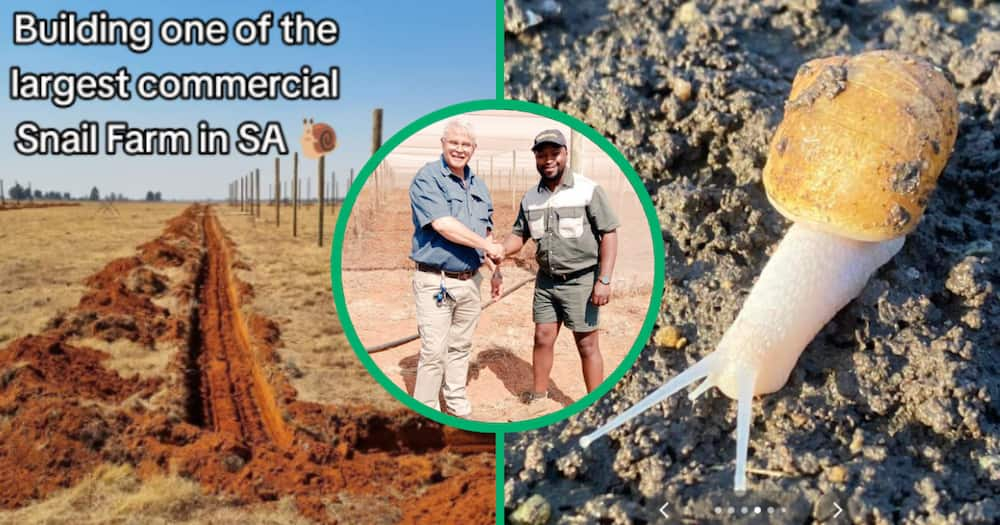 South African people see snails as pests in the garden, normally, but this man sees them as an opportunity.
Mzansi man shows off snail farm
The video, which has garnered thousands of views and sparked curiosity among Mzansi residents, highlights a fascinating agricultural endeavour that many were initially puzzled by.
PAY ATTENTION: Follow Briefly News on Twitter and never miss the hottest topics! Find us at @brieflyza!
TikTok user Bayanda Bayas took the opportunity to educate people on the economic potential of snail farming. He showed off his snail farm with great pride.
Take a look at the post here.
Proud snail farmer shares information on farm
Briefly News had the honour of speaking to the proud farmer and finding out more about snail farming. There is a lot more to snails than meets the smile. Here is what he said:
"Heliciculture, also known as heliculture, but more commonly known as snails farming is the process by which an individual will reproduce, grow and sell snails for human consumption, as an escargot or to acquire snail gel for the use in cosmetics. Snail eggs have more recently been used as snail caviar or white caviar. When the word 'escargot' is mentioned, countries such as France, Spain and Italy come to mind but edible snails have been placed on many menus across the globe. Edible snails have been consumed for thousands of years and surprisingly did not originate from the above-mentioned countries.
"Our snails are imported from Europe and are hand-selected to ensure that only the best breeding snails are used. The garden snail is native to the Mediterranean region and is highly desired in Western European countries. The Helix Aspersa snail is closely related to the Helix Pomatia (the original French Burgundy snail) but more feasible to farm with and reproduce.
"Our snails are raised on natural vegetative feed such as Swiss Chard and Clover. Our specialised snail feed ensures that our snails remain healthy and well looked after while on our farm. No pesticides, herbicides, unnatural enhancers or hormones are used. Nothing but the best for our snails which are well looked after while on our farm.
"Snails are farmed to consume, they're slime for cosmetics and their shells for animal feed as protein ingredient. the local market is huge and internationally we have touched a drop of it as it's very massive with huge opportunities."
Mzansi has questions about snails
Snail farming is not something you hear of every day, so the Mzansi people had a lot of questions when they saw this video.
Comments from TikTok users:
@FunekaMipi said:
"Wow, I had no idea snails were farmed for their meat! Can't wait to try escargot now!"
@Jan-Hendrik Heymans asked:
"What do you use snails for?"
@GreenThumbGuru was intrigued:
"This is fascinating! Do snails require special care and conditions to thrive?"
@PaulVanTer said:
"I thought snails were just pests in my garden! Now I'm intrigued!"
@EcoWarriorSA commented:
"I'm all for sustainable agriculture. Snail farming seems like a great eco-friendly option."
@NomathembaN mentioned:
"Bayanda, you're opening up a whole new world of culinary possibilities! Can't wait to see your farm in action!"
Feeding and empowering families: Meet KZN agricultural mastermind who farms fish and more in her backyard
In related news, Briefly News reported that Mpangeni-born and bred agricultural teacher-turned-farmer, Sindi Thus has inspired many people, young and old, through her unique venture of fish farming.
She breeds and sells the fish from the fingerling stage for people to breed and farm as well as at the mature stage to eat. She spoke to Briefly News about how it all started and her passion for what she does.
As someone with a deep interest in all things to do with agriculture, in 2021, Sindi learned about a fish farming training programme presented by the Agricultural Hub in Durban, which instantly piqued her interest. There, she learned a great deal about the trade.
PAY ATTENTION: Сheck out news that is picked exactly for YOU ➡️ click on "Recommended for you" and enjoy!
Source: Briefly News