Pretoria Babe Shares 1st Spur Drive-Thru Experience in TikTok Video: Mzansi Shocked at the Sight
This TikTok video captured a South African woman's first experience at a Spur Drive-Thru
In the video, she praises the service but expresses disappointment in the taste of the food
Mzansi users flooded the comments section, sharing their own thoughts on the Spur Drive-Thru
In a TikTok video that has recently taken Mzansi by storm, user @dominiiquee shared her first experience at a Spur Drive-Thru, sparking a wave of discussions among locals.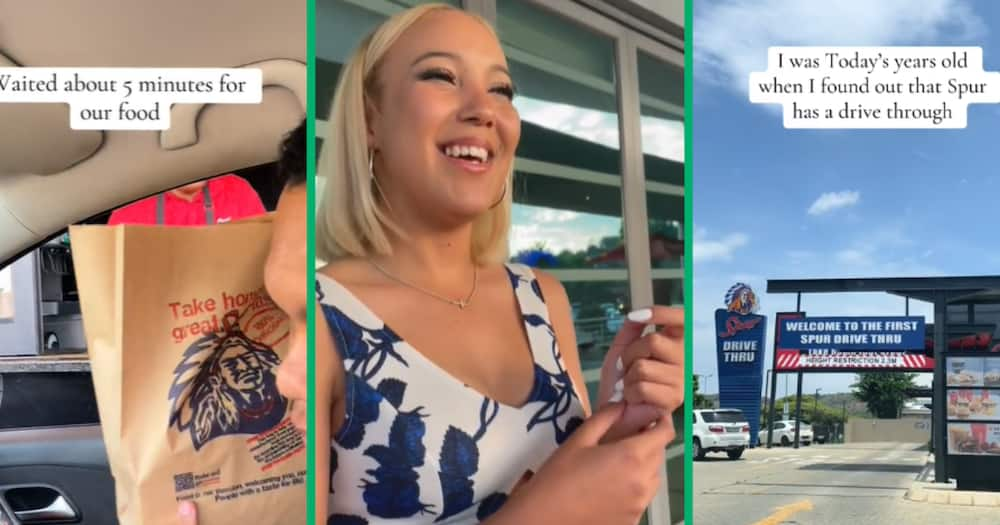 Spur is a Mzansi favrouite. It is a place where many fond family memories are created, and a Spur birthday is practically a rite of passage.
Mzansi woman shared Spur Drive-Thru experience
The video, shared by @dominiiquee, captures the woman's candid reactions as she navigates the Drive-Thru process and samples the iconic Spur cuisine for the first time.
As the woman shares her adventure, it becomes evident that the concept of a Spur Drive-Thru is a novel experience for her. Her initial excitement is palpable as she navigates the ordering process and receives her meal with commendable speed. The efficient service at the Drive-Thru earns praise from TikTok users, highlighting the convenience Spur is introducing to its customers.
Take a look:
Mzansi discusses Spur'swoman's new Drive-Thru
Mzansi users flooded the comment section, expressing a range of opinions on the Spur Drive-Thru concept and the taste of the food. Many shared their surprise, admitting they were unaware that Spur had introduced a Drive-Thru option.
Read some comments below:
Pweedy_face8 shared:
"Surely I can't be the only one who feels like Spur was more about the experience and less about the food, especially as a kid."
Amir Hoosain wanted to know:
"Do they do drive-thru birthdays too "
Sinazo said:
"I was sooo shocked when I saw this in June. I've always wondered if their drive-thru menu was the same as the sit-down."
itsmiss_ladylotus agrees with the taste score:
"I agree on the food taste 4/10, I also tried it and honestly would rather sit in and wait for my food."
Gods Word is sceptical:
"No way ribs take forever how will we get it in the drive-thru?"
Woman sits at Spur with no food, only had money for transport
In other Spur news, Briefly News reported that times are tough! This young woman only had enough money for transport, so she had to sit and watch her friends eat at Spur.
Some families have to scrape money together to get to the shop, let alone buy food. This woman was so excited to see her friends that she didn't mind spending her last money on getting there even if she couldn't eat.
TikTok user @kimmymakhubu shared a video of the young woman chilling at the table with no food before her while everyone chowed down.
Source: Briefly News